News & Racing
Andy Potts repeats, Jennie Hansen grabs first win at Ironman Lake Placid
Andy Potts went 8:43:29 to repeat his 2012 victory here in a wire-to-wire win over Daniel Fontana of Italy -second in 8:48:29- and fellow American Ian Mikelson, who finished third in 8:51:07. Potts now has his name on the trophy twice in the race's fifteen-year history, alongside the likes of
Andy Potts went 8:43:29 to repeat his 2012 victory here in a wire-to-wire win over Daniel Fontana of Italy -second in 8:48:29- and fellow American Ian Mikelson, who finished third in 8:51:07.
Potts now has his name on the trophy twice in the race's fifteen-year history, alongside the likes of Simon Lessing, Thomas Hellreigel, Maik Twelsiek, Ben Hoffman and TJ Tollakson.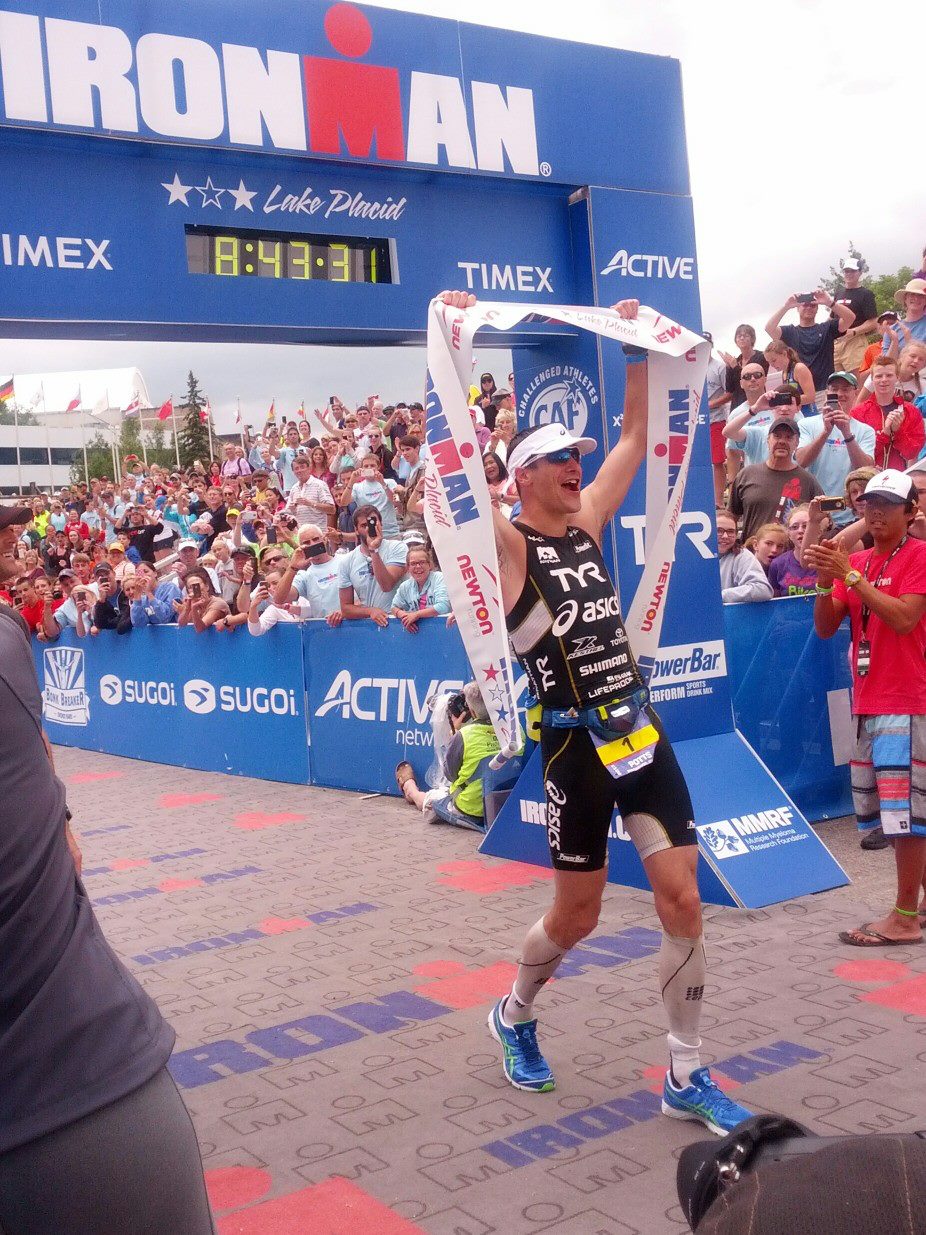 Pott's day began with a 46:48 swim in Mirror Lake which earned him almost three minutes over the chase pack of Fontana, Mikelson and Csoke. Mirror Lake is reputed to be one of the fastest Ironman swim courses by virtue of the glassy waters, simple layout and the buoy guidewires which run about 6ft under the surface, permitting easy navigation without necessitating siting.
Pott's set about extending his lead by clocking the fastest bike ride from the professional field with a 4:48 split which gave the former Olympian an additional 8-minutes on Fontana and over 12-minutes on Mikelson. With a 9:42 lead over Fontana in T2, Potts put it on cruise control and ran a steady 3:02 marathon, comfortably withstanding a brief charge from Fontana on the run course.
New York State local Jennie Hansen, a former 70.3 AG World Champion, took her maiden Ironman title here today in 9:35:06 with a comfortable lead over American Katy Blackmore, 9:42:35, and Aussie Carrie Lester who crossed the line in third with a 9:47:59.
Hansen overcame a slow swim to ride into contention and dismount the bike in 3rd position, 8:38 behind early leader Dede Griesbauer and 5:03 behind Brisbane native Carrie Lester. After pushing the bike for the lead and riding a 5:23, Griesbauer faded on the run to sixth position. Americans Hansen and Blackmore ran into first and second with 3:05 and 3:11 runs, respectively, whilst Lester's 3:23 marathon was good enough to hold third position.
Lake Placid, located in the Adirondack Mountains in upstate New York, has a notoriously tough course with many rolling hills which have spat out many strong athletes. The relentless grades ensure a tough day for the 2800 age-group competitors.
Men's Top 5:
1.   Andy Potts   USA 8:43:29
2.   Daniel Fontana ITA 8:48:29
3.   Ian Mikelson USA 8:51:07
4.   Balazs Csoke HUN 8:55:55
5.   Ryan Cain CAN 8:55:57
Women's Top 5:
1.   Jennie Hansen  USA   9:35:06 48
2.   Katy Blackmore USA   9:42:35
3.   Carrie Lester AUS   9:47:59
4.   Kristin Andrews USA   9:50:34
5.   Danielle Kehoe   USA   9:56:33