News & Racing
Anne Haug Wins in PTO European Open Ibiza with Dominant Run
Germany's Anne Haug overcame deficits in the swim and bike to clinch victory at the PTO European Open in Ibiza.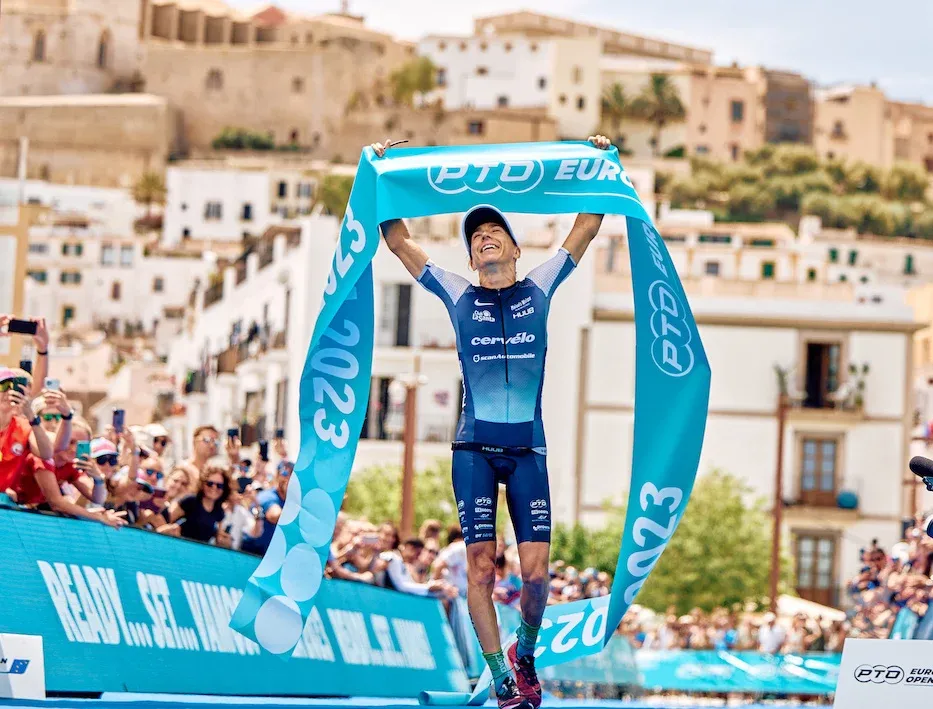 Anne Haug delivered a commanding performance at the PTO European Open in Ibiza, overcoming a strong women's field with her extraordinary running ability. Lucy Charles-Barclay led the swim and bike portions, while Ashleigh Gentle displayed her consistency and strength, finishing in second place. The following analysis details the critical moments and data that shaped the race outcome.
Swim
Lucy Charles-Barclay set the pace from the start, quickly establishing a lead alongside Lotte Wilms (NED) and Rebecca Clarke (NZL). Despite the choppier conditions compared to the men's race, Charles-Barclay exited the water with a 30-second advantage over Wilms and Clarke. Meanwhile, race favorites Ashleigh Gentle trailed by 2:11, Anne Haug by 2:44, and Paula Findlay by 2:43. The time gaps after the swim set the stage for a challenging bike leg, where athletes would have to close the gap to Charles-Barclay.
Bike
Charles-Barclay continued her dominance on the bike, further extending her lead throughout the 80km course. By T2, she had a 1:39 advantage over Paula Findlay, who led the chase pack. Ashleigh Gentle, India Lee, Fenella Langridge, and Lotte Wilms were all within 15 seconds of Findlay. Anne Haug, who started the bike leg in eighth place, entered T2 at +2:07, a manageable deficit given her renowned running prowess. Other contenders like Daniela Ryf (+4:50) and Emma Pallant-Browne (+4:51) faced a more significant challenge to close the gap.
Run The Decisive Leg
Anne Haug's extraordinary running ability was the key to her victory in Ibiza. She wasted no time making her presence felt on the run, clocking impressive early splits and quickly moving through the field. By 2.2km into the run, Haug had advanced to third place and soon overtook Gentle at a blistering pace. She secured the lead by halfway through the 18km run, passing Charles-Barclay with a pat on the back and mutual respect. Haug maintained her pace to finish the race in 1:02:55, three minutes faster than Gentle, and secured the victory.
Conclusion
Anne Haug's remarkable victory at the PTO European Open in Ibiza underscores her exceptional running prowess, which proved to be the decisive factor in overcoming deficits in the swim and bike portions. The strong women's field, featuring eight of the top 10 PTO Ranked athletes, tested each competitor's limits and provided a thrilling race. Ashleigh Gentle's consistency and strength earned her a well-deserved second place, while Lucy Charles-Barclay's early lead in the swim and bike held her in good stead to finish third. The race was ultimately won and lost in the run, where Haug's extraordinary performance secured her victory and set the stage for an exciting triathlon season ahead.
1. Anne Haug (GER) – 3:38:01
2. Ashleigh Gentle (AUS) – 3:40:31
3. Lucy Charles-Barclay (GBR) – 3:40:57
4. Emma Pallant-Browne (GBR) – 3:42:20
5. Paula Findlay (CAN) – 3:43:35
6. Tamara Jewett (CAN) – 3:43:52
7. India Lee (GBR) – 3:45:24
8. Luisa Baptista (BRA) – 3:46:36
9. Lotte Wilms (NED) – 3:47:15
10. Holly Lawrence (GBR) – 3:47:48