News & Racing
Australian Olympic Triathlon Team's Newest Female Member Emma Jackson
There has been criticism by the Australian triathlon community aimed at Triathlon Australia and in particular the selection committee for both the way the have handled the Olympic team selection process and the subsequent team selection. In particular the women's team and, what many thought wo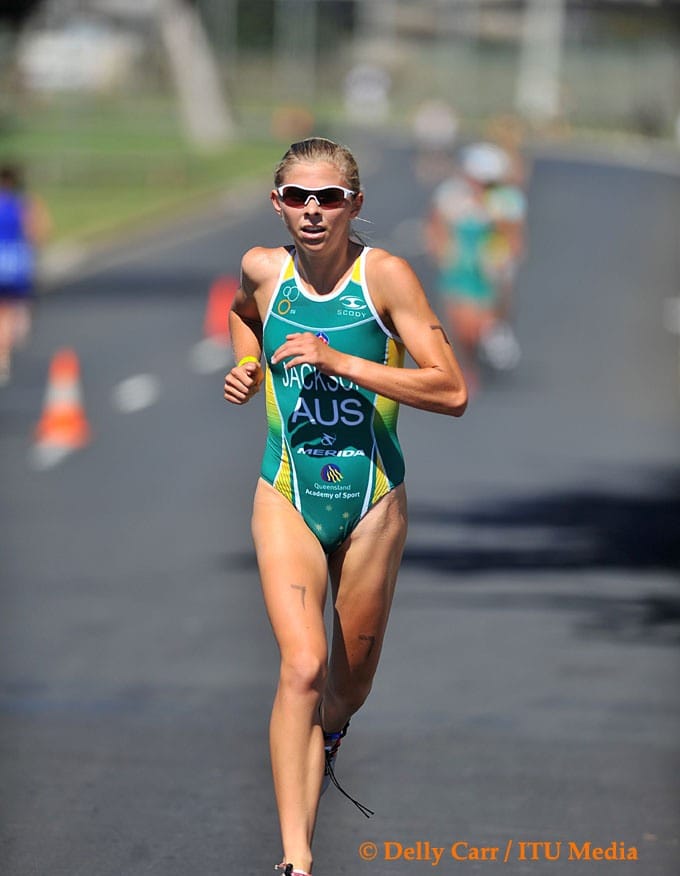 There has been criticism by the Australian triathlon community aimed at Triathlon Australia and in particular the selection committee for both the way the have handled the Olympic team selection process and the subsequent team selection. In particular the women's team and, what many thought would harm our medal chances, the non selection of Emma Snowsill. Always there are other people caught up and for 21 year old Emma Jackson it must be a bit daunting to be achieving a childhood dream yet to see so many of the triathlon community supporting someone else who's place she has taken in the team. Jackson knows, however, that this does not mean she won't receive the full support of the Australia public at the Olympics and that it is normal for people to have views on the selection.
Born in in Brisbane, Queensland in 1991 Jackson grew up going to the Holy Spirit Primary School. She was fortunate to receive a sport/academic scholarship to St Margaret's Anglican Girls School for years 10-12 of high school. Apart from recently basing herself in Europe during the Southern Hemisphere's Winter she has always lived in Brisbane. Jackson grew up with brother Luke, four years her junior, and still lives at home with him and her Mum. Boyfriend of three years, Drew Box also races ITU triathlon.
What does it mean to you to be named as a member of the Australian Olympic Team?
To be named as a member of the Australian Olympic team is a dream come true. It is such a great honor to have the opportunity to represent Australia at an Olympic Games, especially in a sport Australia has so much depth and history in. This is only the fourth Olympic Games triathlon will feature in so it is great to be a part of such a select group of athletes who have raced for Australia at the Games.
When did you know you wanted to represent Australia at the Olympic Games?
When I was younger, around 7 years old I started off competing in swimming and then moved onto running. In both of these sports I always wanted to represent Australia at the Olympic Games as this is the pinnacle event for any athlete. I always loved watching the Olympic Games on TV as a kid and thought how cool it would be to be like those athletes representing their country. It wasn't until I watched the Triathlon event at the 2008 Olympic Games that I really knew I wanted to race for Australia at an Olympics. I was only very new to the sport then and still learning and improving as a junior athlete and watching that event really inspired me to want to become an elite triathlete and have the opportunity to represent Australia.
How has the postponement of naming the Australian Triathlon team for London 2012 affected your preparation?
I have tried not to let the long selection process effect my preparation at all for the Olympic Games. Since the end of the 2011 season my focus has always been on London in the hope that I would get selected to compete. Once I found out I was nominated but the announcement was going to be postponed due to an appeal I didn't spend much time thinking about it or getting distracted, instead I focused on my training as no matter what the decision I knew I had important races coming up in the future, whether it be London or not.
There was a groundswell of support for Emma Snowsill to be picked in the team. Has that affected you at all?
To be honest I have tried to stay away from reading media regarding the selection of the team simply because I didn't want to let it affect me. I think I have done this well and been able to focus on myself and what I can control and not let things I can't control get in my way.
Are you a medal chance? You seem to have been a bit off your game recently. Tell us about where you are at with London preparations right now.
I want to go into the London Olympic Games being in the best shape I possibly can to ensure I have the best performance on the day. If that means a medal then that is great, if that means a win then that is even better. Unfortunately a couple of my races this year haven't gone to plan but like I said earlier my focus since the end of 2011 has always been the London Olympics in hoping I was selected. I am currently in a big block of training and will be for a while leading up and preparing for the Games. I am happy with how my training is going so far and believe I am on track with my London preparations.
Last year you finished a strong fourth in the London round of the WTS despite being almost a minute down on the swim. Tell us about this race.
I learnt a lot from the London race last year which I hope to take into the Olympic Games. Unfortunately I didn't have the best of swims but I know what I could have done to make it better. Fortunately the race came together and I was able to finish fourth, being the first Australian across the line. I know in London this year that I want to be up the front and not leave it to the final stages of the bike leg to be in contention for the win.
In your eyes has Helen Jenkins improved since London 2011?
Helen Jenkins will definitely be one of the biggest threats come race day.   She is such a dominant force over all three disciplines which is why she is a great athlete and the 2011 World Champion. She knows how to win on the London course and I am sure like most athletes she has improved and only got stronger for the 2012 Olympic Games.
It is often said that you are not a great bunch rider and as a result tend to not be as aggressive as you should on the bike leg. Obviously last year in London you posted a very fast bike time but you were playing catch up. Is this the case? If so what are you doing to rectify it?
My bike confidence is the most important thing I am working on  as it is my biggest fault. My coach and I are happy with my skills on the bike however when I get to racing in a bunch I get nervous around other athletes who don't have the best skills and this makes me hesitant and resort towards the back to try and stay clear. It is something I will always continue to work on and hopefully with more experience in racing I can become a more aggressive rider and go to the front of the pack around the better riders and use the bike leg to my advantage.
What is the support like from your fellow Australian team mates?
Currently I am in Aix Les Bains, France with some of the Australian team and I was fortunate to be with them when the announcement came out about the team. They have all been very supportive and happy for me and only wish the best for my preparation and Olympic experience. The support has also been overwhelming from fellow people involved in the sport and the general public. It really helps knowing that there are a lot of people out there supporting you and hoping for the best.
Emma's ITU Results
London 2011
| | | | | | | |
| --- | --- | --- | --- | --- | --- | --- |
| Pos | Athlete | Country | Time | Swim | Bike | Run |
| 1 | Helen Jenkins | GBR | 2:00:34 | 0:19:31 | 1:06:06 | 0:33:48 |
| 2 | Gwen Jorgensen | USA | 2:00:41 | 0:19:40 | 1:05:57 | 0:33:43 |
| 3 | Anja Dittmer | GER | 2:00:49 | 0:19:49 | 1:05:42 | 0:34:01 |
| 4 | Emma Jackson | AUS | 2:00:51 | 0:20:24 | 1:05:17 | 0:33:57 |
| 5 | Emma Snowsill | AUS | 2:00:52 | 0:19:23 | 1:06:12 | 0:34:02 |
| 6 | Andrea Hewitt | NZL | 2:00:54 | 0:19:31 | 1:06:02 | 0:34:06 |
| 7 | Sarah Groff | USA | 2:00:58 | 0:19:19 | 1:06:17 | 0:34:04 |
| 8 | Nicola Spirig | SUI | 2:01:04 | 0:19:51 | 1:05:46 | 0:34:16 |
| 9 | Ashleigh Gentle | AUS | 2:01:07 | 0:20:35 | 1:05:05 | 0:34:13 |
| 10 | Emmie Charayron | FRA | 2:01:10 | 0:19:52 | 1:05:49 | 0:34:13 |
Full Scorecard
| | | | |
| --- | --- | --- | --- |
| Date | Pos | Event | Time |
| 26/05/2012 | DNF | 2012 ITU World Triathlon Madrid | |
| 10/05/2012 | 14 | 2012 ITU World Triathlon San Diego | 2:01:59 |
| 14/04/2012 | 33 | 2012 Dextro Energy World Triathlon Sydney | 2:04:04 |
| 10/03/2012 | 1 | 2012 Devonport OTU Triathlon Oceania Championships | 1:56:36 |
| 19/09/2011 | 5 | 2011 ITU World Championship Series Yokohama | 1:59:57 |
| 9/09/2011 | 12 | 2011 ITU World Championship Grand Final Beijing | 2:00:43 |
| 21/08/2011 | 6 | 2011 Lausanne ITU Team Triathlon World Championships | 0:20:25 |
| 20/08/2011 | 2 | 2011 Lausanne ITU Elite Sprint Triathlon World Championships | 0:58:35 |
| 6/08/2011 | 4 | 2011 ITU World Championship Series London | 2:00:51 |
| 16/07/2011 | 2 | 2011 ITU World Championship Series Hamburg | 1:53:44 |
| 29/05/2011 | 6 | 2011 Brasschaat ITU Triathlon Premium European Cup | 1:59:44 |
| 8/05/2011 | 15 | 2011 Monterrey ITU Triathlon World Cup | 1:58:56 |
| 9/04/2011 | 24 | 2011 ITU World Championship Series Sydney | 2:03:48 |
| 26/03/2011 | 25 | 2011 Mooloolaba ITU Triathlon World Cup | 2:08:10 |
| 6/02/2011 | 8 | 2011 Kinloch ITU Sprint Triathlon Oceania Cup | 1:10:53 |
| 16/10/2010 | 11 | 2010 Tongyeong ITU Triathlon World Cup | 2:06:26 |
| 8/09/2010 | 1 | 2010 ITU Triathlon U23 World Champs Grand Final Budapest | 1:58:07 |