Gear & Tech
Triathlon & Cycling Cufflinks and Pendants
If you attended Ironman Melbourne or Port Macquarie you would no doubt have seen in the expo some very stylish men's and women's jewellery featuring either the M Dot logo, or Bike themes. Trizone has two sets of the 'Two Wheel Collection' cufflinks, and one set of ear studs to gi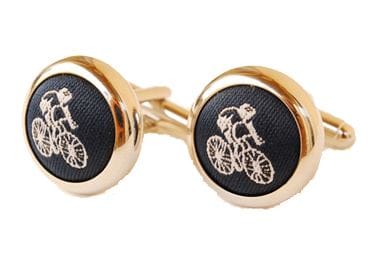 If you attended Ironman Melbourne or Port Macquarie you would no doubt have seen in the expo some very stylish men's and women's jewellery featuring either the M Dot logo, or Bike themes.
Trizone has two sets of the 'Two Wheel Collection' cufflinks, and one set of ear studs to give away.
Hannmaid is a Melbourne based label, focusing on unique handmade accessories & textiles using the finest natural materials.
The Hannmaid, 'Two Wheel Collection' reflects the influence that bicycles & sport has in Hannmaid's day to day life as well as within the growing Melbourne community. The Hannmaid bicycle cufflink range come in a kaleidoscope of colours that are handmade in Melbourne.
Most Hannmaid creations are made personally by hand. Various designs emerge from a shadow of an idea that then give birth within the Hannmaid workshop.
Hannmaid is also passionate about collaborating with talented artists and building loyal relationships with their local communities.