News & Racing
Brendan Sexton Cellarbrating racing again with a 2nd at the Australia Day Aquathon
Brendan Sexton had plenty to cellarbrate last weekend with his first race of 2014 showing that he is back on track. After a tough 2013 that started with Plantar Fascia issues postponing the beginning of his European and ITU season, he had to sit back and watch his team mates head of to their base [&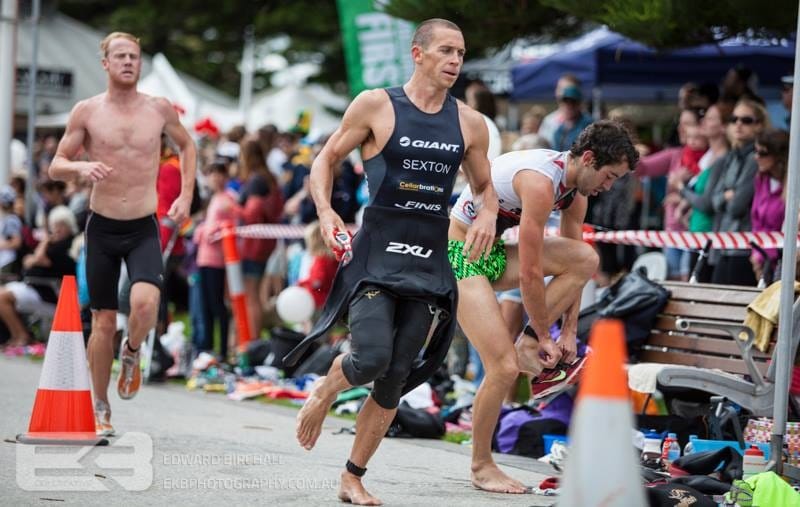 Brendan Sexton had plenty to cellarbrate last weekend with his first race of 2014 showing that he is back on track. After a tough 2013 that started with Plantar Fascia issues postponing the beginning of his European and ITU season, he had to sit back and watch his team mates head of to their base in Spain while Wollongong based Physio Alex Price put the finishing touches on his injury recovery before giving him the green light to go.
Added to that some issues related to breathing that were making it difficult for him to get to his potential during the swim. All of these challenges lead to his omission from the 2013 ITU World Champs team in London.
2014 is a new year for Sexton and the start looks good.
With a solid field assembled for Australia's largest aquathon in Wollongong last weekend Brendan Sexton was happy to be once again racing and coming home with a solid second.
"I was very pleased to cross the finish line for the first time in almost 6 months at the Australia Day Aquathlon. Add to that a second placing and it being our national day of Cellarbration I couldn't refuse an afternoon of BBQ, friends and a quiet brew!"
Brendan has just finished the training camp in Falls Creek along with the rest of his Australian team mates to get the fitness kick started for 2014. The team is now back in Wollongong and in to some serious training with coach Jamie Turner overseeing things.