News & Racing
Britta Martin Wins Ironman 70.3 Port Macquarie 2012
Britta Martin delivered a come from behind victory to take out the 2012 Ironman 70.3 at Port Macquarie. On an initially overcast day that delivered a stiffening breeze on the bike, and increasing temperatures on the run as the sun broke through, Britta caught fellow Kiwi Kat Baker at the 17K point o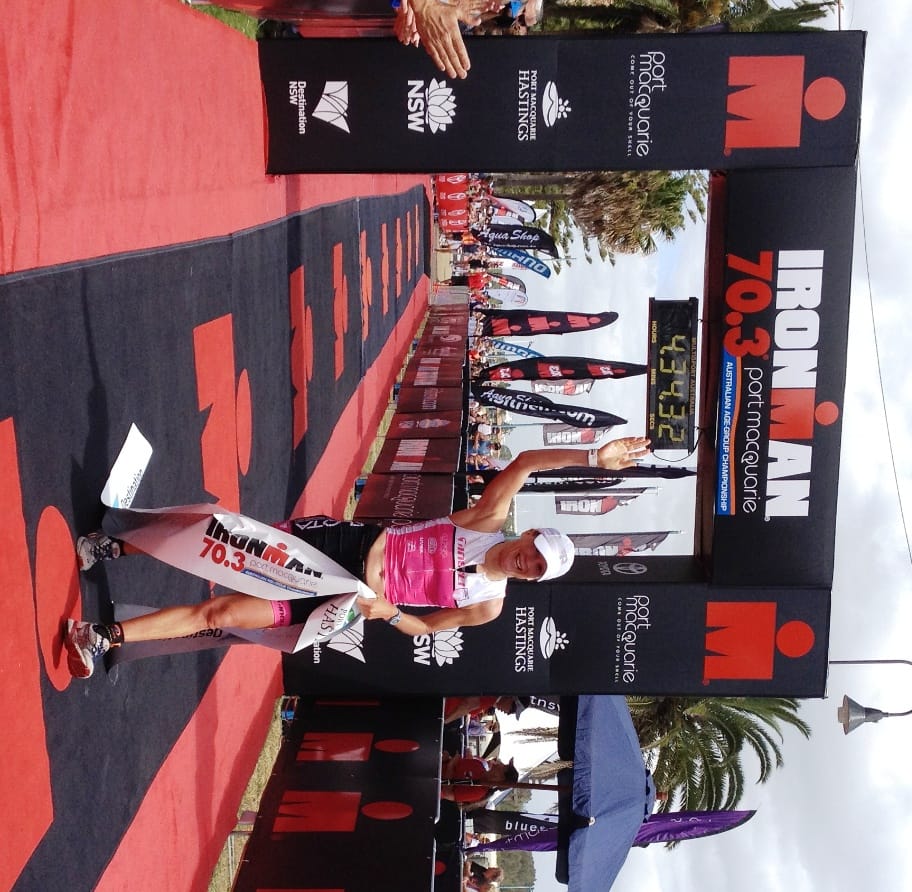 Britta Martin delivered a come from behind victory to take out the 2012 Ironman 70.3 at Port Macquarie. On an initially overcast day that delivered a stiffening breeze on the bike, and increasing temperatures on the run as the sun broke through, Britta caught fellow Kiwi Kat Baker at the 17K point on the run and stormed home to a memorable victory.
Starting 2 minutes behind the men the lead women out of the water were Kiyomi Niwata (who is making the transition from ITU racing) Belinda Harper and Kat Baker. There was early drama as Kat tried to mount her bike but veered violently into Niwata forcing her into the crash barriers. Niwata had to dismount and readjust her brakes before she could set off in pursuit of Baker and Harper.
Rebecca Hoschke was next onto the bike, but already with ground to make up on the lead 3, followed by Britta Martin. Kat Baker put in a dominant performance on the bike establishing a 6:15 lead at the halfway turnaround over Beinda Harper, with Martin and Hoschke a further minute down.
As the breeze picked up on the course Baker was able to use her strength on the bike to further extend her lead to over 11 minutes. However as she started on the run she looked to have a heavy stride and was not relaxed, although the lead was significant even at this early stage it was questionable as to whether she would be able to hold off stronger runners.
Britta Martin had been able to move up on the bike to be in second place, and in contrast to Baker looked light footed and fresh as she set off on her chase. Just behind was Harper, though she too looked quite spent. Like Martin Hoschke looked good at the start of the run and within the first 2K's had moved into 3rd ahead of Harper. The increasingly hot conditions probably played into the hands of Martin and Hoschke who are lighter runners than the other competitors.
Martin and Hoschke steadily bore down on Baker, with Martin making the pass at the 17K mark, and Hoschke shortly after. Baker who was clearly disappointed to have lost such a commanding lead was able to hold on for a podium spot ahead of a fast finishing Niwata. WITSUP.com was saying that Niwata was recovering from a virus that forced her out of the Auckland ITU. Niwata went for a ride the other day and felt flat. Considering this she had a good showing today.
| | | | | | | | |
| --- | --- | --- | --- | --- | --- | --- | --- |
| Name | Country | Swim | Bike | Run | Finish | Div. Rank | Overall |
| MARTIN, Britta | New Zealand | 0:28:56 | 2:36:44 | 1:24:43 | 4:32:26 | 12 | 51 |
| HOSCHKE, Rebecca | Australia | 0:29:35 | 2:36:46 | 1:28:39 | 4:37:07 | 14 | 65 |
| BAKER, Kat | Australia | 0:24:56 | 2:29:30 | 1:43:19 | 4:39:41 | 15 | 77 |
| HARPER, Belinda | New Zealand | 0:24:58 | 2:41:07 | 1:31:52 | 4:40:00 | 16 | 80 |
| NIWATA, Kiyomi | Japan | 0:24:55 | 2:47:02 | 1:27:47 | 4:41:36 | 17 | 83 |
| JUHART, Monica | Australia | 0:27:15 | 2:44:35 | 1:33:58 | 4:48:44 | 34 | 124 |
| FANCUTT, Liz | Australia | 0:30:47 | 2:41:10 | 1:36:00 | 4:51:00 | 14 | 142 |
| HALLETT, Kristy | Australia | 0:30:34 | 2:45:22 | 1:34:47 | 4:52:59 | 18 | 158 |
| SIMPSON, Jessica | Australia | 0:28:06 | 2:44:24 | 1:39:54 | 4:54:29 | 12 | 170 |
| LANGLEY, Susan | Australia | 0:30:27 | 2:45:45 | 1:35:25 | 4:54:30 | 19 | 171 |
| ELLISON, Sian | United Kingdom | 0:33:32 | 2:40:38 | 1:37:59 | 4:54:42 | 45 | 173 |
| RUTHERFORD, Jo | Australia | 0:32:39 | 2:45:54 | 1:36:55 | 4:58:13 | 39 | 198 |
| UEBEL, Julie | Australia | 0:29:47 | 2:48:18 | 1:37:46 | 4:58:27 | 41 | 200 |
| COTTRELL-DORMER, Mia | Australia | 0:31:20 | 2:45:44 | 1:38:56 | 4:58:40 | 44 | 207 |
| PARKER, Lauren | Australia | 0:25:05 | 2:52:58 | 1:40:10 | 5:00:50 | 17 | 225 |
| COOKE, Allison | Australia | 0:29:13 | 2:55:20 | 1:34:32 | 5:01:29 | 49 | 229 |
| BARRY, Carolyn | United States | 0:30:15 | 2:50:03 | 1:39:38 | 5:02:11 | 51 | 235 |
| DOUGLAS, Tracy | United States | 0:35:18 | 2:45:00 | 1:40:01 | 5:02:51 | 47 | 241 |
| JACKSON, Dee-Ann | Australia | 0:31:19 | 2:46:02 | 1:42:45 | 5:03:40 | 54 | 248 |
| RUSSELL, Kimberley | Australia | 0:27:15 | 2:49:14 | 1:44:39 | 5:04:21 | 52 | 254 |