Cairns Ironman Preview last minute update with the addition of Berkel and White
The men's Ironman race has had an extra twist added with Tim Berkel and Matty White both deciding to step up from the 70.3. For White this was a late decision. For Berkel this decision meant he was going back to his original plan to race the Ironman here at Cairns. The race favourites for [&he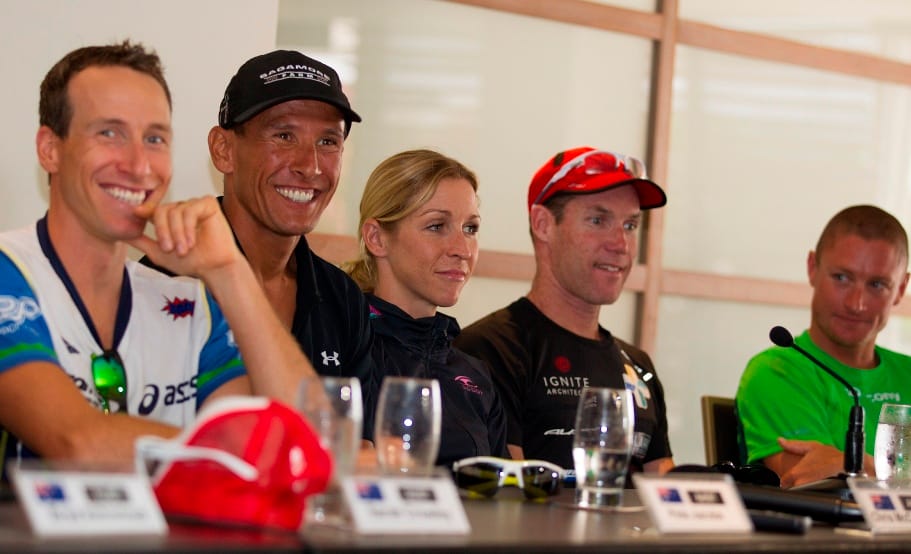 The men's Ironman race has had an extra twist added with Tim Berkel and Matty White both deciding to step up from the 70.3. For White this was a late decision. For Berkel this decision meant he was going back to his original plan to race the Ironman here at Cairns.
The race favourites for the weekend are (in no particular order) Clayton Fettell, Luke Mckenzie, Cameron Brown and Chris McCormack. As is often the case with Macca there is always a bit of foxing. No one really knows how he will go. Some visits to the hospital in the last week have people guessing as to how he will go. Will he race to win? Or will he race to validate and preserve his body?
Cameron Brown finished second at Cairns last year and is looking for a win in Australia in a top race. Brown raced in Fiji over the long course a few weeks ago in conditions similar to what we will see tomorrow. He went well and is bullish about tomorrow.
Arguably this is Clayton Fettell's race. A full swim and tough bike will suit Fettell. His goal will be to put as much between himself and the field at T2 as possible. In Melbourne the shortened 1500m swim was not good for Fettell and the big bunches on the fast and reasonably flat bike course meant that he had no chance to get away. The result was a 12th overall. Cairns should be different.
Standing between Fettell and a win will most likely be his recent San Diego training partner Luke McKenzie. McKenzie is looking sharper than he has in a long time. A move away from his coach and move back to waht used to work for him has seen some great results posted this season. McKenzie knows how to perform on the big stage. In 2011 he posted a 4:24 on the bike and finished 9th overall. He has one of the stronger bikes in the game.
Tim Berkel made the choice to race Ironman after a good block of training recently. The current Australian Ironman 70.3 Champion has a lot of miles in his legs after training for Melbourne. Pulling out of Ironman Melbourne was gut wrenching. He jumped on a plane and raced the Texas 70.3 for second overall and then had a break after new Orleans. We spoke to Berkel yesterday about this year. Read the interview here. Berkel almost ran down Paul Ambrose at Ironman Australia in 2012 after Ambrose hit the run with a 15min advantage. Watch for a big run tomorrow.
Matty White finished a disappointing 10th at Busselton 70.3 recently after riding solo for 70kms to try to put some time on the chase group only to be run down. A different approach this weekend will be on the cards. White can run and we saw this in 2010 here at Cairns where he finished second overall.
Courtney Ogden won Ironman Western Australia in 2011. On his day he will be in the mix.
A recent move away from Team TBB   should give Brett Carter the incentive to put in a good performance. Carter won the Metaman Bintan iron distance race last year. He is a pro who is growing in leaps and bounds. Carter finished 7th overall here last year in 8:44.
Todd Israel is new to the pro ranks and after a solid start in Melbourne he came out of the swim with the main chase pack and rode a 4:39. He ran a 3:15 off no run base. Injuries have plagued Israel's run and we look forward to seeing him tomorrow and see what he has built on since Melbourne.
WA's Johan Borg is one of the youngest in the pro ranks. We caught up with Johan yesterday to chat about his goals for tomorrow. A top 5 is his goal. Although in this field a top ten will be a great result. He finished 6th overall at IM WA last year.
The Women
In the women's race Kiwi Gina Crawford and Australian/GBR Liz Blatchford are the race favourites ahead of Michelle Gailey. Gailey was second here in 2011 bur is an unknown quantity this year. She could upset with her experience and the love of racing in the heat. Gailey started the Samui Triathlon but posted a DNF.
Gina Crawford now sees herself as a Mum first and professional triathlete second. She limits training to 20hours per week. That might also have something to do with training in the freezing temperatures in her home town of Wanaka where tops of 5degress have seen some testing conditions.
Liz Blatchford wasn't going to race three weeks ago. After becoming quite ill after she won Busselton 70.3 things were not looking good. However after making the decision in her mind the pressure lifted and things started to come good. She had some good training and she is back in the race!
Blatchford did her longest race recently at the Samui Triathlon. A 4km/122km/30km race in hot conditions tested her and she came out with flying col0urs. A second behind an inform Melissa Hauschildt with an equal 30km run in the 2:07s was a great result. Blatchford even felt she could have gone harder. The recovery was much better than expected.
The race plan for Blatchford tomorrow is to not ride with power or a heart rate tomorrow. We caught up with her yesterday and she is expecting to lead out of the water but to have Crawford catch her on the bike. At that stage keeping with Crawford will be the goal. Although making sure at the same time that she will be riding within herself.
Michelle Wu will be also racing her first Ironman. The pint sized rocket from Canberra has had no time off work for training and has also battled the cold. Most cycling has been done on an indoor trainer. Wu loves the heat and is a great runner. It will be great to see her race over this distance.
Another Kiwi in the field is Anna Ross. A second in the ITU world long course champs in 2011 in the 25-29 age group is won of her more notable results. A 2:15 run over 30kms was solid.
Full details Ironman.com
| | | |
| --- | --- | --- |
| Bib | Athlete | Country |
| 1 | Christopher MCCORMACK | AUS |
| 2 | Cameron BROWN | NZL |
| 3 | Luke MCKENZIE | AUS |
| 4 | Clayton FETTELL | AUS |
| 5 | Jason SHORTIS | AUS |
| | Tim BERKEL | AUS |
| | Matty WHITE | AUS |
| 6 | Simon COCHRANE | NZL |
| 7 | Courtney OGDEN | AUS |
| 8 | Todd ISRAEL | AUS |
| 9 | Brett CARTER | AUS |
| 10 | Johan BORG | AUS |
| 11 | Dan BROWN | PHI |
| 12 | Jemani FRANCIS | AUS |
| 13 | Yeunsik HAM | KOR |
| 14 | Timothy MOLESWORTH | AUS |
| 15 | Matt RANDALL | NZL |
| | | |
| Bib | Athlete | Country |
| 21 | Gina CRAWFORD | NZL |
| 22 | Michelle GAILEY | AUS |
| 23 | Michelle BREMER (Out) | NZL |
| 24 | Liz BLATCHFORD | GBR |
| 25 | Michelle WU | AUS |
| 26 | Stephanie JONES | USA |
| 27 | Anna ROSS | NZL |
| 28 | Beth WALSH | USA |