News & Racing
Courtney Atkinson wins Ironman 70.3 Cairns 2013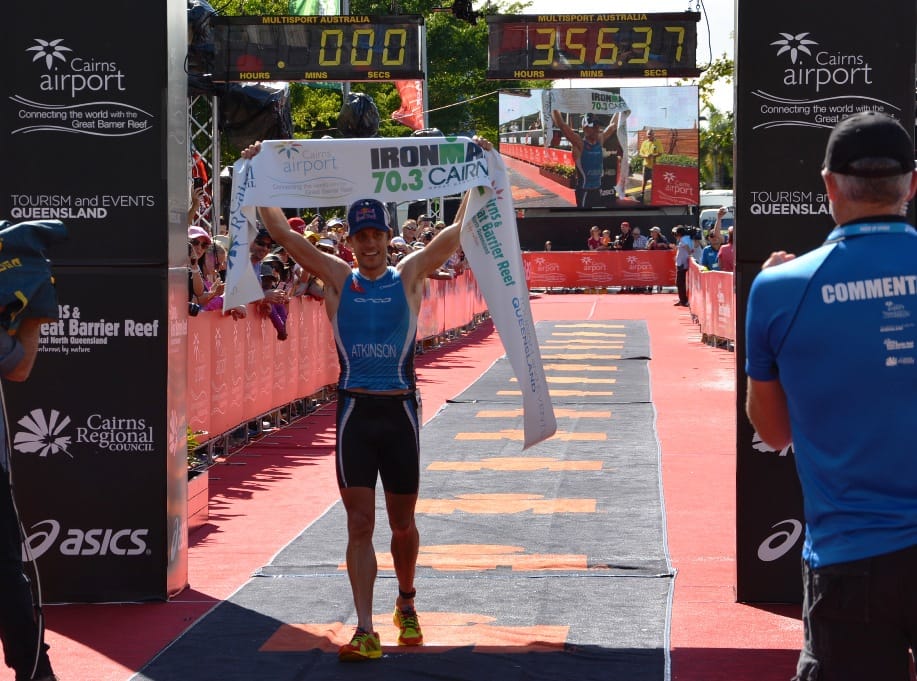 Courtney Atkinson has won one of the hardest races of his career. After leading out of the swim Atkinson road hard for the entire race never letting the challenges get the better of him on the bike. Kiwi Graham O'Grady took the lead on the
The swim times don't give a great indication of how the guys went out on to the bike. The long run from the water to transition split the guys up a bit. They had to go through the IM tent and pick up their helmets etc. Atkinson had a gap of about 30 seconds on to the bike ahead of Brad Kahlefeldt, Shane Barrie, Pete Jacobs, Sam Appleton, Graham O'Grady, Sam Betten, Casey Munroe and Joey Lampe.
Tim Reed was next on to the bike about 1:52 down on the leaders. Following was David Mainwaring, Monty Frankish, Brad Wauer with Josh Rix and Jamie Stanley following.
Tim Reed's plan was to conserve early on the bike then start to eat in to the leaders after 40kms. Reed was fairly quickly in to the lead group and along with O'Grady, Casey Munroe and Atkinson this lead pack started to put time in to the field.
With a tail wind all the way out there was going to be no benefit from being from a pace line. This broke the field up and gave Tim Reed some hope that he would have enough of a gap to keep Kahlefeldt at bay on the run.
Pete Jacobs bike time of 2:39 at Hawaii last week is now just a memory after he rode a 2:14 today. Still not where he will be in October this year but a bit of rest and getting himself right has shown that last week was just a hiccup after a lot of travelling, commitments etc.
On to the run and O'Grady, Atkinson, Munroe and Reed had a lead over the field. Atkinson quickly started to dominate and both he and Reed quickly left Munroe behind then O'Grady.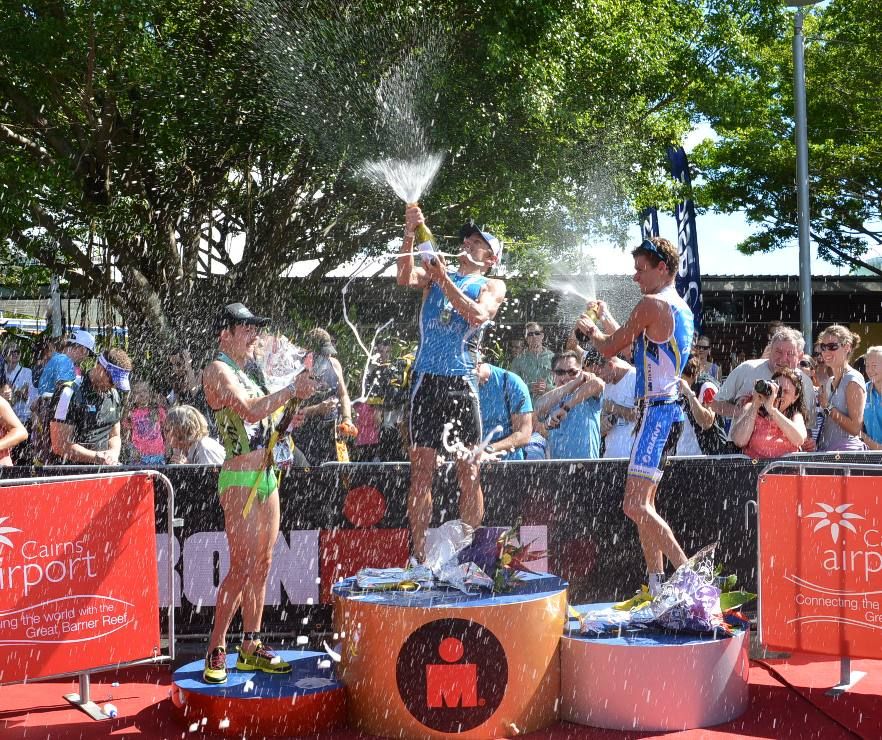 Brad Kahlefledt had a deficit to make up and he started to have the run of his life. It took Kahlefeldt approximately 17kms to finally catch Tim Reed and take second spot. First was now almost out of reach. Behind Kahlefeldt and Reed was Pete Jacobs who was pushing hard in an attempt to get on to the podium. It wasn't until about 500m to go that Jacobs realised how close Reed was and he gave it one last push but missed out by seconds. Reed had no idea Jacobs was closing.
Courtney Atkinson took the win with Brad Kahlefeldt second and Tim Reed third.
For Atkinson this race was tough. "I have never raced such a tough race. The head wind all the way back on the bike was bad enough but then we ran the entire 21kms in to it as well. It was brutal. I am going to get changed and come back out and cheer on the Ironman athletes because they are going to be doing it so tough out there."
Brad Kahlefeldt was stoked with the second. "This was such a hard race. Courtney was exceptional today. It was the toughest run I have done. It took me a long time to catch Tim. He is a tough competitor and I had to have the run of my life."
Tim reed was not happy with his swim."I expected to be about one minute down. Instead I found the gap was around 1:52. It took me about 35min to catch the second group. I didn't catch the lead group until 65km. I knew I was pushing too high a wattage to run well off the bike but I had no choice."
Tim said he needs to work on his open water swimming. "I have been doing pool swimming and nothing else. I have lost a bit of confidence in the open water and need to work on skills." Riding 340-350 watts on his own and dropping to around 250 at 12m when he caught the groups shows there is a massive difference when riding on your own.
Tim said the race seemed really fair.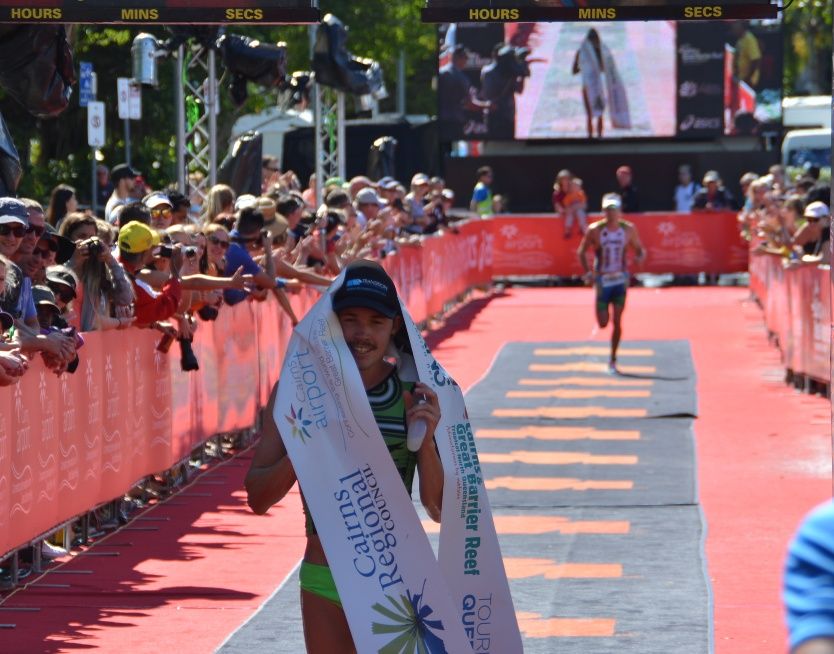 | | | | | | | | |
| --- | --- | --- | --- | --- | --- | --- | --- |
| Name | Country | Swim | Bike | Run | Finish | Div. Rank | Overall |
| ATKINSON, Courtney | Australia | 0:23:17 | 2:11:53 | 1:16:35 | 3:56:34 | 1 | 1 |
| KAHLEFELDT, Brad | Australia | 0:23:25 | 2:14:58 | 1:14:22 | 3:57:26 | 2 | 2 |
| REED, Tim | Australia | 0:24:54 | 2:10:10 | 1:20:10 | 3:59:54 | 3 | 3 |
| JACOBS, Pete | Australia | 0:23:27 | 2:14:26 | 1:17:16 | 4:00:05 | 4 | 4 |
| APPLETON, Sam | Australia | 0:23:24 | 2:14:27 | 1:20:43 | 4:03:33 | 5 | 5 |
| O'GRADY, Graham | New Zealand | 0:23:17 | 2:11:42 | 1:24:38 | 4:04:22 | 6 | 6 |
| MUNRO, Casey | Australia | 0:23:30 | 2:11:27 | 1:28:24 | 4:08:18 | 7 | 7 |
| CURRIE, Braden | New Zealand | 0:25:23 | 2:16:34 | 1:18:54 | 4:10:30 | 8 | 8 |
| DODD, Paul | Australia | 0:26:58 | 2:19:05 | 1:28:04 | 4:19:37 | 1 | 9 |
| O'DOHERTY, Paul | Ireland | 0:27:51 | 2:23:20 | 1:23:56 | 4:20:58 | 1 | 10 |
| BETTEN, Sam | Australia | 0:23:28 | 2:11:28 | 1:41:08 | 4:20:58 | 9 | 11 |
| WAUER, Brad | Australia | 0:25:29 | 2:21:49 | 1:26:08 | 4:21:49 | 10 | 12 |
| RIX, Josh | Australia | 0:26:15 | 2:22:09 | 1:27:37 | 4:21:59 | 11 | 13 |
| STANLEY, Jamie | Australia | 0:26:09 | 2:25:33 | 1:24:51 | 4:22:26 | 12 | 14 |
| LAMPE, Joseph | Australia | 0:23:21 | 2:21:41 | 1:32:04 | 4:22:35 | 13 | 15 |
| FRANKISH, Monty | Australia | 0:25:19 | 2:20:31 | 1:30:53 | 4:22:35 | 14 | 16 |
| ASHTON, Nathan | Australia | 0:31:57 | 2:16:52 | 1:28:03 | 4:23:13 | 2 | 17 |
| LAVELLE, Greg | Australia | 0:27:49 | 2:20:04 | 1:31:16 | 4:24:37 | 1 | 18 |
| WOLSTENCROFT, Matthew | Australia | 0:27:23 | 2:22:54 | 1:28:39 | 4:24:43 | 2 | 19 |
| MAINWARING, David | Australia | 0:25:26 | 2:25:30 | 1:29:16 | 4:25:11 | 15 | 20 |
| MAURO, Peter | Australia | 0:27:52 | 2:22:21 | 1:29:10 | 4:25:24 | 2 | 21 |
| MILLER, Nathan | Australia | 0:27:39 | 2:22:11 | 1:31:23 | 4:27:00 | 1 | 22 |