News & Racing
Callala Triseries Festival results: Shane Barrie and Matilda Raynolds victorious in the Classic; James Davy, Tarni Cunningham take out the 'Club' race
Shane Barrie and Matilda Raynolds lead from start to finish to win the Elite Energy NSW Triseries 'Classic' distance triathlon in Callala.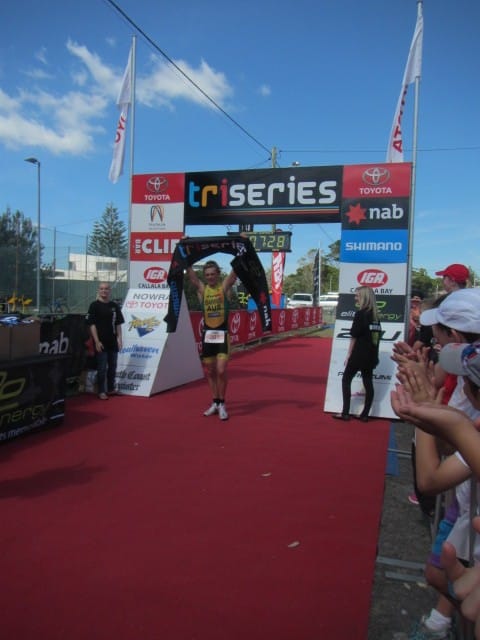 Shane Barrie from Towradgi and Sydney-based Matilda Raynolds both lead wire-to-wire to claim victory at the Elite Energy NSW Triseries 'Classic' distance triathlon in Callala, NSW.
In the men's race, Barrie, one of the best open-water swimmers in the country, tore off the front in the rough conditions and established a dominant lead over his competitors, exiting the water in 32:32. Ollie Whistler was next out of the drink in 35:04, ahead of Nathan Miller who hit the beach in 39:15. Local age-group competitor Joshua Henry posted a quick 37:29 split to lead the age-groupers into T2 hot on the heels of the Open competitors.
Onto the bike course, Barrie extended his lead handily with a slick 1:31:07 bike split over the flat and rolling 60km bike course. Whistler was next into transition, after posting a 1:33:58 bike ride, the second-best of the field. Miller found himself several minutes off the pace after the bike after a 1:36:13 ride in third. Lead age-grouper Josh Henry was not far behind after a 1:37:23 ride.
Barrie maintained a comfortable margin on the 15km run course, his 1:01:57 giving him plenty of time to soak up the finish chute and cross the line in 3:07:16. After struggling through the first lap, Whistler pulled the pin on the run leg, leaving Miller's closing 59:12 run to cement second place in a total time of 3:16:17. Josh Henry took the third step on the podium, winning the age-group race in 3:23:17.
In the women's race, Matilda Raynolds exited the water in first place, posting a 41:23 swim over the alleged 2.8-3km swim – somewhat longer than the advertised 2km swim. Fellow Open competitor Jennifer Davis found herself several minutes back, exiting in 45:22.
Raynolds maintained a strong advantage with a 1:44:48 bike ride giving the Braidwood native a big lead into T2. Davis found herself in the company of a few age-group competitors with F20-24 athlete Jessica Mitchell 's 1:44:56 bike split enough to put her at the pointy end of the field.
Onto the run course, Raynolds' 1:08:20 run gave her the win 3:36:32. Jess Mitchell's 1:02:05 run was the fastest of the day and enough to run into second, crossing the line in 3:37:40. F30-34 competitor Emma Just used a rapid 1:03 run to take third overall.
Men's Top 5:
| | | | |
| --- | --- | --- | --- |
| Position | Name | Category | Time |
| 1 | Shane Barrie | OPEN | 3:07:16 |
| 2 | Nathan Miller | OPEN | 3:16:17 |
| 3 | Josh Henry | 35-39 | 3:23:17 |
| 4 | Ryan Quintano | 30-34 | 3:23:38 |
| 5 | Shane Thompson | 35-39 | 3:25:52 |
Women's Top 5:
| | | | |
| --- | --- | --- | --- |
| Position | Name | Category | Time |
| 1 | Matilda Raynolds | OPEN | 3:36:32 |
| 2 | Jessica Mitchell | 20-24 | 3:37:40 |
| 3 | Emma Just | 30-34 | 3:43:29 |
| 4 | Sally Taggart | 45-49 | 3:45:05 |
| 5 | Jennifer Davis | OPEN | 3:46:13 |
'CLUB' DISTANCE RACE:
In the Club distance race -half the distance of the Classic- James Davy and Tarni Cunningham took the wins on a sunny late-morning in Callala.
For the men, Davy, Matthew Pellow and Adam Rudgely broke away from Mitch Cunningham -who was backing up from second place in Saturday's Sprint event- to exit the water in just under 14 minutes.
Davy and Pellow rode hard off the front to enter T2 together, posting 45:51 and 45:57 splits respectively. Davy made his intentions clear from the start of the run, tearing out of transition. Posting the quickest run of the day, Davy crossed the line in 1:27:10. Pellow held onto second, finishing in 1:29:06 ahead of Rudgely in 1:30:50.
In the women's race, sole Open competitor Tarni Cunningham of Berry lead wire-to-wire to take the win in 1:48:28. Like brother Mitchell, Cunningham race Saturday's Sprint triathlon, where she took second place.
With a tough 17:03 swim behind her, Cunningham rode a strong 56:44 to firmly hold her lead before closing her win with a strong run. On the back of a strong swim-bike performance, age-grouper Nikki Mugara took second, ahead of Petra Mallalia in third.
Men's Top 5:  
| | | | |
| --- | --- | --- | --- |
| Position | Name | Category | Time |
| 1 | James Davy | OPEN | 1:27:10 |
| 2 | Matthew Pellow | OPEN | 1:29:06 |
| 3 | Adam Rudgley | OPEN | 1:30:50 |
| 4 | Tom Norris | OPEN | 1:35:37 |
| 5 | Alex Price | 30-34 | 1:36:23 |
Women's Top 5:
| | | | |
| --- | --- | --- | --- |
| Position | Name | Category | Time |
| 1 | Tarni Cunningham | OPEN | 1:48:28 |
| 2 | Nikki Mugara | 40-44 | 1:50:05 |
| 3 | Petra Mallia | 40-44 | 1:51:59 |
| 4 | Rowena Moore | 30-34 | 1:52:40 |
| 5 | Kerry Seadon | 35-39 | 1:56:18 |