News & Racing
Samantha Warriner wins Ironman 70.3 Cairns 2013
In the women's race it was a wire to wire win for Kiwi super mum Samantha Warriner, with a fast finishing Kiyomi Niwata from Japan in second and Australia's Ange Castle in third. This is my 5th race in five weeks and I'm glad I held in there for the win. I love racing in […]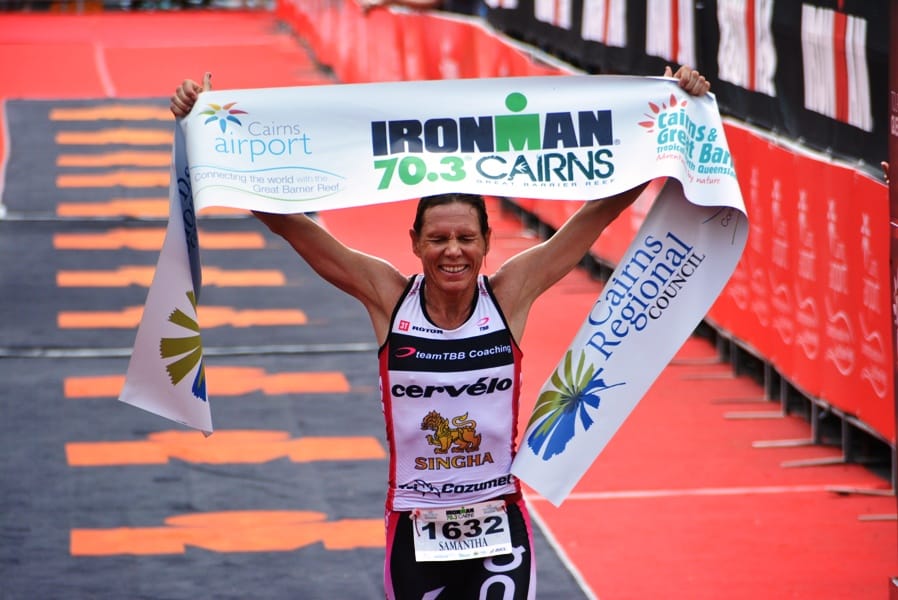 In the women's race it was a wire to wire win for Kiwi super mum Samantha Warriner, with a fast finishing Kiyomi Niwata from Japan in second and Australia's Ange Castle in third.
This is my 5th race in five weeks and I'm glad I held in there for the win. I love racing in Australia and to come back and win nine months after pregnancy is fantastic."
The course was so beautiful, but the wind was there the whole time."
Warriner was in a class of her own early, exiting the water with more than a minute lead. Warriner built on her lead out of the water and by the time she hit the 5.5km mark of the run she had a minute buffer. At that stage it looked like she had the race sewn up, the only problem was nobody told Niwata the race was over.
In a blistering run in very windy conditions she had the lead down to just two minutes at the 17.5km mark.
In the end she ran out of tarmac and finished 1min 6sec behind Warriner.
Ange Castle is fresh from a second at Ironman Australia recently and is showing that her move to the pro ranks is paying off. Like all the competitors she remarked about how tough this race was. "It was brutal out there. Riding back in to that wind then running 21kms in to it as well was one of the hardest things I have done."
Fourth placed Matlida Rayonlds was racing her first race for a long time. Raynolds was a solid second after the bike leg and at that stage was racing outside herself. She dropped her gels at 10kms and made the decision not to go back and get them.
Raynolds can hold her head high after being beaten by two more experienced competitors and two very fast runners.
Ironman Australia Champion Rebecca Hoschke missed the start by about 3mins and putting herself out of contention against a fast field. Hoschke had been warming up in the lagoon by transition and miscalculated how long it would take to get down to the start.
Like a couple of recent 70.3 races we have seen a couple of age groupers get in the mix of the overall results. At Cairns we saw age grouper Kym Jaenke come away with the fastest time overall. This was definitely an unexpected result. Jaenke finished behind Raynolds and Niwata at the Geelong Long Course this year and was second in her age group and 22nd female overall at Kona 2012. So she has some form.
Fastest female overall from Busselton 70.3 recently Rachael Smith was also back racing putting her annual training block to good use at Cairns.Smith finished 4th overall 4:33 behind Jaenke.
| | | | | | | | |
| --- | --- | --- | --- | --- | --- | --- | --- |
| Name | Country | Swim | Bike | Run | Finish | Div. Rank | Overall |
| JAENKE, Kym | Australia | 0:27:57 | 2:31:01 | 1:33:40 | 4:38:28 | 6 | 42 |
| WARRINER, Samantha | New Zealand | 0:26:46 | 2:27:45 | 1:38:14 | 4:39:19 | 19 | 45 |
| NIWATA, Kiyomi | Australia | 0:27:55 | 2:38:46 | 1:28:11 | 4:40:25 | 20 | 48 |
| SMITH, Rachael | Australia | 0:31:56 | 2:33:18 | 1:32:01 | 4:43:01 | 8 | 55 |
| CASTLE, Ange | Australia | 0:32:47 | 2:34:20 | 1:32:12 | 4:45:41 | 21 | 61 |
| RAYNOLDS, Matilda | Australia | 0:29:14 | 2:34:32 | 1:36:45 | 4:46:32 | 22 | 63 |
| HOSCHKE, Rebecca | Australia | 0:33:07 | 2:36:55 | 1:32:58 | 4:49:56 | 23 | 73 |
| MACKIE, Briarna | Australia | 0:28:55 | 2:38:35 | 1:40:31 | 4:54:08 | 13 | 88 |
| HALLETT, Kristy | Australia | 0:32:40 | 2:36:01 | 1:40:47 | 4:56:13 | 24 | 98 |
| ZAMMIT, Tracey | Australia | 0:28:44 | 2:36:49 | 1:44:42 | 4:56:38 | 17 | 99 |
| MEARES, Krista | Australia | 0:31:58 | 2:35:34 | 1:43:23 | 4:57:20 | 15 | 102 |
| LATIMER, Olivia | Australia | 0:35:52 | 2:34:21 | 1:39:54 | 4:57:28 | 14 | 103 |
| VALENTINE, Whitney | Australia | 0:35:22 | 2:37:23 | 1:38:07 | 4:58:29 | 16 | 109 |
| COOKE, Allison | Australia | 0:30:18 | 2:43:57 | 1:37:16 | 4:58:43 | 18 | 111 |