Craig 'Crowie" Alexander to defend Ironman Melbourne Title
MELBOURNE, Australia (February 7, 2013) – Three time Ironman world champion Craig Alexander has announced he will defend his title at the 2013 URBAN Hotel Group IRONMAN® Asia-Pacific Championship Melbourne on March 24, 2013. Alexander posted his first ever sub-eight hour (7:57:44) time to claim v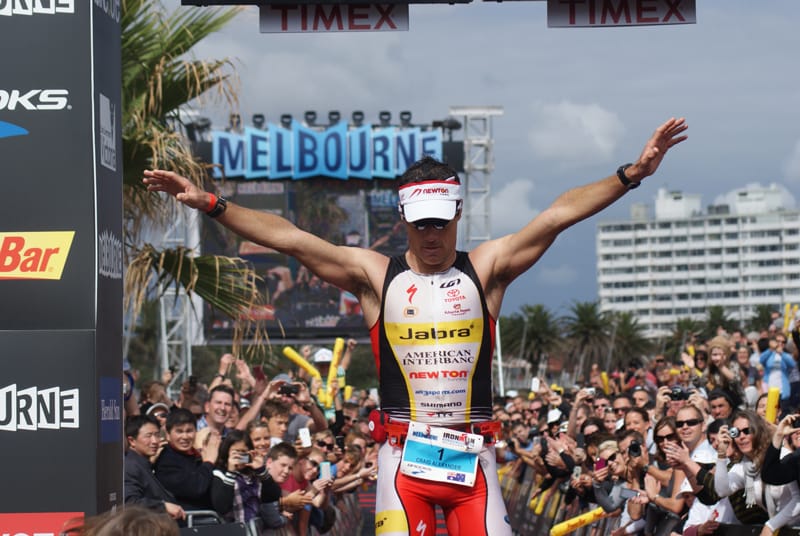 MELBOURNE, Australia (February 7, 2013) "Three time Ironman world champion Craig Alexander has announced he will defend his title at the 2013 URBAN Hotel Group IRONMAN ® Asia-Pacific Championship Melbourne on March 24, 2013.
Alexander posted his first ever sub-eight hour (7:57:44) time to claim victory last year from 10-time Ironman New Zealand champion Cameron Brown.
In 2012 Alexander claimed a silver medal at the IRONMAN ® 70.3 ® World Championship, a win at Ironman 70.3 Eagleman then finished a disappointing 12th at the Ironman World Championship in Kona.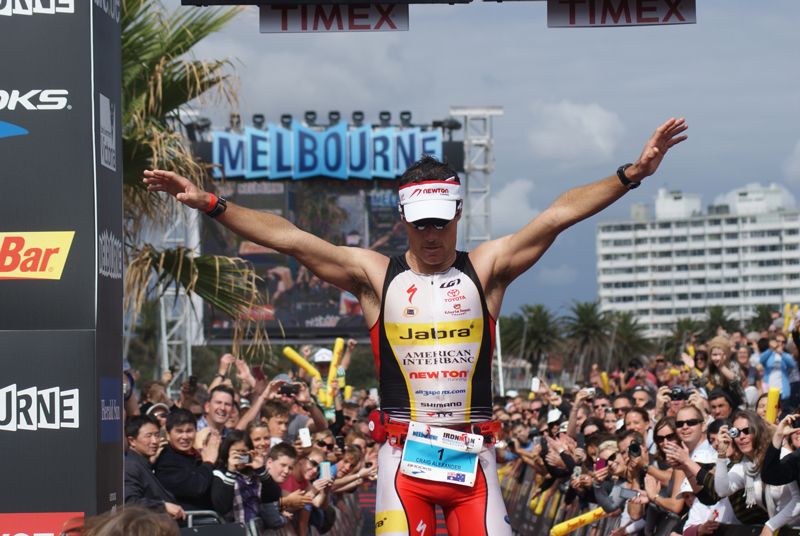 In 2011 the Australian became just the fourth man in history to claim a third Ironman World Championship title in Kona, smashing the 15-year-old race record in his wake.
The triple world Ironman champion has chosen to start his 2013 season at home, allowing time to be with family, as he, and wife Neri prepare for the birth of their third child in March.
"I feel it is always important to come back to a race and try and defend, particularly when that race is in your home country and has the prestige of being a regional championship," Alexander said.
"Outside of Kona, Ironman Melbourne is one of the marquee races in our sport and it is fitting that it takes place in such a great sporting city."
Alexander recently spent time in Melbourne preparing over the course.
"I just completed a one week training visit to Melbourne. It was an awesome experience; I trained on the run course and logged a lot of miles on the bike in and around the city.
"I also had the opportunity to go to the Australian Open and watch Roger Federer play, which was just amazing. So it wasn't all work and no play."
Alexander has not adjusted his preparation for this year but says it has been an uninterrupted one from last year, which is an ominous sign for his opponents.
"It has been less disrupted than last year's lead in to the race. I had two sponsorship trips to the US in January last year which made it nearly impossible to train effectively."
Alexander described Brown as a 'warrior' after last year's race, pushing him right into the well.
"The race last year was epic, a great battle between Cam (Brown), Frederic (van Lierde), Eneko (Llanos) and myself. I expect nothing different this year.
"Being such a prestigious race carrying the Asia-Pacific Championship, and having so many qualifying points towards Kona, is sure to once again lure many of the world's best to Melbourne on March 24," Alexander said.
Alexander is without question at the top of his game after an illustrious career that has spanned two decades since his first triathlon in 1994. Yet, the 39-year-old is still as passionate about the sport and improving his performance across all disciplines, but equally mindful of wanting to spend more time with his young family.
Alexander will once again come up against his nemesis in this race last year, Cameron Brown.
In a race that Brown described as the 'hardest' of his life after running stride for stride with Alexander until the final kilometres when Alexander raced off with his first ever Ironman victory on home soil.
It will be a big task for the veteran to back up from Ironman New Zealand just three weeks prior to challenge for top spot on the podium, but if anyone has the experience and ability, it is Brown.
"It'll be extremely tough to try and recover from Ironman New Zealand in three weeks but I'll try and have as many ice baths, massages as I can in those three weeks," Brown said.
"Last year it was a little easier having done only a half ironman.
"I will see how my recovery goes, and how I feel on the day. I have never done another two Ironman events close together. The closest for me was last year when I raced Ironman Cairns and then five weeks later in Roth.
Brown had a less than ideal race in his hometown event IRONMAN 70.3 Auckland recently.
"My training had been going well, I'm in the big mileage phase at the moment, and things didn't go quite so well in Auckland with a penalty and then a puncture 5km from transition, so I was
forced to run my bike home."
In what is a coup for event organizers to sign on Alexander, the Sydney based champion will headline an already strong field who will line up in Melbourne, including women's defending champion Caroline Steffen.
Victorian Minister for Sport and Recreation, Hugh Delahunty, congratulated event organiser's IRONMAN Asia Pacific for their efforts to once again secure a strong line up of champions.
"I am pleased to welcome both Craig and Caroline back to Melbourne for this year's event. They both impressed Victorian's with their winning efforts in 2012, and we look forward to seeing both back to defend their titles," Mr Delahunty said.
"I encourage everyone to come along to our sporting capital Melbourne to see this fantastic showcase of endurance sport."
URBAN Hotel Group IRONMAN Asia Pacific Championship Melbourne will be held on Sunday, March 24, 2013.
The 226km race will take place in Melbourne's South East and Bayside suburbs. The course will include a 3.8km swim in the Frankston Foreshore, a fast and smooth 180km bike on the EastLink motorway and 42.2km Brooks run from Frankston to the URBAN Hotel Group IRONMAN Asia Pacific Championship finish line, located at the iconic St. Kilda Catani Gardens.
For further event details: www.IRONMANmelbourne.com.