Eric Lagerstrom on overcoming Olympic disappointment, triathlon videos & van holidays
Eric Lagerstrom is America's triathlete to watch. From meeting the girl of his dreams, Magali Tisseyre, to winning Escape from Alcatraz in 2015, Lagerstrom is on fire. We chatted to the athlete about van life, triathlons and missing out on the Olympics. "2014 was a sh** show," Eric says. "I got to t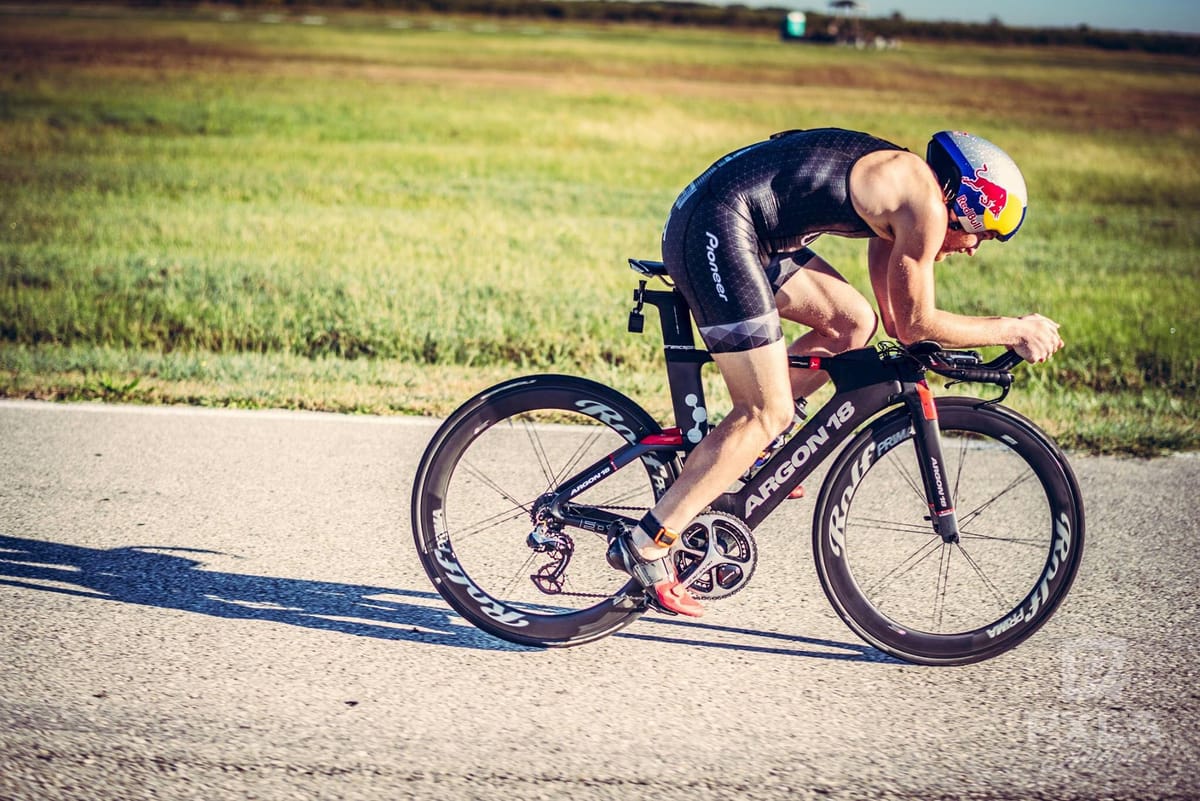 Eric Lagerstrom is America's triathlete to watch. From meeting the girl of his dreams, Magali Tisseyre, to winning Escape from Alcatraz in 2015, Lagerstrom is on fire. We chatted to the athlete about van life, triathlons and missing out on the Olympics.
"2014 was a sh** show," Eric says. "I got to the end of the year and decided to step away from ITU." Walking away from the series he'd dedicated all his time towards, Eric turned to the Lifetime Series – a move that enabled him to pick and choose the races he wanted to do.
Mindset Change Leads to Wins
"All of a sudden, everything started clicking. I had a more relaxed mindset [as opposed to] a results-based mindset," notes Eric. "Everything started going better." This shift in mindset would prove to be a pivotal turning point in Eric's career. "It was based out of this mentality of no expectation [and] just trying to race well in every event. I stopped stressing so much about small details and just let it go."
"I started running a lot faster and went back into ITU," he adds. "I got second in the continental cup, then won the next two events. I just kept the trend going."
Eric's breakout race was in Stockholm. "I made it into the lead pack and finished 18th," he recounts. "It was the first race where I got Olympic points."
Changing his mindset was the driver of a series of exceptional changes. "I used to think about every training session and everything I ate, but I just relaxed," Eric explains. "I was eating more, drinking wine, eating chocolate, yet I was racing faster than ever. A positive mental outlook went hand-in-hand with better physical conditioning."
Fuelled by positivity and a more laid-back approach, Eric Lagerstrom seared through the ITU rankings at breakneck speed. From being a little-known athlete without any Olympic points, to sitting in third position for the US team, Eric sums up 2014 with "it was a wild season. Every race I entered seemed to go well."
Eric & Magali: Finding Love In The Triathlon World
After training with Paulo Sousa for 3,5 years, Eric arrived at squad training one evening and saw Magali Tisseyres running nearby. "Magali Tisseyres is training with the group," one of his squad mates told him. "I'd seen her on magazine covers and everyone knew who she was," says Eric. "I'd seen her in 2011 before I turned pro when I'd been at a training camp." After striking up conversation at a team event, Eric and 'Mags' became a couple and now train together as often as possible.
"We only have two races we do together; Alcatraz and Beijing," says Eric. "Mags is off doing 70.3, and I'm doing ITU, so we're apart quite a bit. But we spend 24 hours a day when we're together, training and doing the same workouts."
Eric Sneaks Into The Alcatraz Invitational
Escape Alcatraz is an invitation-only race and one of America's most iconic events. With an opening on the women's side in 2015, Magali was invited to race. "She asked if I could come along," says Eric laughing, adding: "I was the plus one."
Entering the field despite not having been invited, Eric was there to enjoy the race and do his best. "I was going to try and stick with Andy Potts in the swim and enjoy it for what it was," he adds. Again, this powerful mindset enabled Eric to excel, and he ended up winning the race! "It was completely surreal," he says, looking back. "If I'd finished in the top five, or ten, I would've been happy. It was just surreal. The media attention and the shift towards me as an athlete was cool for me to go through."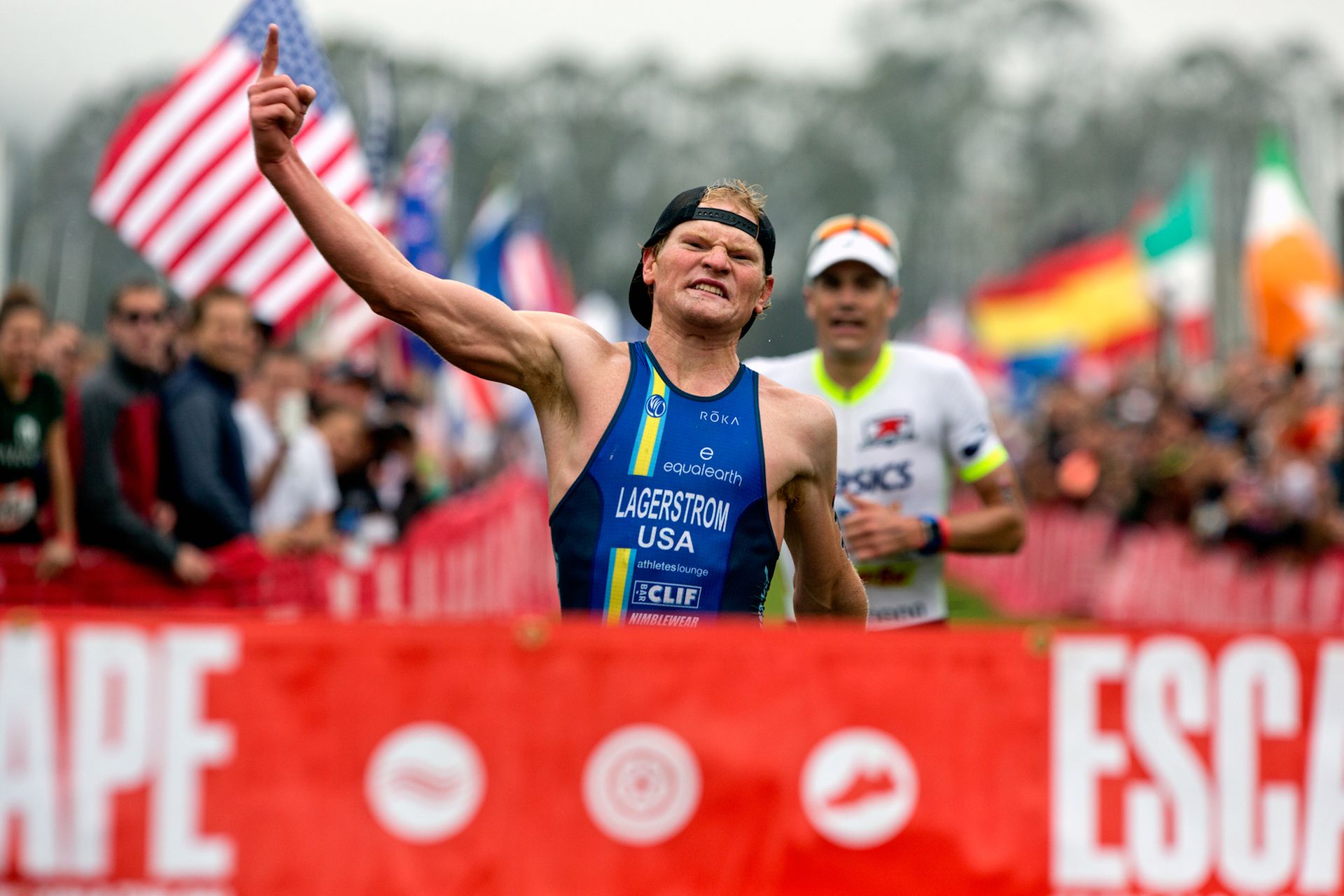 Injury Threatens Eric's Progress
Alcatraz and success on the ITU circuit saw Eric Lagerstrom surging ahead, when all of a sudden injury struck. Suffering a severe TFL strain in the muscle stretching from the hip to the knee, training had to take a back seat. "I could only do ten lots of 30 second up hill sprints on the treadmill," says Eric. "I couldn't do much on the bike either. It was like other injuries I've had, caused by positioning on the bike which is made worse on the run. This time though it was worse."
The injury hit just one week before the New Plymouth race. Eric's performance wasn't great and the athlete wasn't able to train his running at all between New Plymouth and the Olympic trials in Yokohama.
Moving On From The Olympics Upset
Many athletes head to the Olympic trials with their fingers crossed, desperately hoping they'll make the team. Eric, though, had excelled so strongly throughout the season, and was entering the trials needing to hang onto his Olympic spot. "It was something [which was mine] to lose, rather than gain as I was in the top spot," he notes. "I always race better with something to win."
Dealing with pain, and unable to effectively train his run leading into the trials, it was no surprise that Eric wasn't able to perform on the day. "I had a good performance, considering the workouts I'd been able to do. But it wasn't enough," he ads. "Ben had a stronger performance." And with that, Eric was out of the Olympics.
"I took solace in moving forward. I didn't want to be the guy who didn't make the Olympics and end up throwing away the whole season," says Eric, noting: "For me, it was on to the next thing."
Eric packed up Mags' and his California apartment into a storage unit, and went on the road. He decided that being surrounded by his teammates preparing for and focusing on the Olympics wasn't the best environment for moving on.. "I have every intention of returning and continuing to train with the squad, I just needed some time away."
I had to remind myself that just a year ago I'd quit ITU in my mind," he notes. "So even the possibility of getting to the Olympics had just been a 'cherry on top.'
Van Life – A Triathlete's Dream
After winning the Beijing International, Eric had won a prize packet of $20,000 and had the perfect idea to balance his and Mags' regimented schedule of training; fitting out a van and travelling.
"It was a sense of freedom, like a getaway van," Eric says. "It's almost like a portable tree house. So I drove it back to my parents' house to tear out the inside and do an extreme overhaul. That's partly why my off-season wasn't that restful, and could [also] be why I ended up injured. But it was amazing. Making my videos of triathlon had become a little bit of of a burden, so the van was my new hobby."
Escaping to beautiful places, Magali and Eric continually find themselves training while on the road and living out of their portable home.
Red Bull Sponsorship – Yes It Is A Dream
Eric grew up wake boarding, snowboarding and downhill boarding, but once he became a world class triathlete, he believed his dreams of one day working with Red Bull were over. Luckily though, Red Bull decided that Eric embodied everything they looked for in an athlete, and he's' now a member of the Red Bull family.
"They look at you as part of the family," he explains. "They say you're at X, and they want you to be at Y. They say 'how do we fill that gap?' They don't want me to worry about cost, or impose their ideas, they trust me to know what I need."
Eric has discovered the true power of Red Bull, who have offered to help him with everything from increasing his Instagram followers to helping improve the balance of his muscle activation in his thighs. "They're just a whole different kind of sponsor," Eric says, "I'm constantly motivated by the people I associate with there."
With a contagious positivity and an humble approach to his racing, Eric Lagerstrom is an athlete to watch in WTS next year. Most exciting are his unique videos he's started filming, delighting all triathlon fans as he presents a different angle of triathlon you don't usually see on professional coverage. Check out his videos to get an insight into Eric's training regime, his life as a triathlete along with his Red Bull sponsorship and van life.
His top tip for pre-race nutrition? Pizza. "It has perfect ratios of everything," he says. "I usually get the Greek style; something with feta and olives."
Go ahead. Try it.