News & Racing
Five Australians Race well at Ironman 70.3 Boise, Idaho
In a race that recorded a highly unusual dead heat for first place by the two leading men five Australians had good days considering the atrocious conditions. The race organisers were forced to shorten the 90km bike leg to 24km but were able to keep the swim and run legs as per usual. To add [&helli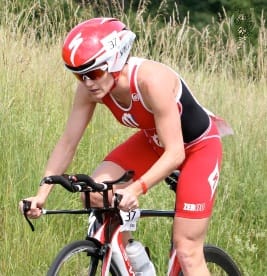 In a race that recorded a highly unusual dead heat for first place by the two leading men five Australians had good days considering the atrocious conditions. The race organisers were forced to shorten the 90km bike leg to 24km but were able to keep the swim and run legs as per usual.
To add further to the spectacle some of the athletes rode in their wetsuits.
Boise turned on some terrible weather conditions that had the water at around 14+ degrees and the air temp at around 1-2 degrees when wind chill factor was taken in to account. Luckily most pros have plenty of body fat and can deal with these conditions…
Tim Reed commented on the race at the front. "It was an interesting race with Matty Reed and the resilient Tim O'Donnell tussling for 2nd place until Matty made some big surges to drop Tim to third and bring the likeable Kiwi, Callum Millward into   view. In a dramatic finish they sprinted to the line neck and neck with no one being able to pick a winner despite hours of video and photo review. I'm unaware of a pro race being called a tie before and think it's pretty cool that I was a part of it while also being jealous it wasn't me sprinting for the line!"
With the conditions it was not going to be easy to put together a good race. Nikki Butterfield grabbed 3rd overall in the women's race with Lisa Marangon coming in 6th just over three minutes behind Nikki. Butterfield was philosophical. "Happy with that for today. My goal was to collect points to hopefully qualify for HyVee & Kona." Her next race is Philadelphia Insurance Triathlon in two weeks.
Marangon was one of the smart ones on the day. "What an experience. 6th at Boise 70.3. It was a smart idea to cycle in the wetsuit!!" Marangon wished she had also taken this option.
In the men's race Tim Reed showed that some of the weather battles he has had over the last southern hemisphere season had taught him a few lessons. If I was looking at planning my year I'd check to see where Tim is racing and go elsewhere. "It seems like every second race I do these days the big fella upstairs is having a good old chuckle about throwing some horrendous conditions into the mix. Phuket 70.3 we rode through a monsoon, Falls Creek Aussie champs was ice cream headache cold, Ironman New Zealand postponed a day and shortened to a 70.3 (wasn't complaining about that one) and now the beautiful town of Boise decided to stray from a barmy average temp of 25 degrees to 5 degrees with howling winds and icy rain."
Running is often Reed's strongest leg and he tends to run well when everyone else is tired and not that much faster when fresh. "I had felt that in the last few weeks that my cycling form a had returned to a good level. Then again, everyone magically transformed into an uber cyclist and "would have done so much better if the bike leg wasn't reduced." In retrospect, I turned into a gnome ice block during the shortened ride and I think it was the right call by the race directors to put safety first."
On the ride Reed struggled to get any feeling in his legs. In hindsight he should have copied Matty Reed and Trevor Wurtele. "In the distance I could see a very tall dark skinned athlete. I was quite confused. White man can't jump and black men arn't suppose to be able to swim! As I gradually caught the dark figure I couldn't help but smile when I saw that it was no black man but actually Matty Reed riding in his wetsuit. I think turned out to be a very clever move considering Matt and Trevor Wurtele who also rode in his wetsuit both had the two quickest runs of the day.
Reed gradually warmed into the run however the guys ahead were running fast. "I made up some time early on I faded between 10 and 15kms before returning to a good pace finishing the day in 4th"
Paul Matthews was next Aussie home in 8th place overall and Michael Fox came in 11th overall and 10th in the pro field with one sneaky age grouper coming home in 9th overall. "I wanted to try to place a little higher but in the end I was just happy to finish." Matthews will most likely have an eye on Hy-Vee again this year. Last year he had some good 5150 races along with the strong 70.3 results.
Fox is a strong swimmer and had a good start to the swim and didn't think the water was that cold. "I was in the first group. There were five of us however I swallowed a bit of water which normally doesn't worry me but all of a sudden my body temp seemed to really drop and my breaths were short and rapid. I was seriously going to put my hand up to be pulled out but I rolled on my back for a seconds and got a few good breaths and regathered. After my mini panic attack the other four had gotten away and I swam solo for the next 1200m. Still exiting the water 5th wasn't too bad.
For Fox this race was all about gaining points for the holly grail of Olympic distance racing, Hy-Vee.   Out on to the run and it was all about damage control for Fox. "I needed to grab coke and lollies as early as possible to survive this run. Lucky after 1 mile I had the chance. Some much need sugar to keep me going. Water was next. I was just thinking if I want to make HyVee this year I need to catch as many people and get as many points as I can. To be honest I had a great run. I was catching people the whole time. Shame I didn't feel my feet until after 10k to notice my shoe still wasn't on properly. But I ran a 1:14:12."
| | | | | | | |
| --- | --- | --- | --- | --- | --- | --- |
| Name | Country | Swim | Bike | Run | Finish | Div. Rank |
| Millward, Callum | NZL | 0:25:08 | 0:32:17 | 1:12:58 | 2:13:23 | 1 |
| Reed, Matty | USA | 0:25:06 | 0:34:11 | 1:10:39 | 2:13:23 | 2 |
| O'Donnell, Timothy | USA | 0:24:53 | 0:33:56 | 1:12:23 | 2:14:17 | 3 |
| Reed, Tim | AUS | 0:26:25 | 0:33:12 | 1:12:47 | 2:15:41 | 4 |
| Wurtele, Trevor | CAN | 0:28:16 | 0:32:18 | 1:11:58 | 2:16:03 | 5 |
| Nelson, Kirk | USA | 0:28:59 | 0:31:50 | 1:12:38 | 2:16:35 | 6 |
| Everett, Kevin | USA | 0:24:46 | 0:33:13 | 1:15:38 | 2:16:52 | 7 |
| Matthews, Paul | AUS | 0:26:25 | 0:33:55 | 1:13:02 | 2:17:48 | 8 |
| Christenson, B.J. | USA | 0:27:29 | 0:34:27 | 1:12:24 | 2:18:01 | 1 |
| Elliot, Lewis | USA | 0:29:06 | 0:32:31 | 1:14:23 | 2:19:05 | 9 |
| Fox, Michael | AUS | 0:26:04 | 0:35:27 | 1:14:12 | 2:20:04 | 10 |
| | | | | | | |
| Name | Country | Swim | Bike | Run | Finish | Div. Rank |
| Swallow, Jodie | GBR | 0:25:43 | 0:35:39 | 1:25:02 | 2:29:28 | 1 |
| Homo, Malaika | USA | 0:28:10 | 0:36:01 | 1:24:14 | 2:31:51 | 2 |
| Butterfield, Nikki | AUS | 0:30:03 | 0:36:09 | 1:22:14 | 2:33:33 | 3 |
| Grant, Julia | NZL | 0:29:53 | 0:36:13 | 1:24:22 | 2:34:25 | 4 |
| Corbin, Linsey | USA | 0:29:59 | 0:36:02 | 1:24:03 | 2:35:40 | 5 |
| Marangon, Lisa | AUS | 0:28:13 | 0:39:03 | 1:25:44 | 2:36:51 | 6 |
| Tetrick, Jennifer | USA | 0:30:01 | 0:35:55 | 1:26:25 | 2:37:04 | 7 |
| Jackson, Christina | USA | 0:27:42 | 0:37:20 | 1:27:47 | 2:38:32 | 1 |
| Challis, Rachel | NZL | 0:30:03 | 0:37:17 | 1:28:10 | 2:39:41 | 8 |
| Lyles, Elizabeth | USA | 0:31:45 | 0:37:45 | 1:23:03 | 2:41:27 | 2 |