News & Racing
Flora Duffy Wins WTS Sprint Distance in Hamburg
Flora Duffy won WTS Hamburg last weekend making it her third consecutive ITU win this year. Here's how the fierce women's race played out. After the 750 metre swim, Brazilian Vittoria Lopes was in the lead ahead of a trail of chasers. Just eleven seconds behind Lopes was Duffy, with her impressively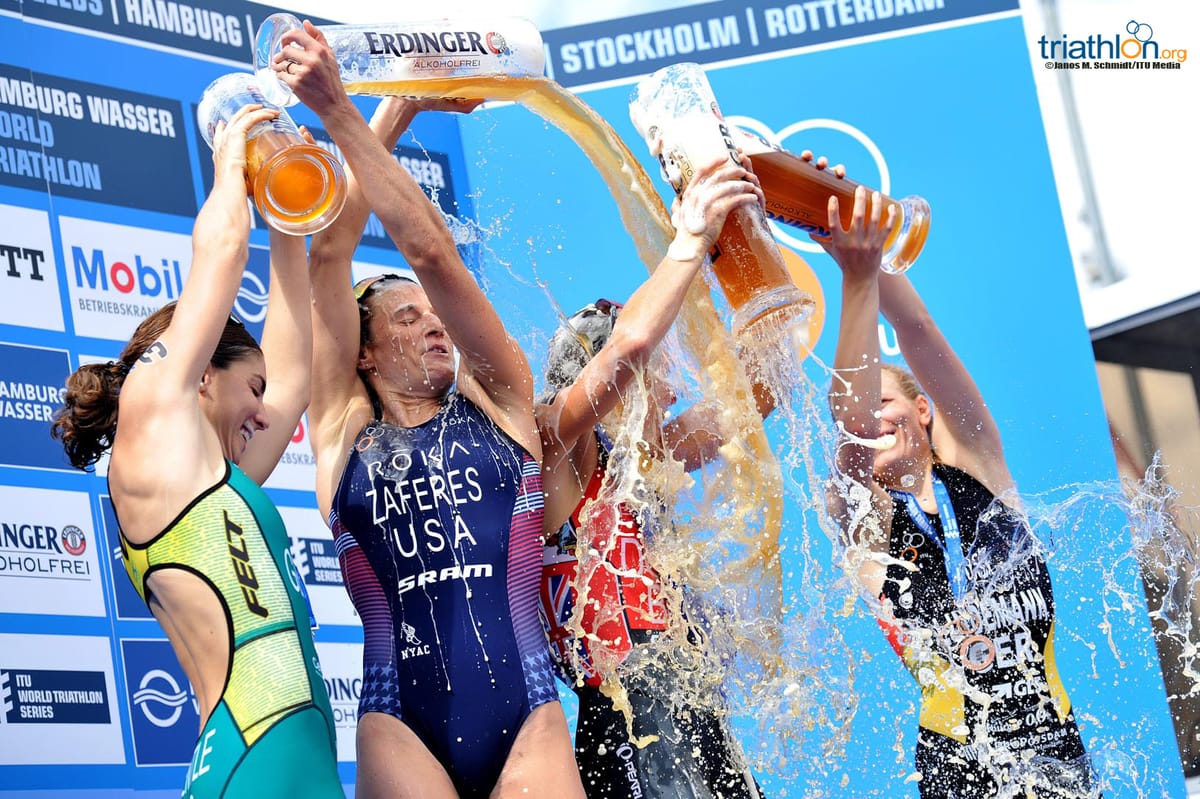 Flora Duffy won WTS Hamburg last weekend making it her third consecutive ITU win this year. Here's how the fierce women's race played out.
After the 750 metre swim, Brazilian Vittoria Lopes was in the lead ahead of a trail of chasers. Just eleven seconds behind Lopes was Duffy, with her impressively speedy transition putting her near the front of the bike pack straight away.
Duffy, Kasper & Learmonth create power trio
Knowing Duffy's impressive cycling skills, America's Kirsten Kasper and Jessica Learmonth of Great Britain were keen to team up with Duffy to form a trio early on in the bike. Chasing fast behind them was a lightning fast field, but the trio was too quick for them, creating a 30-second lead early on in the bike.
As the bike leg progressed, the trio looked set to work together for the long haul until Duffy broke away in the final five kilometres. From there, Duffy powered on alone, creating a 25-second lead over Learmonth and Kasper, and a 40-second lead ahead of the chase pack.
Duffy's cool takes her to the lead…again
Always a smooth operator, Duffy barely had to push herself in the run to take out the gold; her third consecutive WTS win of the season.
"I really actually can't believe it. Coming into the third race I felt a lot of pressure, especially it being a sprint and in Hamburg, I have not raced here in years. So, I just really had to go for it, I tried to race fast from start to finish and I had to make the most on the bike because I knew that my run pace speed was not at the same level as some of the top runners are, so I just took a chance and luckily it worked out," said Duffy.
"I came out of the swim a little further back than I wanted to so I just really hammered the first part of the bike and I knew the chute was quite technical so I knew if I just hammered that into transition I would be ok. We were able to breakaway three of us, we were working OK, I was getting a little frustrated though so I thought I would attack and go solo and that ultimately made the race for me."
Gentle sets fastest run split to take out silver
Behind Duffy, Aussie Ashleigh Gentle claimed the fastest run split of the day in just 16:10 which propelled her easily into second place. "I actually had a good start at the dive in, but to be honest I got squished from either side and got dunked for a little bit, it was quite horrific to be honest. So I just got onto my bike and did the best I could.
"There has been plenty of races where I have been in that situation, but I have been able to salvage a good result so there is no reason you should quit after the swim you still have two legs to go. This is triathlon, so I just tried to race as hard as I could and thankfully it paid off and I was able to come away with second," said Gentle.
Lindemann rounds out the podium
Behind Gentle though, the battle raged on between Lindemann, Annen, Hewitt and Katie Zaferes. As the spectators roared and women sprinted down the chute, Lindemann was able to push forwards into third place. "I am so happy about the podium today. It is so much more with the WTS than in junior races and here with the home crowd, it is so wonderful. It was so loud and I was just pushing as hard as I could, I was so amazed with the crowd!" said Lindemann.
Trizone wants to congratulate all the athletes, as well as Aussie Charlotte McShane we qualified for the 2018 Commonwealth Games team.
Flora Duffy – 59:00
Ashleigh Gentle – 59:31
Laura Lindemann 59:41