News & Racing
Grace Musgrove and Declan Wilson win ITU Triathlon Oceania Cup in Mooloolaba
Today's ITU Triathlon Oceania Cup in Mooloolaba provided a tough initiation for Australia's next generation to step up to the plate and NSW pair Grace Musgrove and Declan Wilson didn't disappoint. The 20-year-old Triathlon Australia National Talent Academy recruits – Musgrove fro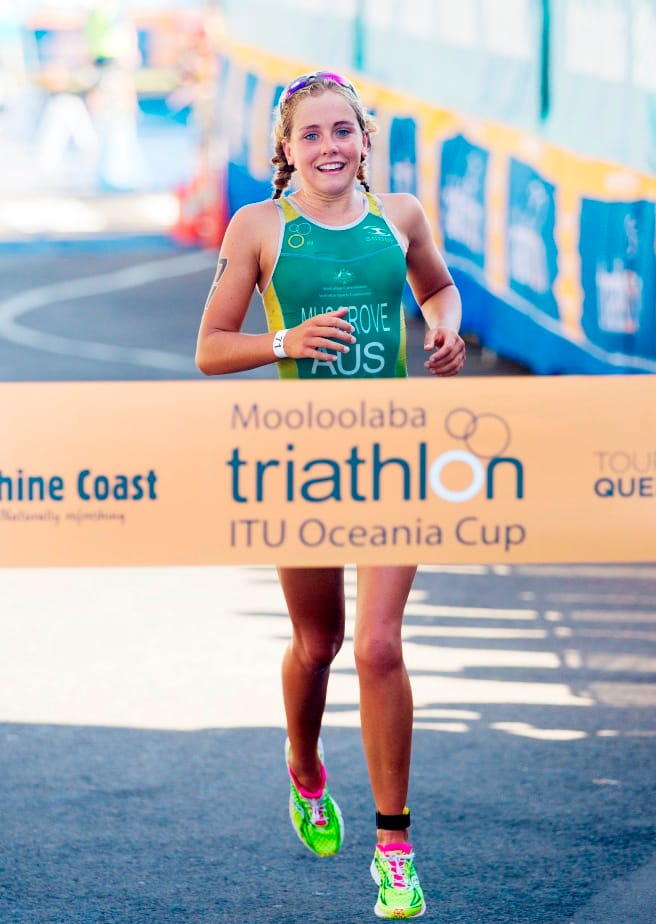 Today's ITU Triathlon Oceania Cup in Mooloolaba provided a tough initiation for Australia's next generation to step up to the plate and NSW pair Grace Musgrove and Declan Wilson didn't disappoint.
The 20-year-old Triathlon Australia National Talent Academy recruits "Musgrove from Wollongong and Wilson from Canberra "tackled the gruelling Olympic distance course like seasoned pros and stormed home to record impressive victories.
Although the out-and-back bike and run courses differ from the repetitive hill climbing ITU World Cup course reserved for the elites, it still presented a tough, challenging route from start to finish.
Musgrove, who has been the find of the season after her Australian Sprint Title win in Geelong last month and her third in the Oceania Championship in Auckland last week, raced away from the field in the early part of the run after coming out of the water second behind Queensland's specialist swimmer Maddy Allen.
It became a two-horse race with Musgrove (2:03.47) going on to win comfortably from Western Australia's Australian Youth Olympic Festival gold medallist Jaz Hedgeland (2:05.12) with a tiring Gillian Backhouse bravely hanging on for third (2:05.52).
The men's race developed into a case of Wilson v Wilson, with the younger Declan, coached by the wily Darren Smith, eventually overhauling his older rival, 27-year-old namesake Queenslander Dan Wilson (no relation) at the 8.5km mark of the 10km run course around Alexandra Headland Surf Club.
In the end Declan raced away to win in a time of 1:52.03 to Dan Wilson's (1:52.25) with Dan's fellow Queensland training partner Matt Brown third in 1:52.41.
Dan Wilson, an ITU World Cup winner in 2010 in is on the comeback trail after 24 months on the recovery trail from stress fractures and a knee operation.
He had stormed out of the flat-water swim and "went for broke" on the bike to open up a 1 minute 30 second lead going into the 10km run leg with his namesake content to sit back on the bike and conserve his legs.
And slowly but surely Declan, making his Mooloolaba debut and over only his second Olympic distance course, ate into Dan's lead until they got to within 1.5 km of the finish when Declan made his move.
"I guess I just got out Wilsoned," was Dan's quip after the race saying "Declan ran past me at the 8.5km mark and he raced really strongly and deserved to win but I was very happy with the way I went."
A strategic move proved a winner for Declan, who has impressed with some great running legs his recent outings.
"We saved our legs and worked up and didn't lose too much time on Dan (Wilson) and were able to hold a pretty steady gap and then it came down to the run," said Declan.
"I went pretty steady on the first four or five kilometres on the bike and then started building it to get rid of the other boys and tried to make a bit of leeway on Dan.
"I wasn't too fazed that I was sitting back on the bike. I knew I had some pretty good run legs with my training and I thought I would be able to catch him and I did so just before the hill.
"I tried to make a bit of surge and settle into my own rhythm just enough to make him (Dan Wilson) come with me but it may have been a bit too hard because he dropped off the back."
Dan Wilson admitted he hadn't been at Mooloolaba for the last two years after not been able to string any more than four or five months together with stress fractures and knee surgery.
"But I thought I would come out here and leave nothing in the tank. I went hard from the start and once I opened up that gap in the swim I thought I would commit and have a crack," said Dan.
"I raced well but with the young fella Declan I got out-Wilsoned in the end. He ran past me at the 8.5km mark and he raced really strongly and deserved to win but I was very happy with the way I went.
"We're taking small steps at the moment. The World Cup (events) are a bit ahead of me and in 12 months time I'll able to look back at this race and say it was the first steps towards a really good year.
"We are taking a real different approach to my training. I had to go back to the drawing board with my training program (under QAS coach Stephen Moss) and re-tool things.
"I'm really happy with the way it's going, not just with how healthy I am but how fast I can go as well."
In the women's race it was Musgrove, a former Schoolgirl runner and open water swimmer, who continued to show enormous promise.
"This has been my first domestic season and I have really enjoyed travelling around Australia and doing all the races and having Australia support me is so good," said Musgrove, who praised coach Jamie Turner.
"Jamie is tough. His knowledge is excellent, he knows what he is doing and I trust him. He has created a training environment that is very elite and each day we are down to business and training but we also have fun and I respond well to that sort of coaching."
Hedgeland said she was amazed to come away from her first Olympic distance race with a second placing.
"I saw there was a bit of a break in the swim and I was in the second pack so I just tried to stick with it and running into transition from the swim I ran hard and wanted to get in first from my group and on the bike I just got out there and we all started rolling through.
Onto to the run I was able to get my own rhythm and when the gap opened up I just tried to hold it to the finish."
The two rising stars of triathlon, Musgrove and Wilson , are also the winners of the Luke Harrop Bursary in Mooloolaba today.
In memory of Luke Matthew Harrop, the bursary has been designed with Luke in mind as it includes his two favourite races being the Noosa and Mooloolaba Triathlons, as well as the Gold Coast Tri – Luke Harrop Memorial Race in April. The purpose of the bursary is to support up-and-coming elite triathletes like Musgrove and Wilson, who have not yet reached senior-elite ranks.
Musgrove and Wilson will both receive a cash grant of $1,000.
As a prequel to the SUBARU ITU Mooloolaba World Cup Elite Women's race scheduled to start at 12:45pm today, over 6000 keen age-group competitors tested their best in the 1.5km swim, 40km cycle and 10km run from 6:35am this morning.
Mooloolaba ITU Oceania World Cup Results
Sunday 17 March 2013
| | | | | | | |
| --- | --- | --- | --- | --- | --- | --- |
| | Men | | | | | |
| Pos | Athlete | Country | Time | Swim | Bike | Run |
| 1 | Declan Wilson | AUS | 1:52:03 | 0:19:08 | 0:57:44 | 0:31:59 |
| 2 | Dan Wilson | AUS | 1:52:25 | 0:18:41 | 0:56:39 | 0:34:03 |
| 3 | Matt Brown | AUS | 1:52:41 | 0:19:16 | 0:57:43 | 0:32:37 |
| 4 | Joel Tobin White | AUS | 1:52:55 | 0:19:16 | 0:57:41 | 0:32:52 |
| 5 | Jesse Featonby | AUS | 1:53:07 | 0:19:14 | 0:57:42 | 0:33:04 |
| 6 | James Davy | AUS | 1:53:14 | 0:19:11 | 0:57:44 | 0:33:10 |
| 7 | Matthew Baker | AUS | 1:54:02 | 0:19:13 | 0:57:35 | 0:33:58 |
| 8 | Jake Montgomery | AUS | 1:54:20 | 0:19:18 | 0:57:33 | 0:34:18 |
| 9 | Niklas Gaertner | GER | 1:54:36 | 0:19:09 | 0:57:45 | 0:34:33 |
| 10 | Nuru Somi | AUS | 1:54:54 | 0:19:15 | 0:57:41 | 0:34:50 |
| 11 | Sam Speechly | AUS | 1:55:08 | 0:19:11 | 0:57:37 | 0:35:05 |
| 12 | Syogo Ishitsuka | JPN | 1:55:19 | 0:18:52 | 0:58:01 | 0:35:15 |
| 13 | Tim George | AUS | 1:56:01 | 0:19:57 | 0:58:51 | 0:34:12 |
| 14 | Kenji Nener | AUS | 1:56:36 | 0:18:52 | 0:58:05 | 0:36:33 |
| 15 | Shane Farrant | AUS | 1:57:16 | 0:19:05 | 0:57:52 | 0:37:08 |
| 16 | James Trevorrow | AUS | 1:58:03 | 0:19:16 | 0:57:34 | 0:37:59 |
| 17 | Nathan Buschkuehl | AUS | 1:58:22 | 0:20:01 | 0:58:54 | 0:36:21 |
| 18 | Mitchell Kibby | AUS | 1:58:28 | 0:20:32 | 0:59:27 | 0:35:28 |
| 19 | Harrison Dean | NZL | 1:58:34 | 0:20:04 | 0:58:45 | 0:36:43 |
| 20 | Cooper Rand | NZL | 1:58:48 | 0:19:57 | 0:58:47 | 0:36:57 |
| | | | | | | |
| | Women | | | | | |
| Pos | Athlete | Country | Time | Swim | Bike | Run |
| 1 | Grace Musgrove | AUS | 2:03:47 | 0:20:10 | 1:03:25 | 0:37:01 |
| 2 | Jaz Hedgeland | AUS | 2:05:12 | 0:20:42 | 1:02:57 | 0:38:28 |
| 3 | Gillian Backhouse | AUS | 2:05:52 | 0:20:42 | 1:02:47 | 0:39:06 |
| 4 | Ellie Salthouse | AUS | 2:07:21 | 0:20:44 | 1:02:54 | 0:40:36 |
| 5 | Melinda Vernon | AUS | 2:07:56 | 0:21:29 | 1:04:31 | 0:38:17 |
| 6 | Kirralee Seidel | AUS | 2:07:59 | 0:20:55 | 1:05:03 | 0:38:32 |
| 7 | Laura Wood | NZL | 2:08:12 | 0:20:10 | 1:03:18 | 0:41:22 |
| 8 | Maddison Allen | AUS | 2:08:18 | 0:19:33 | 1:03:58 | 0:41:33 |
| 9 | Annelise Jefferies | AUS | 2:09:05 | 0:22:11 | 1:03:57 | 0:39:37 |
| 10 | Holly Grice | AUS | 2:09:48 | 0:20:44 | 1:02:55 | 0:43:03 |
| 11 | Chloe Turner | AUS | 2:10:20 | 0:21:34 | 1:04:26 | 0:40:52 |
| 12 | Emily Bevan | AUS | 2:11:38 | 0:21:35 | 1:04:24 | 0:42:08 |
| 13 | Penny Hayes | NZL | 2:12:59 | 0:20:10 | 1:03:15 | 0:46:09 |
| 14 | Brittany Forster | AUS | 2:15:36 | 0:20:42 | 1:05:15 | 0:46:09 |