Gear & Tech
Hoka One One Carbon X SPE 2020 Running Shoe Review
The Hoka One One Carbon X SPE is a comfortable, performance-driven running shoe, equipped with a carbon fiber plate and PROFLY X foam for a smooth transition, and despite being a significant investment, it is worth it for long-distance runners or triathletes.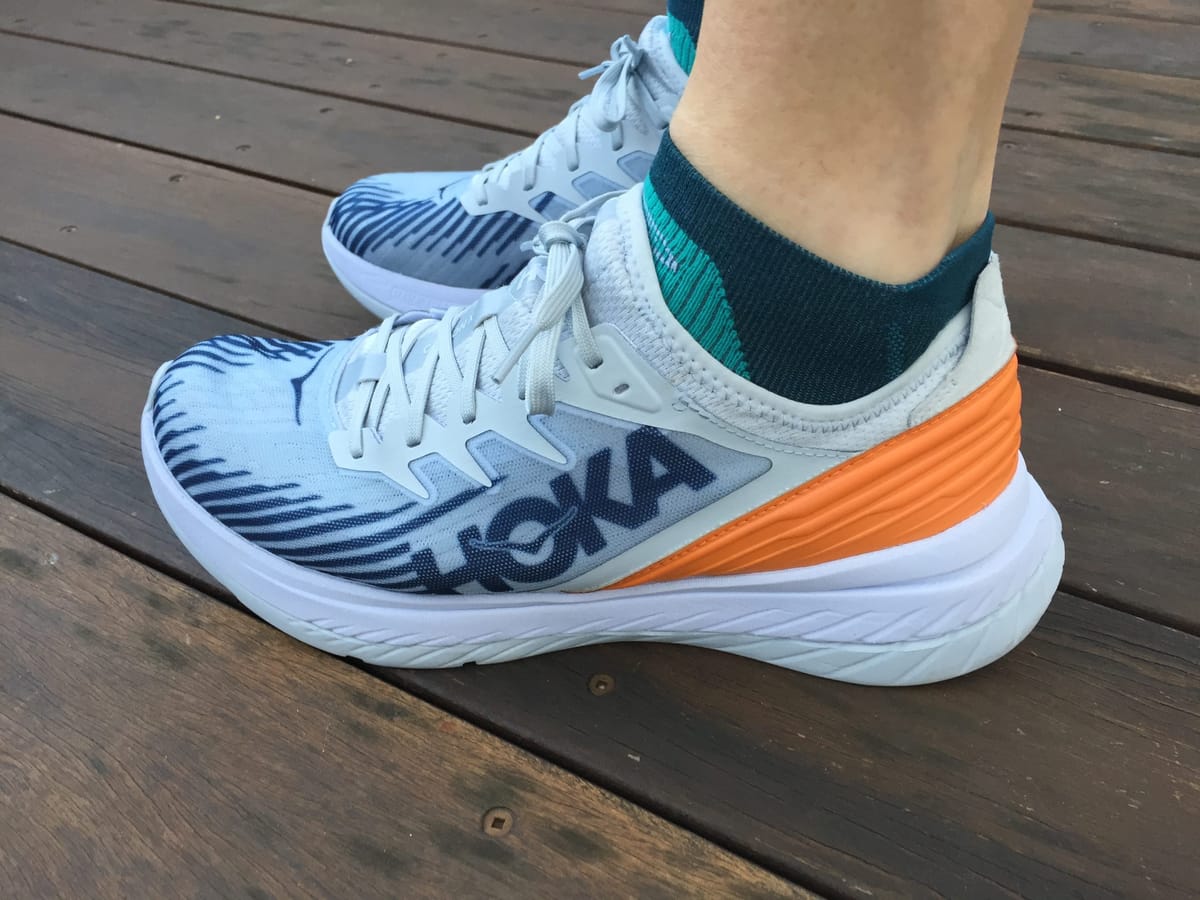 Weight: Approximately 250gsm for a US Men's 9.5
Stack Height: 32mm heel, 27mm forefoot, 5mm drop
Carbon Plate: The carbon fiber plate curls under the lateral toes to deliver a smooth transition through the gait cycle.
Foam: PROFLY X foam sits above the carbon fiber plate while rubberized foam sits below the plate.
Price: $289-$299 – this is not a cheap shoe but it is worth the investment.
Hoka One One has positioned the Carbon X SPE as an endurance racer.
Just over a year ago I finally bought my first pair of Hokas. The Mach 2s. This was my first experience running with the brand. I was hooked. They solved a painful foot problem I was experiencing. I bought them between registration and transition at a triathlon and raced in them. The relief to my foot was instant and they were a very good race shoe. It was only 5kms but I have since run 550kms in them plus a marathon and and everything in between.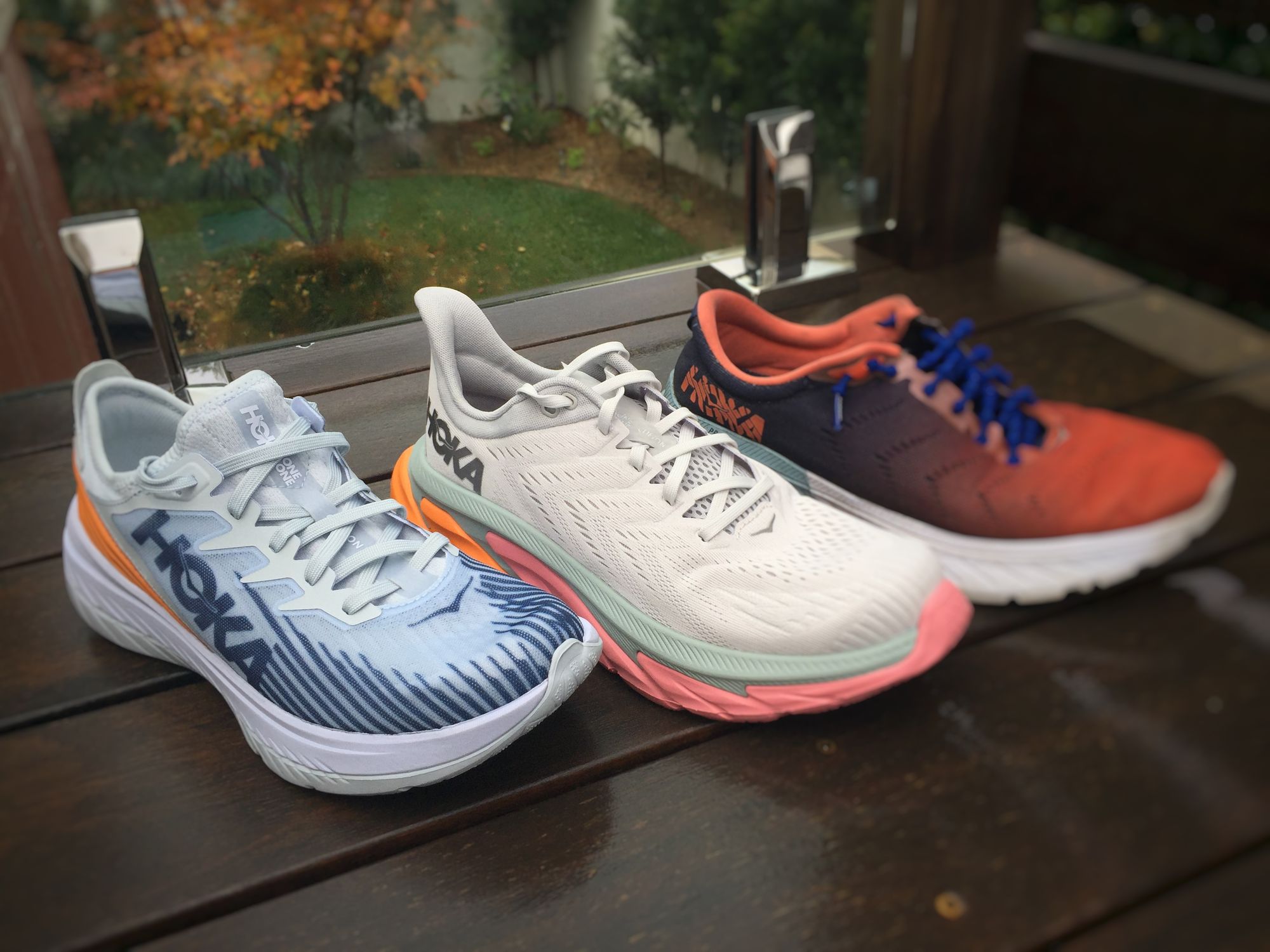 Fast forward a year and I had the opportunity to review the 2020 Hoka Clifton Edge for Trizone. I took the opportunity at the same time to buy a pair of the 2020 Carbon X SPEs. After all the debate around the Nike Vaporfly and the lure of potentially knocking up to 10% off your run times the Hoka Carbon X SPE seemed like the more politically correct shoe to bring those run times down with. I had been planning to buy a pair of the Carbons when they were released and couldn't resist.
The Hoka One One company was founded by Nicolas Mermoud and Jean-Luc Diard, former Salomon employees, in 2009, when they sought to design a shoe that allowed them to run downhill faster, and created a model with an oversized outsole that had more cushion than other running shoes at the time. The shoes are named after the Maori language phrase loosely meaning "fly over the earth." As a Kiwi, I have a soft spot for something that has a Maori meaning.
Most people search for and read reviews so they can get some reassurance that a product they are researching is worth buying. To put you out of your misery early, yes Hoka's are worth the investment. And the Carbon X SPE is on the top of that list if you are after a fast long distance running shoe.
It is always an experiment when changing running shoes. You need to take responsibility and ownership of your decision to try a new brand or model of running shoe. You should buy them from a store that has experienced staff who can fit you properly. Preferably staff that know running or are specialists. Another thing to understand is that not everyone can run in every shoe. Some running shoes just aren't meant for a particular foot.
Hoka One One have grown in to one of the most innovative running shoe brands in the market. In 2018 Hoka's were the number one shoe brand at the Hawaii Ironman World Champs. That changed in 2019 due to the Nike 4% and Next% bursting on to the scene. And triathletes being triathletes, the lure of legal shoe doping was too hard to resist.
One of the first things you notice about the 2020 Carbon X SPE is the sock like mesh upper. There is no tongue and they feel like slippers. I have a pair of runners that are my slippers. Unlike my 'slipper runners' there is no way the Carbon X SPEs were going to be confined to the house.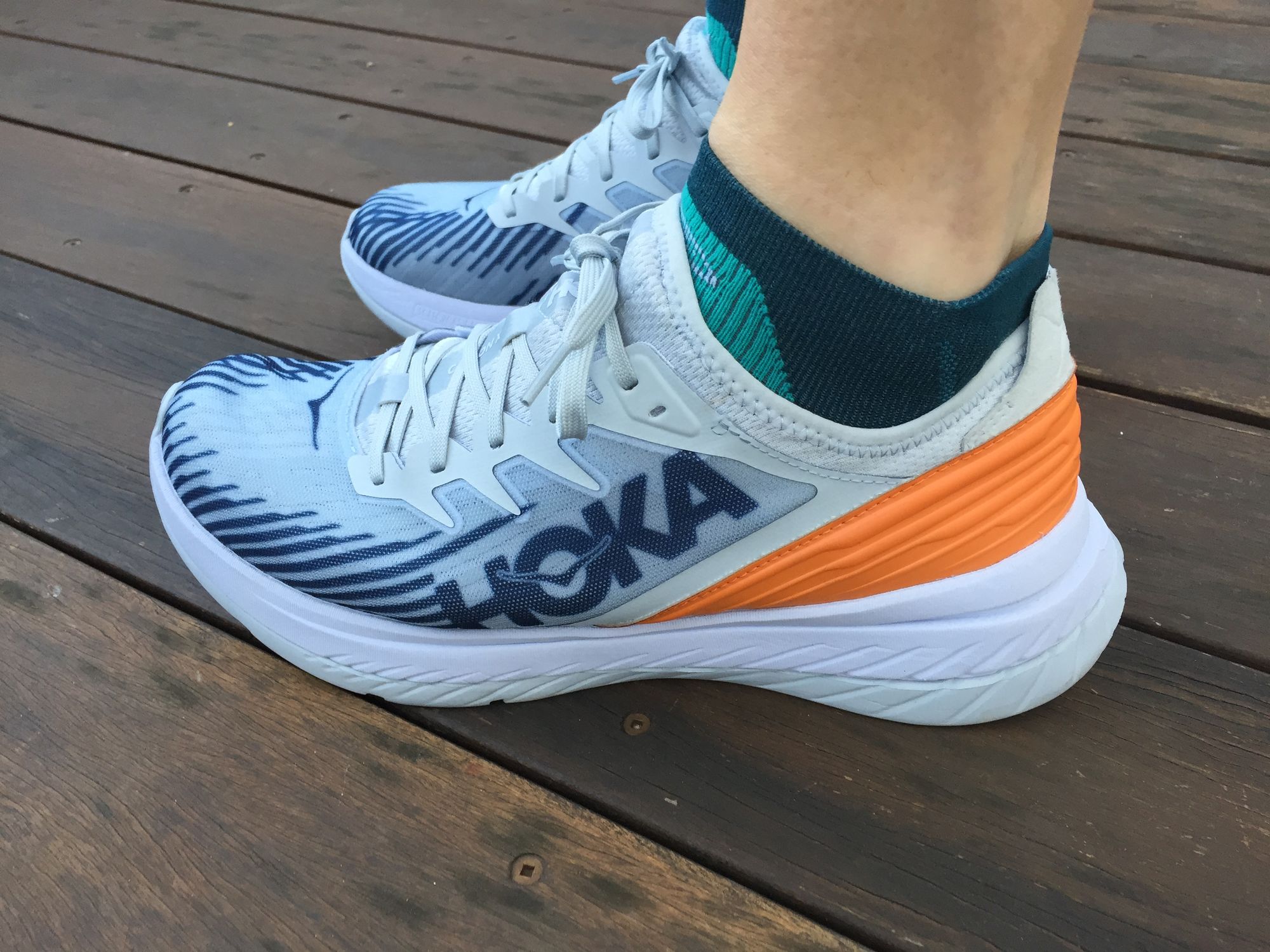 For people with wide feet this shoe may be a bit snug. My feet are slightly wider than the average and they are fine. Get to a shop if you can and try them on. You may need to go half to a full size bigger to get some more width.
My first run in the Carbon X SPEs was a marathon the day after I received them. Don't try this at home. I have run in so many different shoes over the years and know if a new shoe is okay for me.
I had run a marathon 5 weeks earlier one Friday evening off no proper training and only 3 longish runs. Someone had sent me an invite to that 42.2kms in 42 hours Facebook page. So I did it after work on the Friday evening of the challenge weekend. Running 42.2kms over 42 hours didn't seem as much of a challenge. This time however I had a new pair of shoes and a couple of extra-long runs in my legs. Last time I was in all sorts over the last 10kms, hitting 8min/kms and looking for someone to hand me some glow sticks.
The difference this time was the last 11kms were around the 5min pace with virtually no residual soreness the following days. Sure, a new pair of shoes and a couple more long runs helps. The Carbons didn't feel like normal shoes. They were everything I was hoping they would be.
I found the longer I ran the more these shoes came in to their own. The extra cushioning and design common to most Hoka models is one of the reasons more and more people are running in them.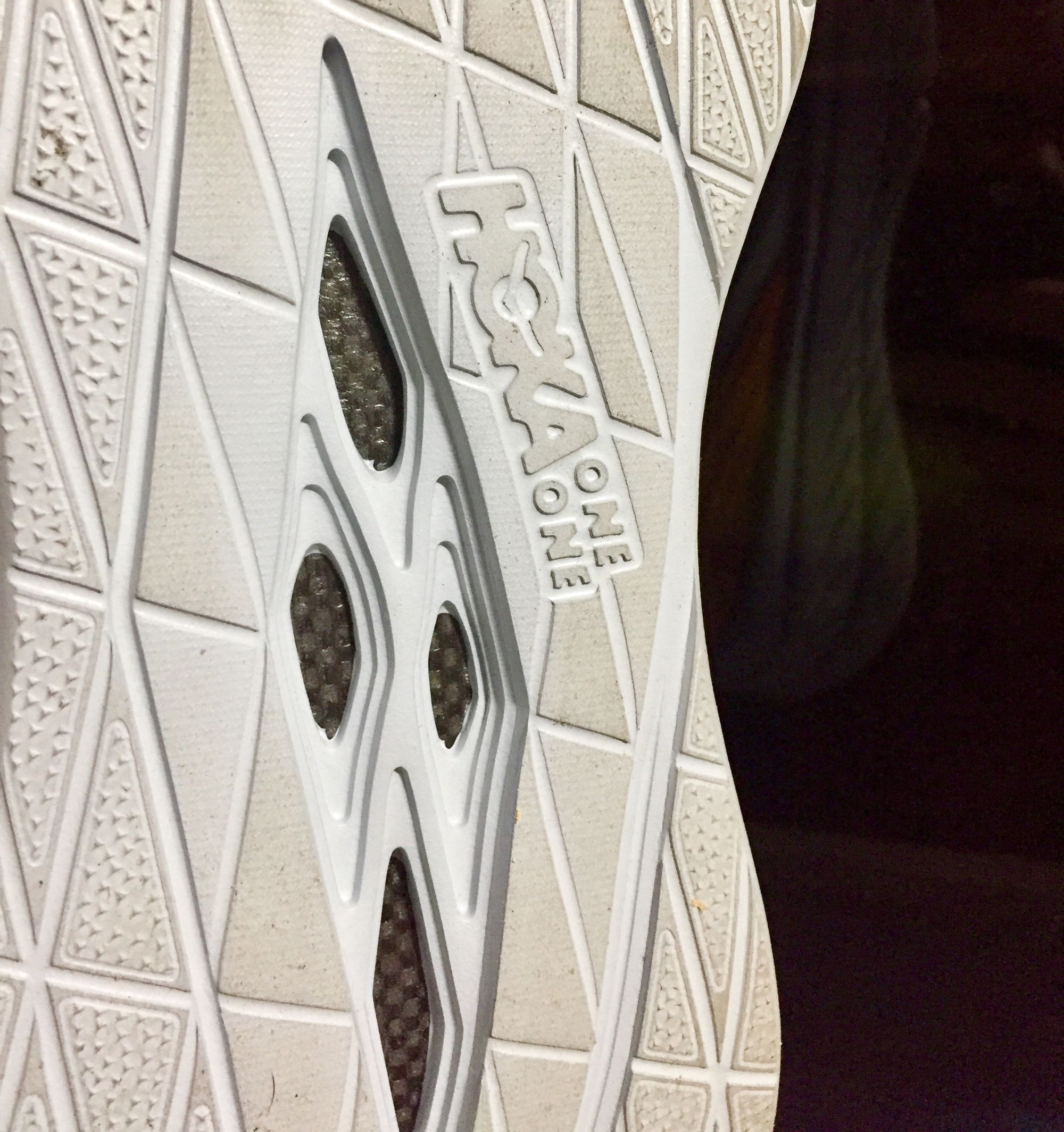 Recently New Zealand Ironman legend Cameron Brown announced that he had been testing the Hokas for around 6 months and was now officially running in them. At 48 years old and still a highly competitive professional long-distance triathlete, Brown is planning on racing until he is 50 and is banking on the Hoka's helping him stave off injuries. 'I'm more stable on my feet due to a larger platform, they have incredible cushioning, light weight and a fantastic range for all kinds of athletes. My plan is to race until I'm 50 so I'm looking after my body like never before'. Brown is legendary in the sport for his longevity and phenomenal age defying performances.
The Carbon X SPE carbon plate is carried over from the 2019 model as is most of the bottom half of the shoe. The carbon fiber plate curls under the lateral toes to deliver a smooth transition through the gait cycle. This effect of this carbon plate is more noticeable the longer you run in these shoes.
The foam that sits above the carbon fibre plate is PROFLY X foam and is apparently 15% lighter than the previous foam used. Rubberized foam sits below the plate.
After 170kms of running I feel like these shoes give the me the best when midfoot striking. I have played around with heel striking to see how they perform and I don't get the same responsiveness out of them that I do when midfoot striking.
The Meta-Rocker adds to the smooth run action you get from these shoes. The new one piece mesh up upper has added to the improved this shoe. I like the structure of the heel. It is reinforced which I prefer and is ideal for a quick transition in a sprint or Olympic distance triathlon. You can slam your foot into this shoe and start running without having to use your hands to pull them on. With the right stretchy laces, you are good to go. Potentially one of the fastest transition running shoes.
Everyone has their own unique run style. I midfoot strike with the outer edge of my foot striking the ground first before squaring out but not over pronating. The Carbon X SPE handled this with ease, smoothness and good stability.
I also tested the 2020 Carbons over a fast (for me) 5kms and moderately paced 21.1kms. Both these runs were faster than expected. Although this shoe is not what most people would be looking for for faster intervals and runs up to 10kms, it is still enjoyable to run in over shorter distances. Just not at your own break neck speed. In the longer runs I am finding that I am less fatigued towards the end and after.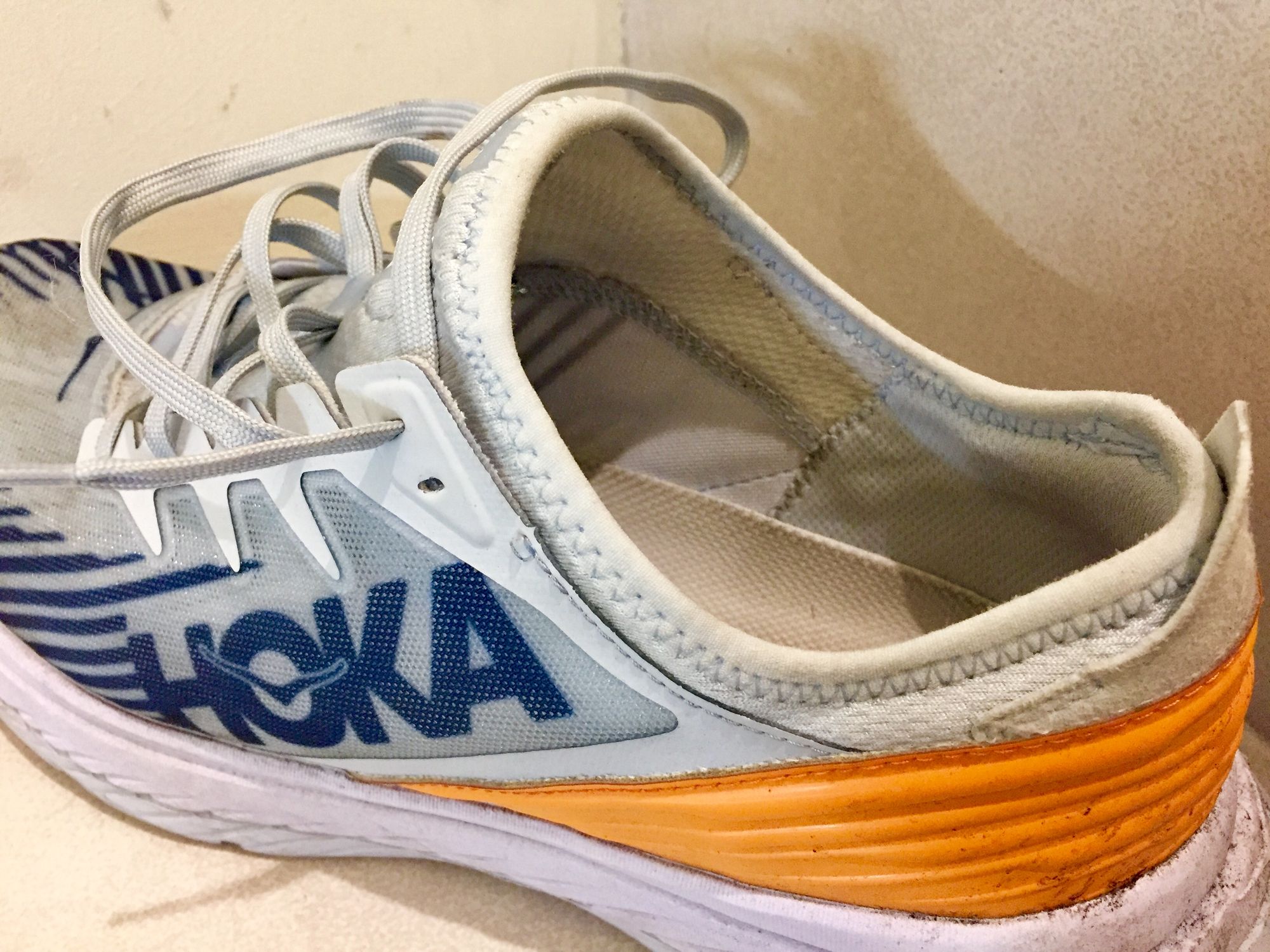 On a 30km run four weeks after the marathon I was able to get a better feel for the Carbons. I had run 98kms in them at the end of this run. One thing that is standing out on the long runs is that when you are getting fatigued the Carbon X SPEs really come in to their own. The carbon plate, the metarocker, the Hoka foam used in this shoe and the lightness all go towards this shoe making those fatigued miles easier.
I am really enjoying these shoes. If you are a heel striker you may not get all the benefits from the Carbon X SPE. It is not a shoe you would buy for fast 5-10km runs and intervals. This is a shoe to help you run faster and less fatgiued over long distances along with Hoka's famous comfort.
A Triathlon Running Shoe?
As mentioned, the 2020 Carbon's have no tongue. From a triathlon point of view this is a good thing. You can (and I have tried) slip your foot into them on the run. With stretchy laces you are good to go! No tongue half down inside the shoe with you trying to fish it out. When you put these shoes on you are ready to run. The heel doesn't doubled over and they are potentially one of the fastest shoes to put on in transition.
Are these shoes worth the money? Yes. If you are doing medium to long running and races the Carbon X SPEs should be at the top of your list.