News & Racing
India Lee Breaks Course Record at The Championship 2023
In a stunning display of tenacity, India Lee smashed the course record at The Championship 2023, marking a career-defining victory in Šamorín.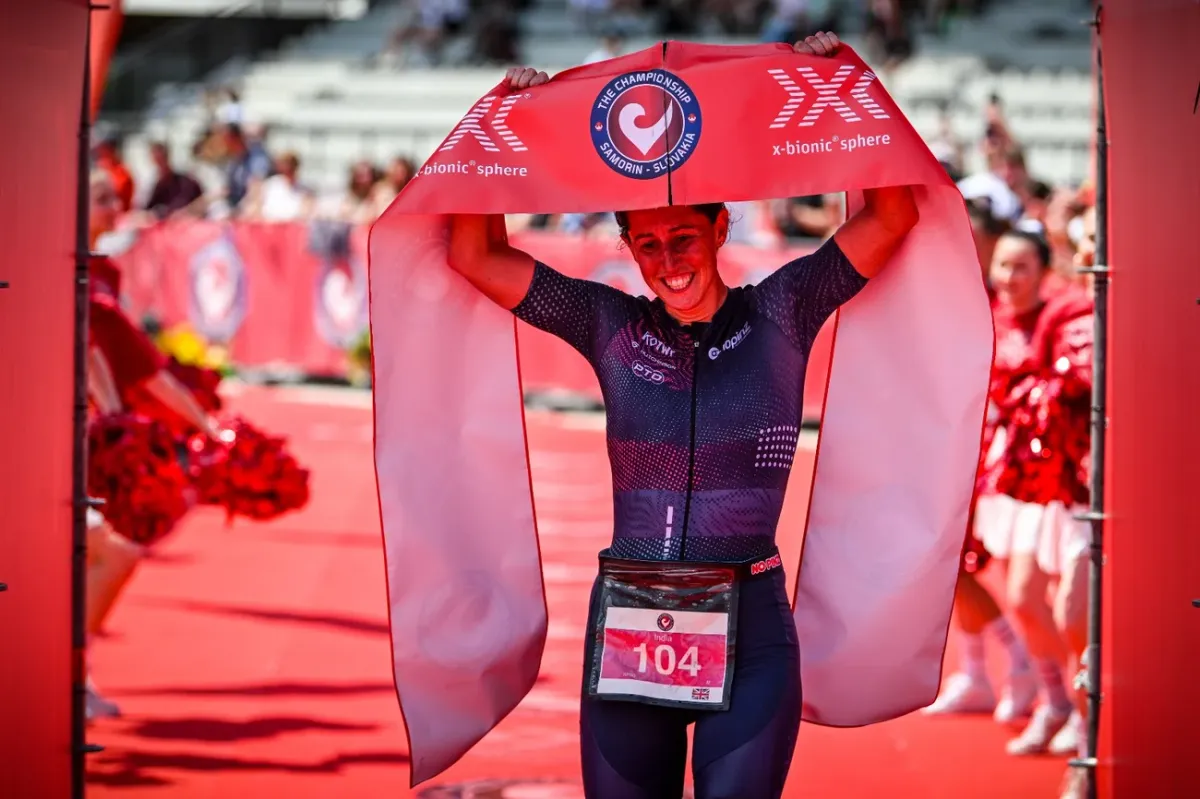 Great Britain's India Lee claimed the biggest win of her career at The Championship in Šamorín, beating the course record previously held by Lucy Charles Barclay with a phenomenal time of 3:58:29. This win marks her fifth middle-distance victory, solidifying her reputation as a formidable force in the triathlon arena.
The Championship kicked off with Fenella Langridge (GBR) leading a closely packed quartet out of the 1.9km swim in 24:02. Rebecca Clarke (NZL) followed closely behind, only a second apart, while Sara Peréz Sala (ESP) trailed four seconds, and Caroline Pohle (GER) six seconds behind. However, it was Lee who really stole the show on the 90km bike leg.
After catching up to the front group about an hour into the bike segment, Lee assumed a decisive lead, apparently unfazed by the formidable headwind. In the final kilometers, Langridge fell 30 seconds back, leaving Lee and Perez Sala entering T2 neck-and-neck. Yet, Lee immediately launched into the run, creating a 20-second gap within the first kilometer and continuously expanding her lead.
In an intense struggle for the remaining podium positions, Pohle managed to find her second wind, overtaking Langridge and Perez Sala to clinch second place with a time of 4:00:17. Perez Sala, despite being pursued closely by a rapidly advancing Amelia Watkinson, held onto third place, finishing at 4:00:24.
Lee's triumph was marked by emotion. Overwhelmed by her victory, she expressed her satisfaction and relief, highlighting the challenging conditions and her commitment to performing well.
The final results saw Lee, Pohle, and Perez Sala all finishing under the previous course record set by Lucy Charles-Barclay, underscoring the high level of competition in this year's Championship.
The top ten was rounded out by Watkinson (4:00:44), Grace Thek (AUS) (4:01:28), Lucy Byram (GBR) (4:02:00), Langridge (4:03:32), Margie Santamaria (ITA) (4:03:36), Diede Diederiks (NED) (4:04:15), and Marjolaine Pierre (FRA) (4:06:18).