Ironman 70.3 European Championship women's results 2013
Daniela Ryf of Switzerland has won her first Ironman 70.3 title, claiming the European Championship in Wiesbaden today. Ryf chased Australia's Annabel Luxford almost the entire race, chasing down the talented Aussie in the late stages of the run. This was Ryf's third attempt at the 70.3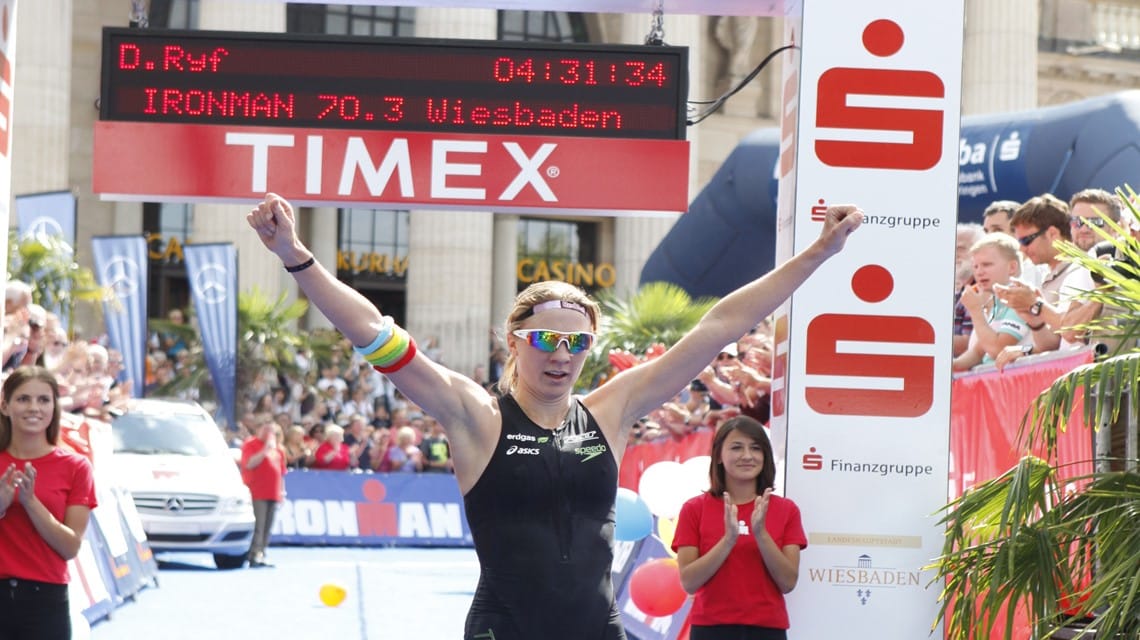 Daniela Ryf of Switzerland has won her first Ironman 70.3 title, claiming the European Championship in Wiesbaden today. Ryf chased Australia's Annabel Luxford almost the entire race, chasing down the talented Aussie in the late stages of the run. This was Ryf's third attempt at the 70.3 distance, having faced shortened courses twice due to environmental factors earlier this season; with St Polten's (Austria) swim cancelled due to cold air and water temperatures, and Rapperswil cancelled mid race due to a landslide. It is fair to say Ryf would have been pleased to face the full Ironman 70.3 distance, and even more pleased to walk away with the victory and European Championship Title.
Annabel Luxford (AUS) exited the water first with teamTBB's Rahel Kung on her feet, with a ninety second gap to chasers two times Olympian Ryf, three time Olympian Anja Dittmer (Ger), Niwata Kiyomi (JAP) and "sportie doc" Tamsin Lewis (GBR). Luxford took firm hold of the reigns and rode away, leading the race until the late stages of the run. Luxford won the Ironman 70.3 Asia Pacific Championship earlier this year in spectacular fashion, controlling the race from start to finish. With a promising start to the season Luxford then sustained a knee injury during training, which required surgery in February of this year.
Ryf has struggled with judging pace over the longer distances, initially expecting a slower, steadier bike; and instead finding that the long course girls set out pretty fast from the gun. It looks like Ryf wrapped her head around this in Wiesbaden today, having chased hard to catch and pass Luxford, even if it did take the best part of the race to do so.
Catriona Morrison swam a 24:52 to start the bike amongst the third group of girls, 2:40 down on racer leader Luxford. Having returned this season from an extended break from competition, Morrison should have been very happy with her 1:21:02 run, bringing her up to third place and posting fastest run split of the day amongst an extremely talented pool of runners. Tamsin Lewis put in a strong race across all three disciplines to finish in fourth place amongst a tough field.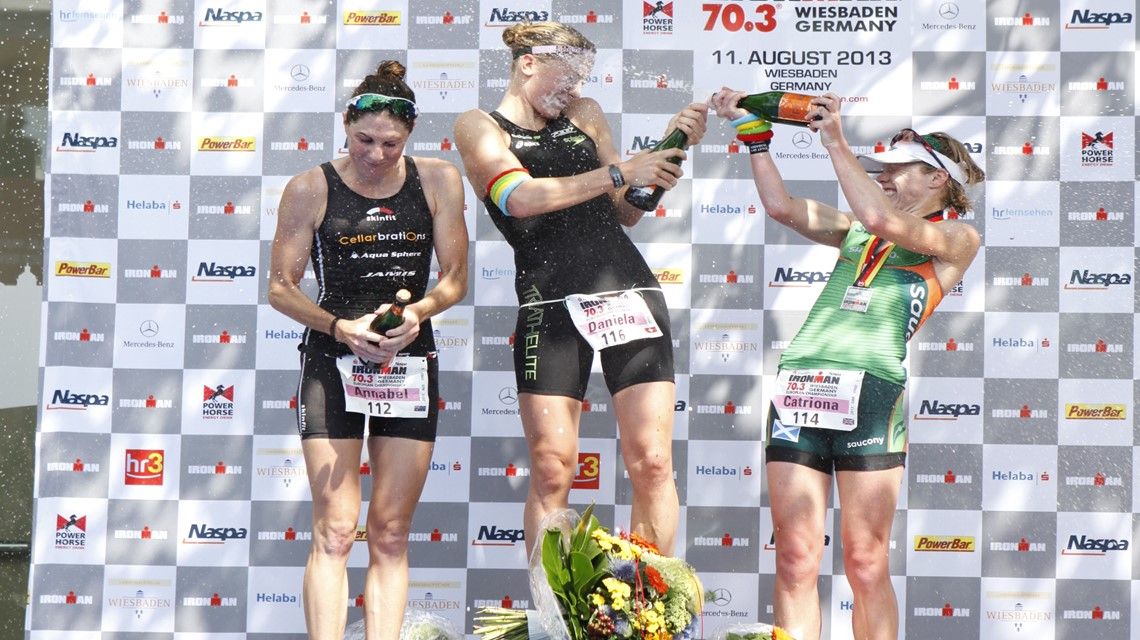 Read our pre race interview with Daniela, speaking about stepping up to the Ironman 70.3 distance. Also pre race interviews with our second place finisher and Asia Pacific 70.3 Champion Annabel Luxford here and third place getter Catriona Morrison here.
| | | | | | | |
| --- | --- | --- | --- | --- | --- | --- |
| Name | Country | Swim | Bike | Run | Finish | Div. Rank |
| Ryf, Daniela | SUI | 0:23:44 | 2:43:18 | 1:21:25 | 4:31:34 | 1 |
| Luxford, Annabel | AUS | 0:22:12 | 2:44:07 | 1:22:58 | 4:32:43 | 2 |
| Morrison, Catriona | GBR | 0:24:52 | 2:46:56 | 1:21:02 | 4:36:27 | 3 |
| Lewis, Tamsin | GBR | 0:23:53 | 2:47:44 | 1:24:39 | 4:39:28 | 4 |
| HŸtthaler, Lisa | AUT | 0:24:55 | 2:47:12 | 1:27:18 | 4:42:40 | 5 |
| Lehtonen, Kaisa | FIN | 0:24:35 | 2:50:27 | 1:26:20 | 4:44:44 | 6 |
| Hignett, Susie | GBR | 0:26:45 | 2:52:50 | 1:22:13 | 4:46:00 | 7 |
| Dittmer, Anja | GER | 0:23:46 | 2:56:26 | 1:23:54 | 4:47:16 | 8 |
| Schmitt, Natascha | GER | 0:24:49 | 2:54:28 | 1:25:30 | 4:48:02 | 9 |
| Straub, Juliane | GER | 0:24:37 | 2:54:15 | 1:27:31 | 4:49:52 | 10 |
| KŸng, Rahel | SUI | 0:22:13 | 2:55:39 | 1:33:03 | 4:54:41 | 11 |
| Schulz, Jenny | GER | 0:28:11 | 2:56:43 | 1:26:31 | 4:54:52 | 12 |
| Niwata, Kiyomi | JPN | 0:23:51 | 3:04:05 | 1:24:10 | 4:55:36 | 13 |
| Van Rooijen, Carla | NED | 0:35:05 | 3:00:42 | 1:35:27 | 5:15:21 | 14 |
| Mannweiler, Kathrin | GER | 0:28:07 | 3:08:12 | 1:38:14 | 5:17:52 | 15 |
| Dauben, Conny | GER | 0:31:20 | 3:10:33 | 1:42:09 | 5:28:27 | 16 |
| Bšhrer, Eva | GER | 0:31:07 | 2:54:58 | 0:00:00 | 0:00:00 | — |
| Bilham, Emma | SUI | 0:24:52 | 2:59:17 | 0:00:00 | 0:00:00 | — |
| Bazlen, Svenja | GER | 0:23:26 | 0:00:00 | 0:00:00 | 0:00:00 | — |
| Carvallo, Valentina | CHI | 0:26:40 | 0:00:00 | 0:00:00 | 0:00:00 | — |