News & Racing
ITU: Australian Ashleigh Gentle edges out Flora Duffy to win in Montreal
Aussie talent Ashleigh Gentle stormed to her first victory in a World Triathlon Series race in Montreal. Despite being desperately sick with the flu, Gentle powered past world champion Flora Duffy to take out the win. Being sick didn't stop Aussie Gentle Ashleigh Gentle had been struggling with the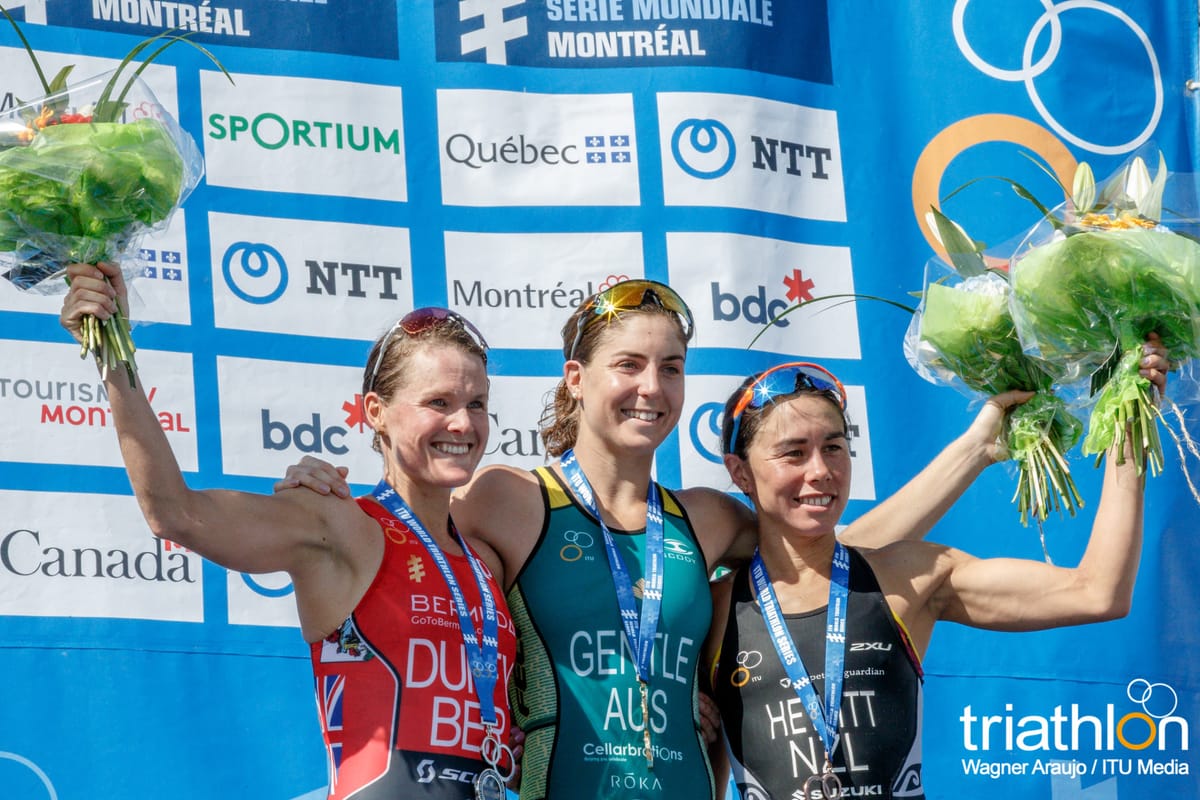 Aussie talent Ashleigh Gentle stormed to her first victory in a World Triathlon Series race in Montreal. Despite being desperately sick with the flu, Gentle powered past world champion Flora Duffy to take out the win.
Being sick didn't stop Aussie Gentle
Ashleigh Gentle had been struggling with the flu and had decided she wouldn't race. Just a few short hours before the event though, Gentle decided to compete in the event.
"I arrived into Montreal feeling sick and didn't know whether I would be able to race — I only made my decision this morning, hours before the start," Gentle said.
"I've got to say a huge thanks to my coach Jamie Turner who installed some things in my mind to just focus on the little things and the inspiration from Gwen (Jorgensen)."
ITU Montreal 2017
Fierce swimmer Katie Zaferes of America took the lead early and she stayed out in front until the first transition, just ahead of Carolina Routier and Emma Jeffcoat. With a very small gap of just a few seconds, Zaferes was caught quickly by a pack of 13 strong cyclists.
Powering forward at a remarkable pace, the nine lap bike leg was gruelling but thrilling with the leader changing often. The lead pack was comprised of champion Flora Duffy, Zaferes, Hewitt, Kirsten Kasper, Taylor Knibb and Joanna Brown plus a few other pro women.
Gentle powered forward in the run, making her way to the lead, creating a nine second lead ahead of Duffy, Hewitt and Kasper. From there, despite being very unwell on the day of the event, Ashleigh Gentle increased her lead steadily throughout the run to surge to victory.
After the race, Gentle said between tears: "I had so many things on my mind coming into this race… I needed to focus on the little things rather than the results, and I did. I made it. It has taken me six years to get on top of the WTS podium, six years of up and downs, a few second places… and I finally made it".
Duffy was also "very happy for my second place", but "really happy for Ashleigh. I knew this was gonna come at some point".
Hewitt said: "I've been in this city 10 days training and I think that this has helped me a lot today. I loved the city and the course, and to be back to an Olympic distance race".
Trizone wishes Ashleigh Gentle a huge congratulations on this win.
ITU WTS Montreal – 1.5km / 41.5km / 10km
Ashleigh Gentle (AUS) – 01:59:04
Flora Duffy (BER) –  01:59:27
Andrea Hewitt (NZL) – 01:59:48
Joanna Brown (CAN) – 02:00:23
Kirsten Kasper (USA) – 02:00:26
Rachel Klamer (NED) – 02:00:32
Taylor Knibb (USA) – 02:00:51
Yuko Takahashi (JPN) – 02:01:01
Katie Zaferes (USA) – 02:01:14
Charlotte McShane (AUS) 02:01:49