News & Racing
ITU: Wet and Wild in Yokohama
Torrential rain, crashes, Duffy's triumph and Bronwlee running holding his bike for one mile; ITU's Yokohama triathlon was a race to remember. Trizone looks back at last weekend's event. Men's race The men's race started with a lightning fast swim, and Jonny Brownlee was in the thick of the lead pac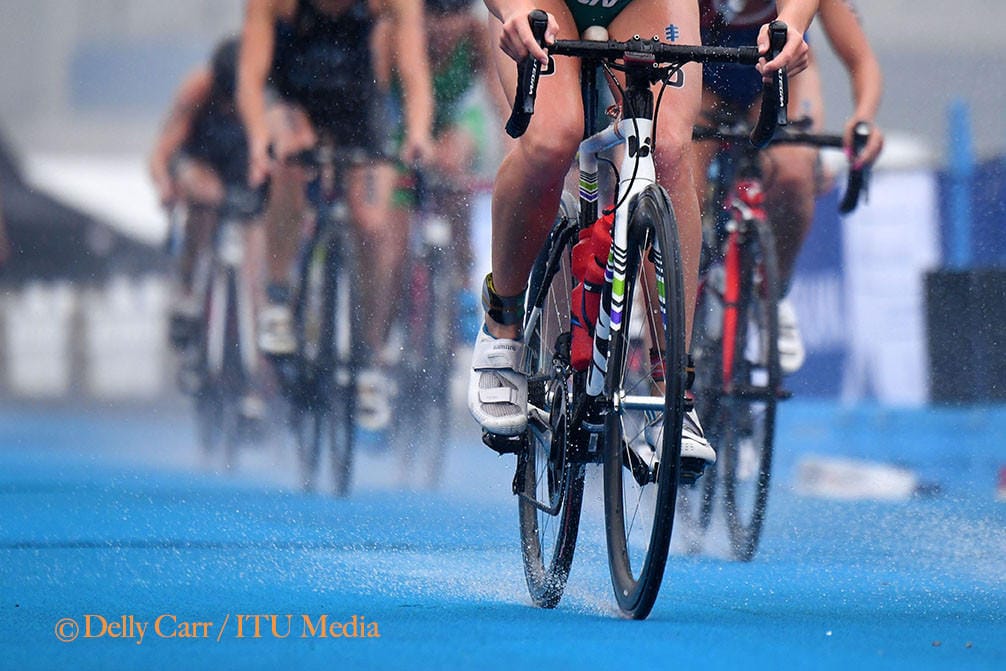 Torrential rain, crashes, Duffy's triumph and Bronwlee running holding his bike for one mile; ITU's Yokohama triathlon was a race to remember. Trizone looks back at last weekend's event.
Men's race
The men's race started with a lightning fast swim, and Jonny Brownlee was in the thick of the lead pack. As the race moved forwards though, things changed quickly.
Bad weather causes wet weather crashes
Brendan Purcell, British Triathlon performance director, told the BBC; "The rain caught us by surprise. We were expecting rain, but it got heavier and heavier."
As the rain beat down, the bike race progressed and Jonny Brownlee powered forwards until a fellow competitor's tyres slid out from under him and he crashed. To avoid the rider infront, Brownlee veered into the railings causing irreparable damaged his bike as a result.
"On that course you want to stay high up in the field to avoid crashes. I was sitting in fourth to avoid crashes, but then an athlete just crashed in front of me," Brownlee told the BBC after the race. "I was very, very lucky not to break anything in the crash. I've watched the video back and I could easily have two broken collarbones."
Brownlee's relentless despite damaged bike
Determined to make it through the run after his intensive training, Brownlee sat back on his bike, and was mortified to see the condition it was in. "My first reaction was to get back on the bike, get back riding," said Brownlee, "but then I got to my bike and the handlebars were pointing in the wrong direction and I couldn't move it. I still wanted to run – I had not come all the way to Japan not to finish."
Brownlee refused to give up, so he picked up his bike and ran the whole way to T2 in bare feet. He was out of the running for the win, but he still wanted to compete, and ran his way to 42nd place.
"I'm just disappointed – I come to races to race and I didn't get a chance," said Brownlee after the race.
At the front of the race though, Mario Mola, the Spaniard on a roll after his win at Super League in Australia, had finished in first place in just 1:48:15. Fernando Alarza ran into a very close second place in 1:48:23, very narrowly in front of Norwegian Kristian Bloomenfelt who finished in third.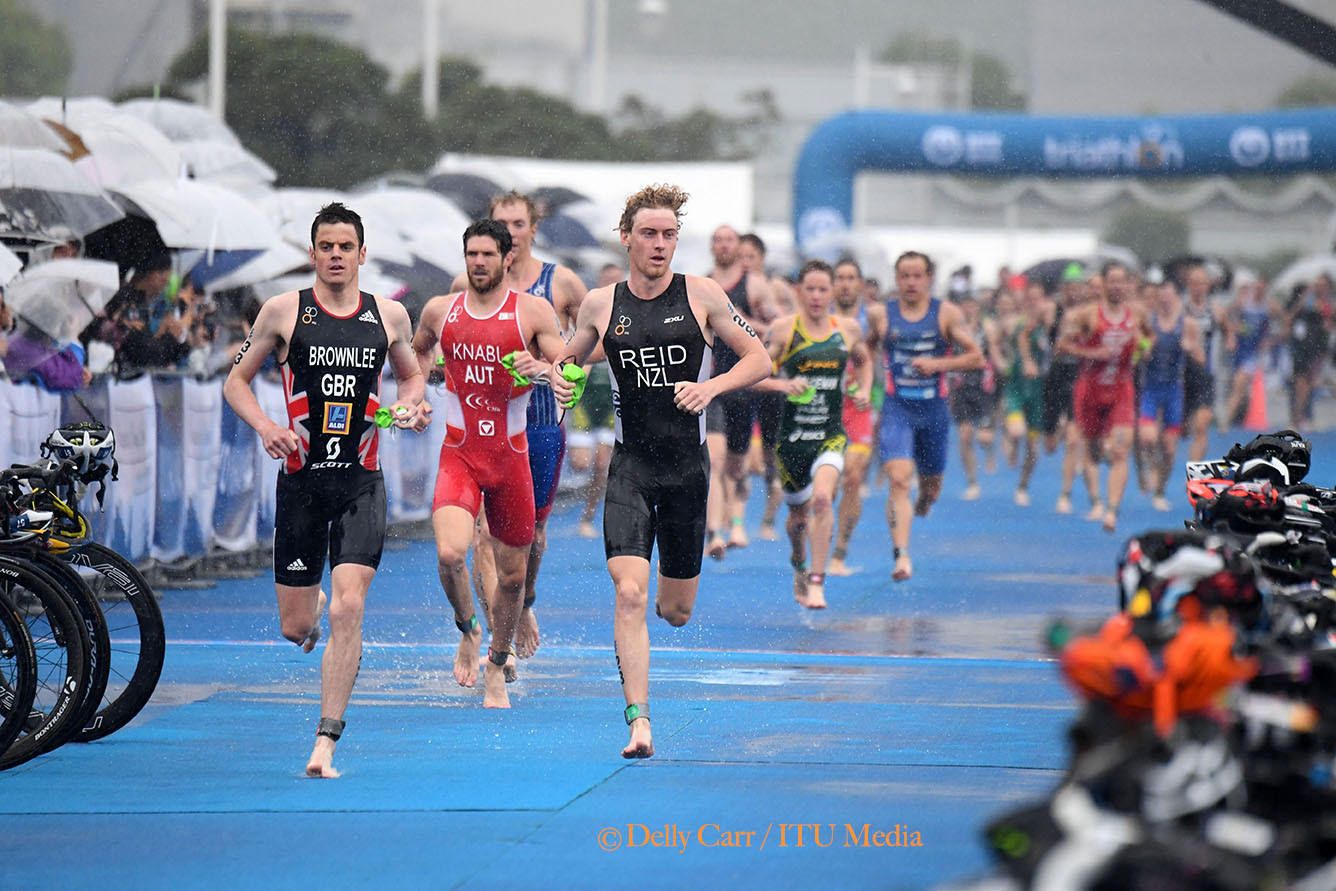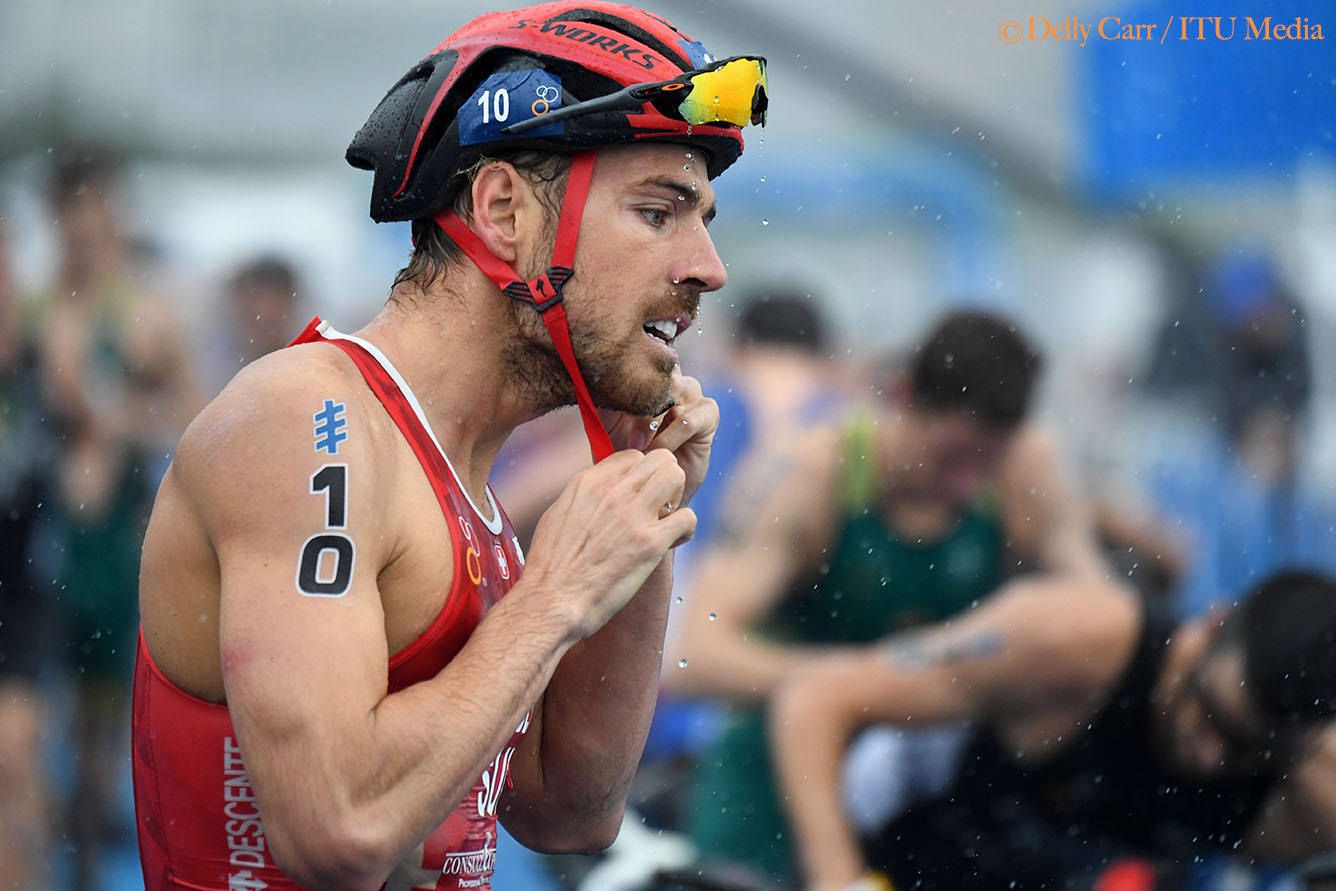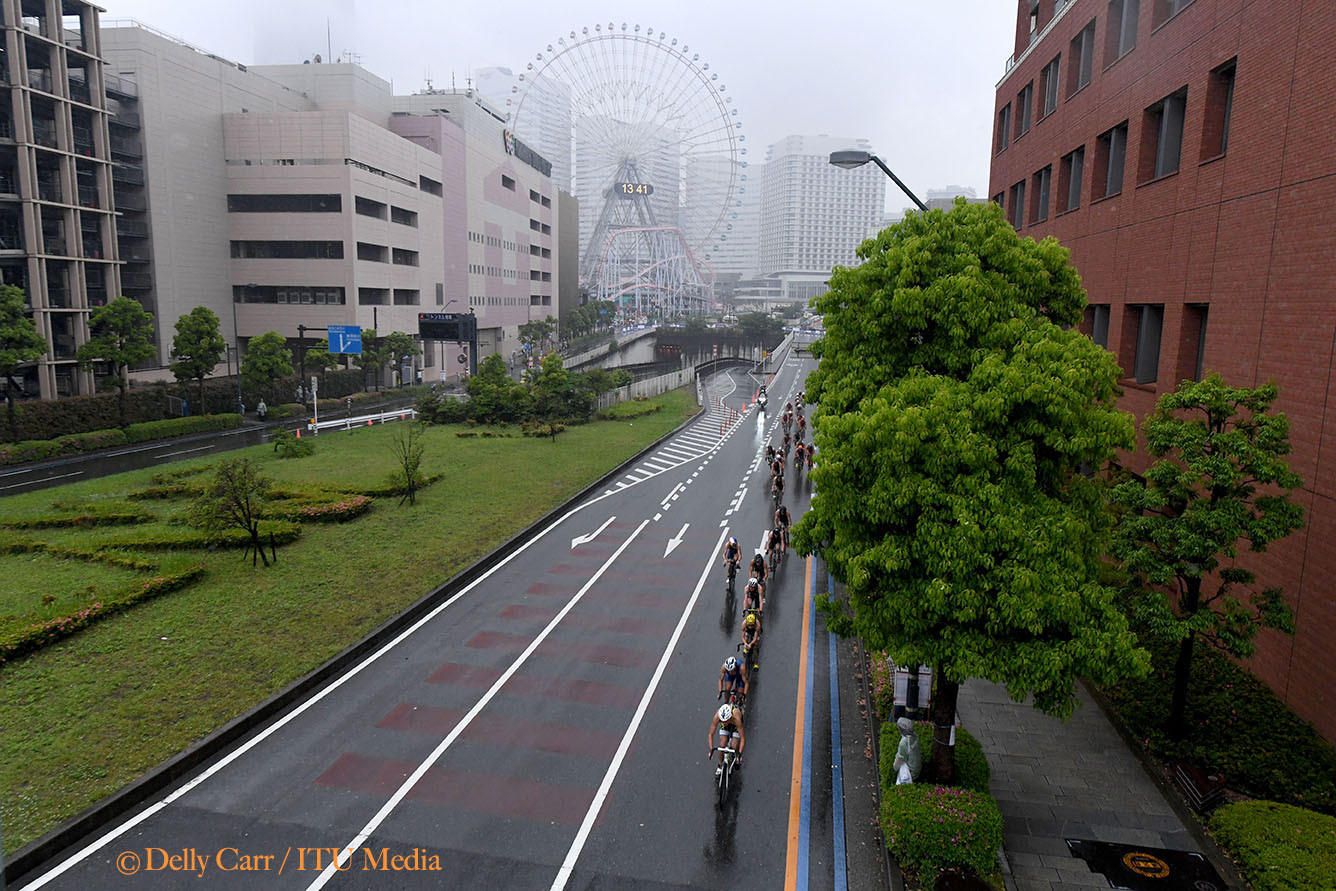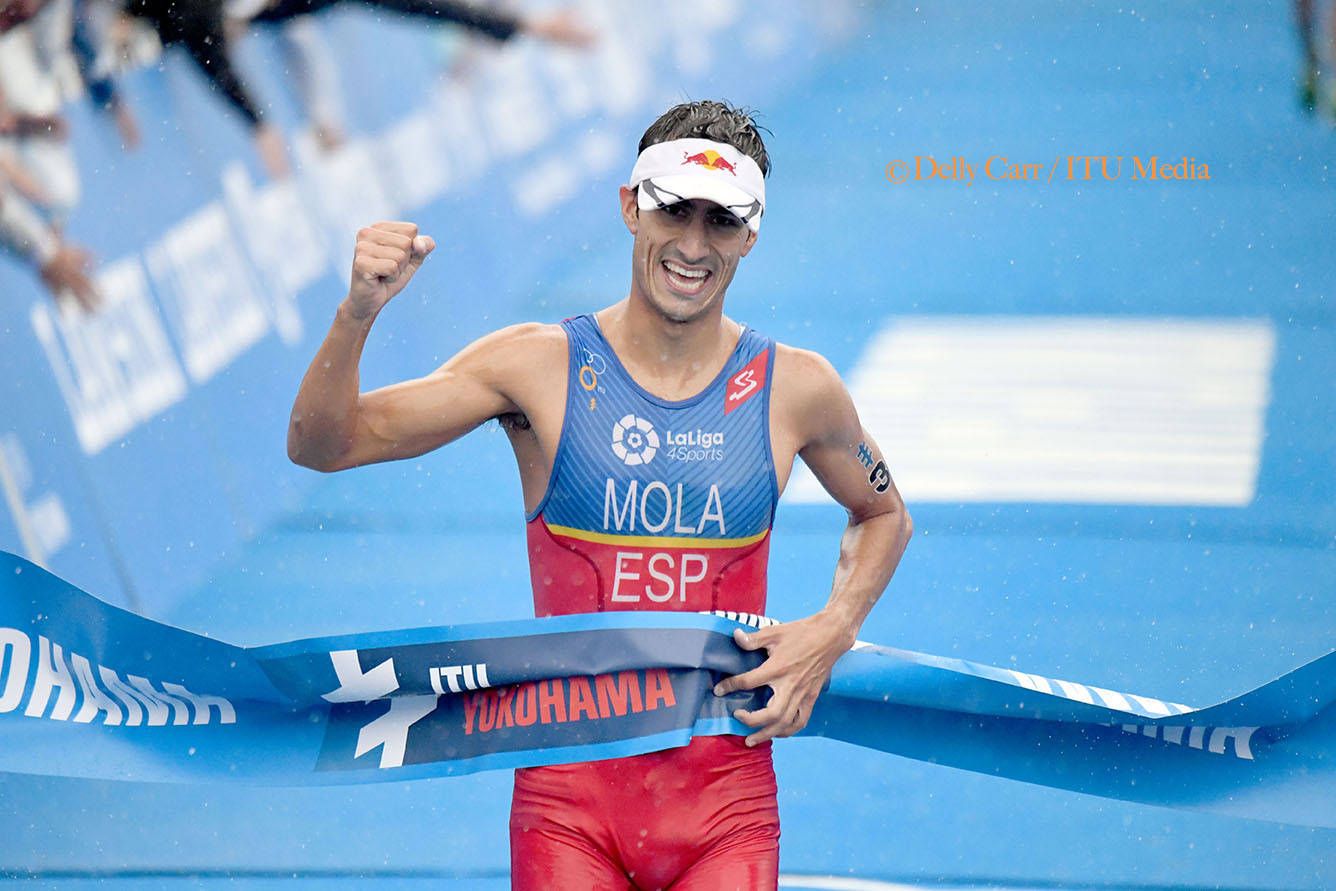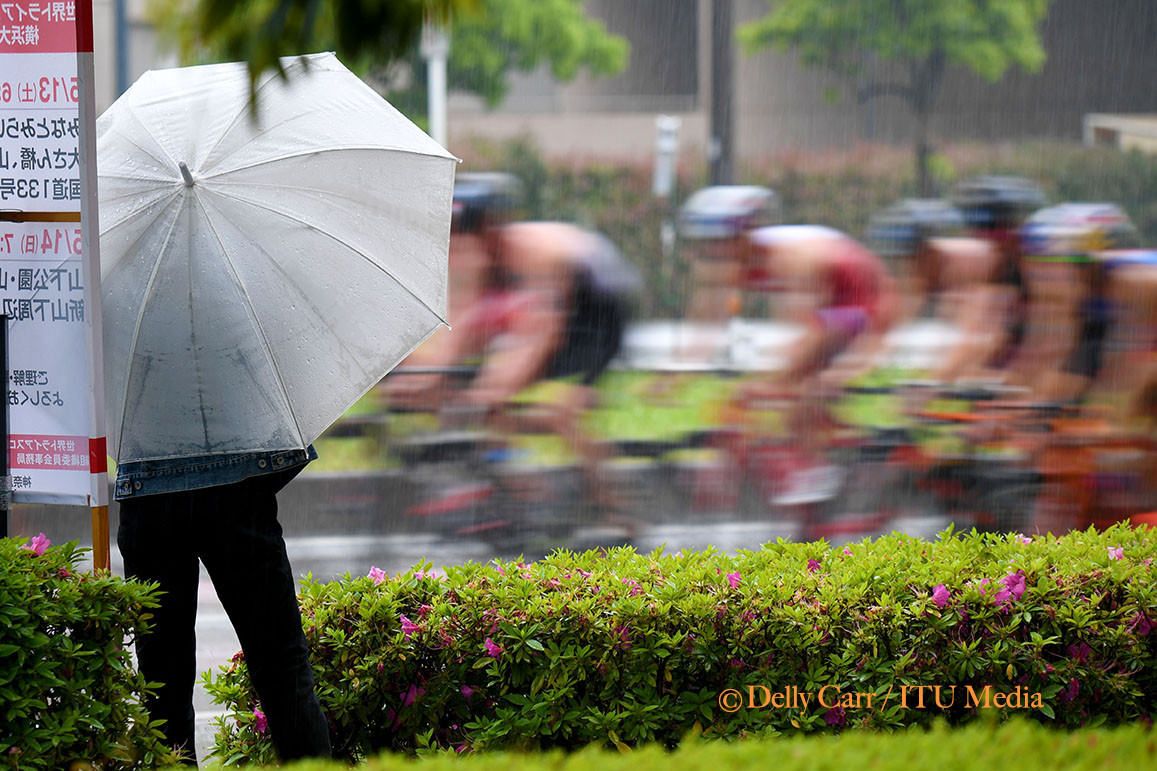 Women's Race
Flora Duffy had missed out on 2017's ITU races due to injury, so no one was sure how the incredible champion would fare at the race.
"I didn't know what I would have in the tank for today," Duffy said. "I was pretty nervous coming into the race today, I felt like a WTS first-timer, but I had to keep reminding myself that I am the world champ and I need to ride with confidence," Duffy told NBC.
Despite missing out on earlier races, the forever proficient Duffy of Bermuda rode incredibly well through the rain, and powered through to the end of the run to win in 1:56:18. American Katie Zaferes finished in a fairly distant second in 1:58:09, chased closely by fellow American Kirsten Kasper, who made it to third place in 1:58:17.