Jodie Stimpson smashes it in Auckland World Triathlon Series 2014
Great Britain's Jodie Stimpson produced the perfect start to her 2014 World Triathlon Series season, smashing her way to the 2014 Auckland title on the back of a bike breakaway followed by an even more impressive run. Last year's overall series silver medallist started the race with the No.1 and her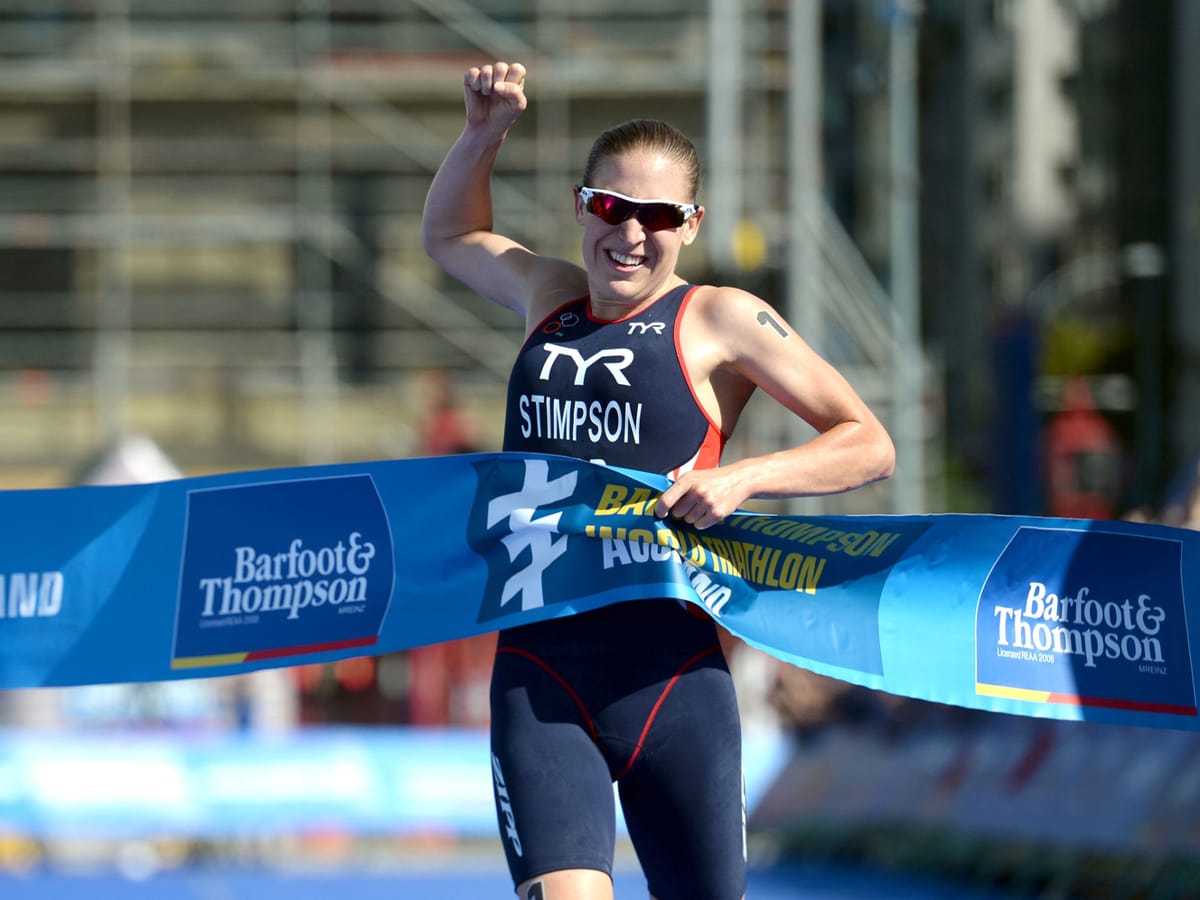 Great Britain's Jodie Stimpson produced the perfect start to her 2014 World Triathlon Series season, smashing her way to the 2014 Auckland title on the back of a bike breakaway followed by an even more impressive run.
Last year's overall series silver medallist started the race with the No.1 and her smart decision-making means she will keep it heading into Cape Town. Stimpson was part of a breakaway led by New Zealand's Nicky Samuels and Kate McIlroy that ended-up with a 35 second lead on the rest of the field leaving T2. And Stimpson didn't let up from there, moving 10 seconds ahead of the Kiwi pair just 1.25km to record her second career WTS win in 2 hours 8 minutes and 34 seconds.
Stimpson said training with Samuels had given her an insight into how the race might play out, and she made a decision to go with her and McIlroy when they broke.
"I was lucky enough to do a few sessions with Nicky, so I knew how strong Kate was. And I saw Kate and Nicky and I knew that this was there selection race as well so I was like I can't let those two go, I'm not going to ease up, I've got to get there and that was definitely the defining moment in the race," she said.
"The first lap it was like the worst lap, it was really terrible, I thought god I hope my legs improve. That is definitely one of the toughest courses, I mean that's what the Kiwis are known for, they are awesome riders and it was great to be in a breakaway with those girls today. It's pretty amazing really, I wish Non could have been here and I have to say quick recovery to her, I hope she gets back quickly and joins us on the start line, but I'm chuffed with today, I couldn't be happier."
Behind Stimpson, Germany's Anne Haug kept up the excellent form she has enjoyed in Auckland. Previously undefeated, the pint-sized pocket-rocket was one of the last out of the water but rode her way into the first chase across the 40km bike before pulling out another gear in the final two kilometres to claim silver.
"I don't know what it is in New Zealand, I always have a good race," Haug said. "Today to be honest I didn't really expect that because of my preparation and I'm more than happy I mean my race was down after the swim, I saw I was in the second pack which was my big, big goal and then I did it and then everything else was cherry on the cake so it's unbelievable."
"It's a really, really challenging course, you can never have an easy part in it. You have to be very careful on the downhill section and I had to push really hard uphill so there's no time to relax. Everyone is hurting so I mean I give it all and see what's left for the run and I'm more than happy.
Great Britain's Helen Jenkins marked her return to the series with an exclamation point, claiming a bronze medal. Jenkins' first race since the London 2012 Olympics was in New Plymouth two weeks ago, and Auckland marked her first WTS event since before the Olympics.
"I'm so happy. I've been picking up the training really gradually and it's such a great team around me, British Triathlon helping me get back so to be honest I didn't expect to be on the podium today, but I'm so happy to be here," she said.
"Marc (Jenkins) said, 'Look what you're going to be able to do with a bit more training.' This is probably the toughest course I've ever ridden. I love New Zealand and they produce a really good course and the Kiwi girls rode so strong. Jodie did phenomenal today, I just didn't have the legs to go with her. I got a bit better as we went on and just tried to hang in there on the run."
Under perfect blue skies, the opening race of the 2014 World Triathlon Series started with a non-wetsuit swim. Spain's Carolina Routier took up the position she's made her own over the past six months of racing, at the front of the pack, but in Auckland there was a large group of athletes right on her tail, including Katie Hursey, Gwen Jorgensen, Helen Jenkins, Emma Moffatt, Sarah Groff, Rachel Klamer and Jodie Stimpson. Together with a quartet of Kiwis, formed a lead group of 18.
While Germany's Anne Haug had previously been unbeaten in Auckland, taking both the 2012 Grand Final and the 2013 season opening WTS event, she was one of the last to exit the 1.5km swim and left T1 50 seconds behind the leaders. However Haug's prowess on the bike was again evident, as she partnered with Barbara Riveros Diaz and started to chop seconds off even on the first lap of the bike.
On the second lap, Canada's Jo Brown kicked off what would be a thrilling bike leg, as she attacked and bridged from the second to the lead pack. That was followed in the third lap by a crash that dramatically impacted the outcome of the race. A crash in the chase pack caught up Jorgensen, Hursey, Australia's Ashleigh Gentle and Charlotte McShane, and meant that they dropped from near the leaders to a minute behind at the end of the lap, and 30 seconds behind Haug's group.
But action hadn't stopped there, as New Zealand's Kate McIlroy, Nicky Samuels and Great Britain's Jodie Stimpson made a break on the very next lap. At the halfway point on the bike they had a small 10 second lead on the first chase group of eight, that included Sarah-Anne Brault, Alice Betto, Rachel Klamer, Anja Knapp, Lucy Hall, Emma Jackson, Jenkins and Moffatt, but the trio managed to extend that on the fifth lap to 22 seconds. With two laps left to go, the gap was out to 30 seconds.
Behind that three, the chase led by Riveros and Haug kept up their incredible pace and with just under 10km to go they caught the first chase of eight to form a chase group of 15. At the start of the bell lap of the bike, that group was 35 seconds behind the leading trio. Samuels, McIlroy and Stimpson entered T2 together but Stimpson quickly pushed ahead.
Just 1.25km into the 10km run, Stimpson had 10 seconds on the Kiwi pair who were running shoulder to shoulder. Behind them, the quickest from the chase of the bike was Emma Moffatt, but she was followed closely by Haug, Jenkins and Sarah Groff. While Samuels and McIlroy were swallowed by the chase halfway through, it was Jenkins and Canadian youngster Sarah-Anne Brault who kept pulling further forward.
It wasn't until the final lap when Haug made her break, and Jenkins followed. Canadian Sarah-Anne Brault recorded her career best WTS result in fourth. While the crash meant Jorgensen didn't contend for the podium, she still thrilled with the quickest run split of the day in 34:16.
| | | | | | | |
| --- | --- | --- | --- | --- | --- | --- |
| Pos | Athlete | Country | Time | Swim | Bike | Run |
| 1 | Jodie Stimpson | GBR | 02:08:34 | 00:20:03 | 01:11:29 | 00:35:38 |
| 2 | Anne Haug | GER | 02:08:59 | 00:20:42 | 01:11:36 | 00:35:19 |
| 3 | Helen Jenkins | GBR | 02:09:10 | 00:19:58 | 01:12:17 | 00:35:28 |
| 4 | Sarah-anne Brault | CAN | 02:09:15 | 00:19:59 | 01:12:19 | 00:35:29 |
| 5 | Sarah Groff | USA | 02:09:20 | 00:19:57 | 01:12:22 | 00:35:34 |
| 6 | Andrea Hewitt | NZL | 02:09:21 | 00:20:11 | 01:12:05 | 00:35:37 |
| 7 | Emma Moffatt | AUS | 02:09:35 | 00:19:55 | 01:12:17 | 00:35:51 |
| 8 | Barbara Riveros Diaz | CHI | 02:09:53 | 00:20:38 | 01:11:37 | 00:36:13 |
| 9 | Alice Betto | ITA | 02:10:05 | 00:19:55 | 01:12:21 | 00:36:24 |
| 10 | Rachel Klamer | NED | 02:10:22 | 00:19:52 | 01:12:21 | 00:36:43 |
| 11 | Emma Jackson | AUS | 02:10:32 | 00:20:01 | 01:12:18 | 00:36:43 |
| 12 | Gwen Jorgensen | USA | 02:10:39 | 00:19:59 | 01:14:54 | 00:34:16 |
| 13 | Kate Mcilroy | NZL | 02:10:52 | 00:20:00 | 01:11:32 | 00:37:53 |
| 14 | Vendula Frintova | CZE | 02:11:06 | 00:20:16 | 01:11:58 | 00:37:22 |
| 15 | Maaike Caelers | NED | 02:11:40 | 00:20:36 | 01:11:39 | 00:37:55 |
| 16 | Nicky Samuels | NZL | 02:11:57 | 00:19:50 | 01:11:38 | 00:39:01 |
| 17 | Joanna Brown | CAN | 02:12:06 | 00:20:04 | 01:12:11 | 00:38:18 |
| 18 | Rebecca Robisch | GER | 02:12:23 | 00:20:37 | 01:11:38 | 00:38:38 |
| 19 | Lucy Hall | GBR | 02:13:05 | 00:19:56 | 00:00:00 | 00:39:16 |
| 20 | Ashleigh Gentle | AUS | 02:13:13 | 00:20:35 | 01:14:21 | 00:36:45 |
| 21 | Juri Ide | JPN | 02:13:14 | 00:20:14 | 01:14:40 | 00:36:50 |
| 22 | Ai Ueda | JPN | 02:13:24 | 00:20:18 | 01:14:40 | 00:36:53 |
| 23 | Ellen Pennock | CAN | 02:13:28 | 00:19:57 | 01:15:04 | 00:36:54 |
| 24 | Mariko Adachi | JPN | 02:13:42 | 00:19:58 | 01:14:59 | 00:37:16 |
| 25 | Anja Knapp | GER | 02:13:57 | 00:19:58 | 01:12:16 | 00:40:19 |
| 26 | Pamela Oliveira | BRA | 02:14:31 | 00:19:52 | 01:15:08 | 00:37:58 |
| 27 | Claire Michel | BEL | 02:14:37 | 00:20:10 | 01:16:38 | 00:36:20 |
| 28 | Mateja Simic | SLO | 02:14:59 | 00:20:17 | 00:00:00 | 00:38:25 |
| 29 | Kirsten Sweetland | CAN | 02:15:13 | 00:20:02 | 01:14:59 | 00:38:39 |
| 30 | Vicky Holland | GBR | 02:15:16 | 00:20:01 | 01:16:40 | 00:37:01 |
| 31 | Charlotte Mcshane | AUS | 02:15:41 | 00:20:16 | 01:14:43 | 00:39:10 |
| 32 | Hanna Philippin | GER | 02:16:31 | 00:20:36 | 01:15:59 | 00:38:25 |
| 33 | Claudia Rivas | MEX | 02:17:10 | 00:20:03 | 01:16:42 | 00:38:53 |
| 34 | Yuko Takahashi | JPN | 02:17:13 | 00:19:56 | 01:16:42 | 00:39:07 |
| 35 | Anneke Jenkins | NZL | 02:17:27 | 00:20:35 | 01:14:22 | 00:40:59 |
| 36 | Katie Hursey | USA | 02:17:44 | 00:19:55 | 01:18:50 | 00:37:29 |
| 37 | Natalie Milne | GBR | 02:18:23 | 00:19:50 | 01:15:06 | 00:41:52 |
| 38 | Tamsyn Moana-veale | AUS | 02:19:22 | 00:19:56 | 01:16:47 | 00:41:07 |
| 39 | Maria Czesnik | POL | 02:19:46 | 00:20:44 | 01:18:01 | 00:39:18 |
| 40 | Carolina Routier | ESP | 02:20:48 | 00:19:48 | 01:18:33 | 00:40:59 |
| DNF | Yuka Sato | JPN | 00:00:00 | 00:20:00 | 01:16:36 | 00:00:00 |
| DNF | Simone Ackermann | NZL | 00:00:00 | 00:20:01 | 01:16:39 | 00:00:00 |
| DNF | Sofie Hooghe | BEL | 00:00:00 | 00:20:01 | 01:16:42 | 00:00:00 |
| DNF | Rebecca Clarke | NZL | 00:00:00 | 00:19:56 | 00:00:00 | 00:00:00 |
| DNF | Annamaria Mazzetti | ITA | 00:00:00 | 00:20:05 | 00:00:00 | 00:00:00 |
| DNF | Michelle Mehnert | USA | 00:00:00 | 00:20:04 | 00:00:00 | 00:00:00 |
| DNF | Fiona Crombie | NZL | 00:00:00 | 00:22:08 | 00:00:00 | 00:00:00 |
| DNF | Sarissa De Vries | NED | 00:00:00 | 00:20:19 | 00:00:00 | 00:00:00 |
| DNF | Lois Rosindale | GBR | 00:00:00 | 00:20:38 | 00:00:00 | 00:00:00 |
| DNF | Tamara Gomez Garrido | ESP | 00:00:00 | 00:20:40 | 00:00:00 | 00:00:00 |