Kona Ironman debut now uncertain for injured Melissa Hauschildt
A freak pre-race injury forced defending Ironman 70.3 World Champion Melissa Hauschildt to abandon her title defence mid-race and casts a shadow of doubt on upcoming Kona debut… Aaron S. Lee | Trizone To say it was a rough week for three-time triathlon world champion Melissa Hauschildt (AUS) is a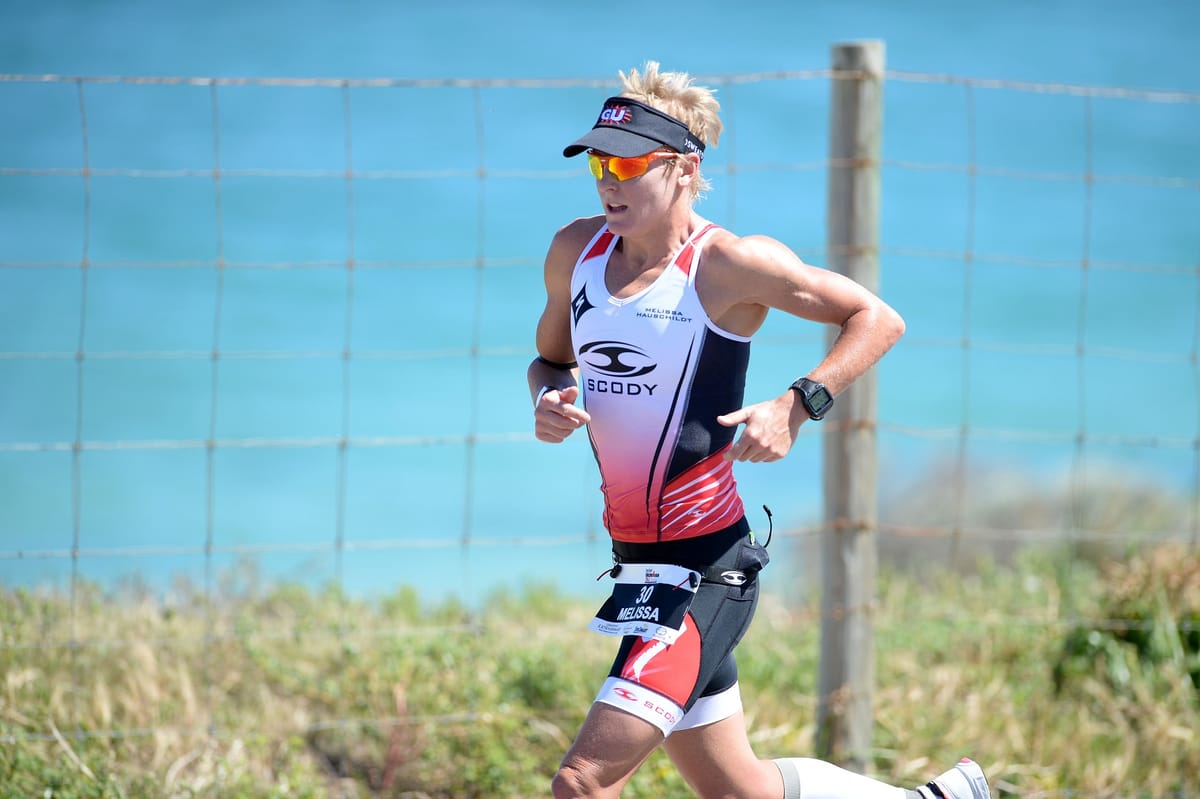 A freak pre-race injury forced defending Ironman 70.3 World Champion Melissa Hauschildt to abandon her title defence mid-race and casts a shadow of doubt on upcoming Kona debut…
Aaron S. Lee | Trizone
To say it was a rough week for three-time triathlon world champion Melissa Hauschildt (AUS) is a gross understatement.
Just seven days after finishing a "disappointing" fifth at the Hy-Vee 5150 Triathlon in Des Moines, Iowa on August 31st due in large part to a lengthy entanglement in swim traffic that ultimately cost her three and a half minutes on the leaders and eventual champion Helle Frederiksen of Denmark (1:54:44), Hauschildt was forced to abandon her Ironman 70.3 World Championship title defence mid-race in Mont-Tremblant after a 'massage from Hell' caused a pectoral injury limiting her range of motion and breathing efficiency.
"That's all I keep thinking about," said Hauschildt referring to the massage she received on Wednesday four days prior to Mont-Tremblant in which she claims ripped her pectoral tendon from the bone. "If only I didn't get it."
The race marked Hauschildt's attempt at a record third 70.3 world title, after capturing the crown in both 2011 and 2013. Afterwards "and after years of speculation of 'will she' or 'won't she' "Hauschildt was set to race the Ironman World Championships in Kona "which is now in question.
"I have no idea if it will heal by Kona," Hauschildt told Trizone on Thursday (AEST). "It's hard to not be negative, but after Mont-Tremblant I was going to go full throttle for three weeks with Ironman training. Now, I'm guessing best scenario is it heals in time and I'm on start line, but I doubt I'll be able to train.
Hauschildt, who raced "and won "her first iron-distance race at Ironman Australia in Port Macquarie, New South Wales in May "made the mid-season decision to forgo her ITU Long Distance World Championship title defence to race Kona instead, now says her late season plans are now quickly unraveling.
"It happened last Wednesday night and still by Sunday I couldn't sleep without pain and couldn't breathe without pain," she said. "Then I went and smashed the s*** out of it by racing for three hours so I'm guessing I made it a lot worse. It's not looking great.
To make matters worse, an error with border security computers caused Hauschildt and her husband Jared to miss their flights and find them stranded in Montreal for another six hours before returning to her US-base in Boulder, Colorado.
"It's been pretty crazy," said Hauschildt. "We missed our flight because border security crashed. Jared got through so if I was 20 seconds earlier I would have, too."
Now back in Colorado with just four weeks until Kona (October 11), Hauschildt is desperately trying to reschedule an original doctor's appointment missed due to the delayed flight.
"I was meant to see a good doctor here in Boulder yesterday but because we missed our flight I missed the appointment," she said. "I'm waiting for him to call today to see if he can fit me in. Will try to get an MRI and see what's going on.
"I will definitely try for Kona still if it's possible, but at the moment I still can't sleep or breath without pain. Yet as soon as I can do basic stuff I'll get in gym and at least do strengthening where I can.
"Maybe I could do the elliptical with no arms when it doesn't hurt to breath.
"I will try make it there, but this is totally not what I expected."
Aaron S. Lee