Lionel Sanders and Haley Chura win Ironman 70.3 Buenos Aires
Lionel Sanders and Haley Chura were victorious at Buenos Aires 70.3 last weekend in two nail-biting races. While Sanders was tipped to win, American Haley Chura beat favourite Kimberley Morrison in an exciting race largely dominated by South American locals. Buenos Aires 70.3 Men's swim The race sta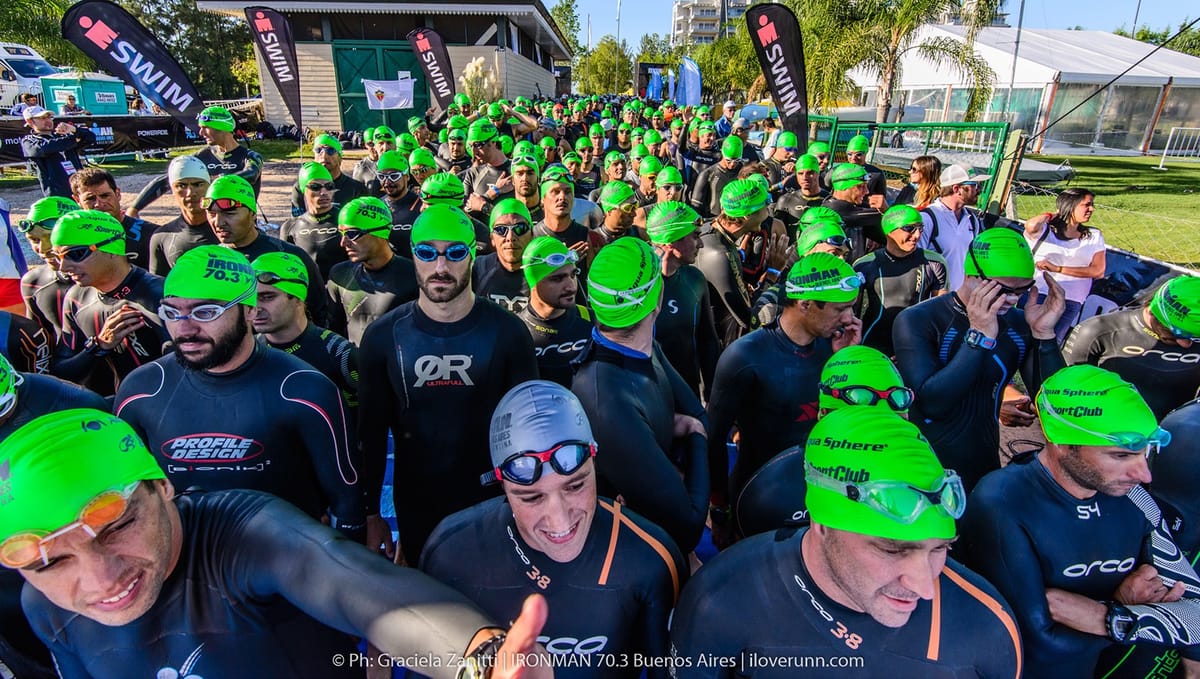 Lionel Sanders and Haley Chura were victorious at Buenos Aires 70.3 last weekend in two nail-biting races. While Sanders was tipped to win, American Haley Chura beat favourite Kimberley Morrison in an exciting race largely dominated by South American locals.
Buenos Aires 70.3 Men's swim
The race started as predicted, with Canada's Lionel Sanders finding himself behind the lead pack in the swim. American but Italian-born Rodolphe Von Berg found his way to the lead early, ahead of Brazil's Marcus Fernandes and Igor Amorelli. Another favourite, American Ben Hoffman, found himself 1:26 behind Von Berg as the transition loomed, and had his work cut out for him.
Buenos Aires 70.3 Men's bike
As the bike leg progressed, the field changed dramatically as Sanders powered towards the lead. The Brazilians held their own though, and fell in right behind Sanders. Amorelli just four seconds back, and American Von Berg just 11 seconds behind Sanders at the 45km mark.
Amorelli, who wasn't even tipped to make the podium, powered forwards at the 60km mark closely followed by Sanders, and they entered T2 together. By the transition, the leading duo had created an impressive 3:04 lead on Von Berg, with Hoffman and Fernandes behind.
Buenos Aires 70.3 Men's run
Amorelli hung in as long as he could, but by the 7km mark in the run, Sanders broke away and opened up his impressive stride. By 11km, Sanders had a huge 3:07 lead on Amorelli, with Von Berg two minutes behind. From there, Sanders was unstoppable and finished in 3:42:47. Behind him, Amorelli who had dug deep throughout the entire race, lost ground and was overtaken by American Von Berg. Von Berg finished in 3:46:15, and Amorelli crossed the line in third in 3:46:49.
Lionel Sanders (CAN) 3:42:47
Rodolphe Von Berg (USA) 3:46:15
Igor Amorelli (BRA) 3:46:52
Reinaldo Colucci (BRA) 3:48:49
Santiago Ascenco (BRA) 3:49:28
Ben Hoffman (USA) 3:49:58
Buenos Aires 70.3 Women's swim
Haley Chura was in with a strong chance at this event, but her surprising performance was truly impressive. She began the race with a bang, finding her way to the lead early in the swim. By the first transition, Chura had a solid 2:44 lead ahead of key contender Great Britain's Kimberley Morrison.
Buenos Aires 70.3 Women's bike
As Chura jetted through the transition at lightning speed, Morrison was prepared for a ferocious bike leg. Morrison, head down, powered past Chura to ride the fastest women's bike leg, a huge 9:07 faster than Chura's own bike split. As the women powered through the second transition, it looked like Morrison might take out victory for the second year in a row.
Buenos Aires 70.3 Women's run
Morrison settled into the run, but Chura was hungry to regain the lead and chased her, slowly gaining, throughout the entire run. With just a few kilometres left, Chura stormed within reach of Morrison and swiftly passed her, running her way to victory in 4:17:42. Morrison was just 47 seconds behind her after an incredible race and a ferocious, fastest bike split in the women's event. The powerful duo finished more than five minutes ahead of their fellow athlete on the podium, Brazil's Ariane Monticeli, who finished in 4:25:13.
Chura's victory symbolises final stage of injury recovery
Haley Chura's victory is huge, not only due to the excitement of the finish, but due to the fact she spent most of last year recovering from broken bones after being hit by a car while out for a training ride. Her recovery was tough, and this victory is an exciting milestone after a long road back to the sport.
Trizone congratulates Haley Chura on this huge achievement after a tough year of rehabilitation.
Haley Chura (USA) 4:17:42
Kimberley Morrison (GBR) 4:18:29
Ariane Monticeli (BRA) 4:25:13
Carol Furriela (BRA) 4:28:51
Romina Palacio Balena (ARG) 4:28:56
Luiza Cravo de Azevado (BRA) 4:29:07