News & Racing
Margirier Triumphs at The Championship 2023
French triathlete Mathis Margirier shatters previous course record, winning the 2023 Championship in a blistering time of 3:31:29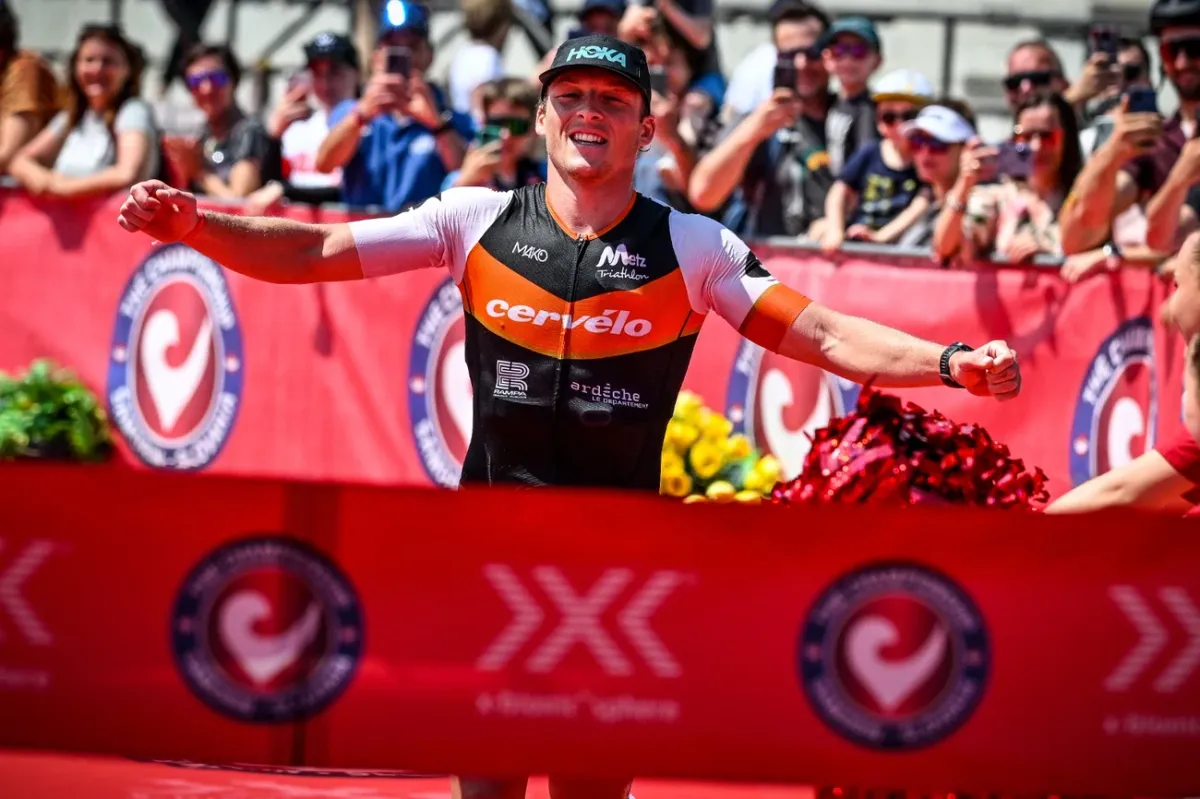 The sixth edition of The Championship culminated in an action-packed, record-breaking finish as French dynamo Mathis Margirier overcame a potent field of competitors, claiming the Challenge Family title in a stunning 3:31:29, toppling the previous course record held by Florian Angert (2021).
Unseasonably cold weather leading up to the race posed threats to the full swim segment. Yet, race day saw all fears dissipate as the athletes plunged into the Danube Canal's bracing waters, embarking on the complete 1.9km swim course.
Australia's Aaron Royle and Slovakia's Richard Varga, renowned strong swimmers, made their mark in the icy waters, leading the pack. Royle emerged first in 21:40, trailed closely by Varga just six seconds behind. The only other competitor keeping pace was Switzerland's Sven Thalmann, who remained nearly 30 seconds ahead of the second large group.
This thrilling swimming segment set the stage for the fierce biking challenge that lay ahead. Royle and Varga maintained their high tempo, leaving Thalmann behind, who was later joined by Margirier, Anthony Costes from France, and Italy's Alessandro Fabian. The third chase group, housing race favourites like Pieter Heemeryck (BEL), Clément Mignon (FRA), Thomas Bishop (GBR), and Frederic Funk (GER), followed closely, with Funk soon asserting control.
Challenging conditions on the fast, flat course were marked by a strong, unpredictable headwind. However, Funk's prediction at the pre-race conference stood true, as the leaders set a relentless 50kph pace, at times peaking at 60kph, despite the adverse conditions. Margirier, seemingly unfazed by the seasoned veterans chasing him, maneuvered his way to the front within half an hour.
By the time they arrived at T2, Margirier, Royle, and Funk set off together for the five-lap run around x-bionic sphere, with Bishop slightly trailing. It didn't take long for Margirier to take charge. Through the run, he incrementally extended his lead, distancing himself from the rest, and finally clinching his first major career win and the coveted title of champion of The Championship 2023 in a new record time of 3:31:29.
In the final stages, Funk posed a challenge to Royle's second place. Still, he fell short of time, finishing just four seconds behind Royle in 3:32:55. Thus, marking a record-breaking day at The Championship 2023 with the top two positions occupied by athletes who shattered the previous course record.
After an impressive run of second places, including at Anfi Challenge Gran Canaria, Margirier's win was a testament to his endurance, determination, and skill. With data showing his increasing lead and resilience against challenging weather conditions, his victory at The Championship 2023 has truly solidified his mark in the triathlon circuit.