Matt Hanson – No longer moonlighting as a professor
Exercise Physiologist and pro triathlete Matt Hanson wowed crowds with his impressive victory at the North American Ironman Championships last weekend. Trizone caught up with Matt to see how his journey to triathlon began. "Having five guys finish under eight hours means everyone was firing on all c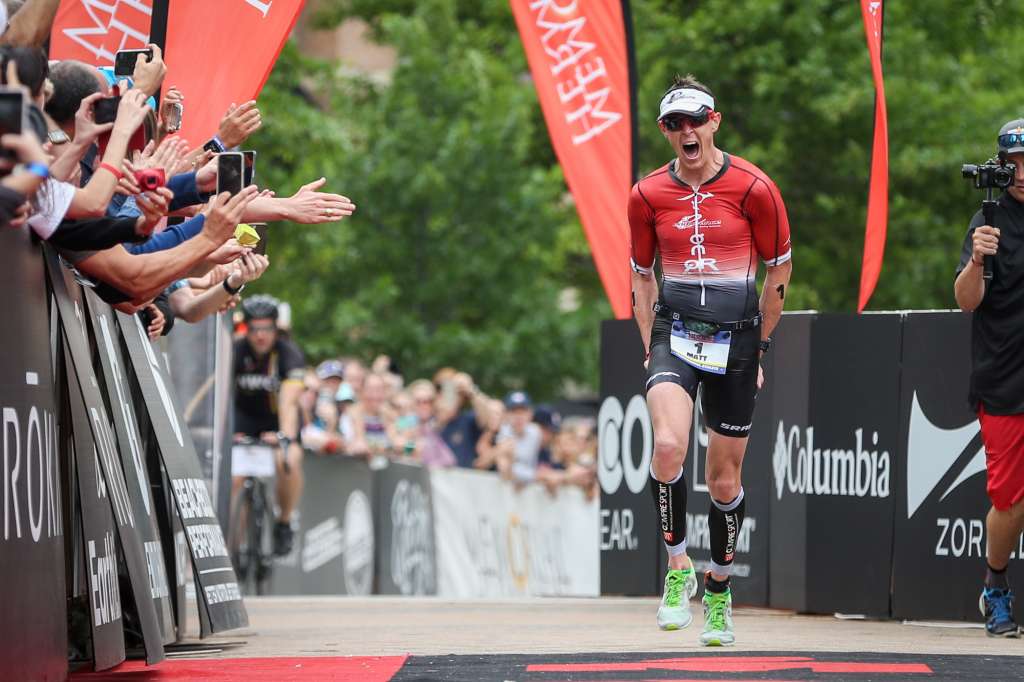 Exercise Physiologist and pro triathlete Matt Hanson wowed crowds with his impressive victory at the North American Ironman Championships last weekend. Trizone caught up with Matt to see how his journey to triathlon began.
"Having five guys finish under eight hours means everyone was firing on all cylinders," Hanson said of the North American Ironman Championships last weekend, "it was a really strong race. It was a great race to be part of."
Matt Hanson's life goals lead him to Ironman
While Matt Hanson is at the top of his game now, his entry into triathlon was almost by accident. "When I was 16, one of my mentors challenged me to make a list of 50 goals. One of the goals was to do an Ironman triathlon." Hanson worked his way through the list, but he'd almost forgotten about the Ironman goal until college.
"I looked at my list of goals when I was working on my masters degree in exercise physiology, but it wasn't until I'd started my doctorate when I started training for triathlon," said Matt. Far from having the right gear and supplies, Hanson was a struggling student and purchased a racing back for $600. "I had no money, so I ate ramen noodles and canned soup after I bought the bike. I was only studying!"
Fuelled by his knowledge of exercise physiology, Hanson competed in his first Ironman, where he qualified for Kona. "I had a decent day in Kona, it was a good experience," said Hanson.
The following year Hanson started competing as an amateur in a few 70.3 races, then Ironman Texas, the North American Championships. "I finished in nine hours flat, and earned my pro card," said Hanson. "I went to Kona again as an amateur, but this time got three flat tyres. I thought I might have had a shot at winning the age group, so I was pretty annoyed."
Pushing past frustration at Kona, Hanson competed as a pro at Arizona, finishing in 18th place. "I was ecstatic with my race. I hadn't come last!" Fuelled by his result, Matt competed at Texas again and ran a 2:41 marathon. "It was the best run I'd ever done, and the first pay check I ever got from Ironman. It was the moment I realised I could really do something with the sport."
The moonlighting professor commits to triathlon
From Texas, it's been a lightning fast trajectory for Hanson, who went on to win at Chattanooga in 2014, but he was miraculously still balancing work and triathlon. "I did Ironman Texas, the North American Championships in 2014. I gave my award speech, then drive 17 hours home. I pulled up at work at 7:30am, showered, and taught an 8am class."
"I realised if I wanted to race at this level, I needed to stop moonlighting as a triathlete," Hanson told Trizone, "so I decided to stop working as a college professor."
Armed with his years of experience in exercise physiology, Hanson had been coaching himself as an amateur, but was now under the expert guidance of Julie Dibbens. "I needed to learn how to race too, not just how to train well," said Hanson. "Julie knows how to race. She's raced at every level. There's a huge difference in fitness between age group races and pro mens races, and Julie helps me work on everything," Hanson said.
With a past as a wrestler at college, running had always been a way f maintaining wrestling fitness for Hanson, it was never the focus. "Running was something I had never worked on developing," he said, "the mental toughness of being a wrestler is huge. The mentality is; you can always be pushing harder and working harder. In endurance, it's very different. I had to train that wrestling mentality out of myself," said Hanson.
Matt Hanson recaps his North American Championships 2017
"I had the best swim of my career," said Hanson of last weekend's race, "I was able to hang onto the lead pack for the first two thirds of the race. I got some calf cramps after surging and kicking a bit more, so I lost the lead pack."
As Hanson began to slip behind the pack, the crowd helped him move forwards. "The last third of the race goes through the canal. I was able to use that to my advantage," said Hanson. Exiting the water a solid 2.5 minutes after the first pack, Hanson was completely by himself, with the chase pack three minutes behind him.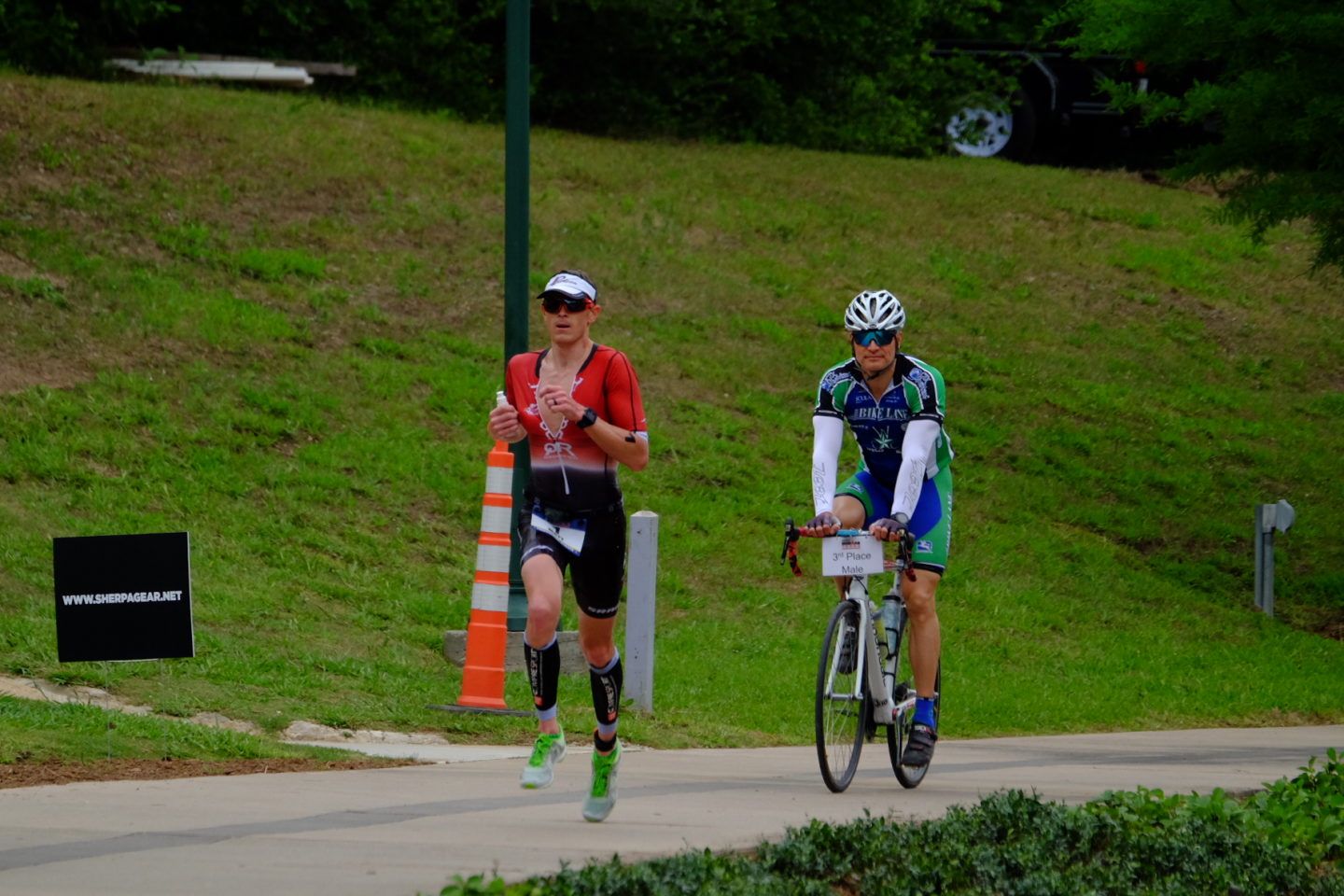 "When I got on the bike I had to decide if I'd chase the pack, or stick to the efforts I'd planned with Julie. I stuck to the efforts, and when I saw my coach and mile eight, she said I'd closed the gap to the leaders by 40 seconds." For the first hour, Hanson averaged 266 watts at 26.9mph with an IF of .80.
By the 55 minutes mark, Hanson had caught the front pack. "I sat well off the back. I knew there were a lot of solid runners in the chase pack so I didn't want to overdo it," said Hanson. Hanson averaged 215 watts at 25.1mph and a low IF of only .66.
"When Joe Skipper broke away I was able to go with him. Then he got a flat, so I stayed up front. Matt Russell challenged me too. The two of us snapped off the front but he got a mechanical, I think he threw his chain."
By mile 80, Tyler Butterfield tried to get to the front. As Costes and Starykowicz powered forward, Hanson let them move forward. "If those two guys had been able to run better than me, I would have tipped my hat to them," said Hanson.
Hanson's nutrition knowledge helps combat mid-race cramp
Early in the marathon at mile two, Hanson was forced to walk when fierce cramps threatened his race. "I couldn't bend over or stand up. I had to hold still for 20 seconds. Then I got back to walking, then running. After mile four it didn't bother me again for the rest of the day," remembers Hanson.
Luckily, Hanson's knowledge helped him combat cramping through his nutrition. "I work with First Endurance. I do a lot of the research on the back end of their product development. When things go wrong, I have a solid enough nutrition plan to help me manage my cramps, not just prevent them," said Hanson.
As the marathon progressed, Hanson chased Butterfield, eventually passing him at mile ten. He finally passed Starykowicz by mile 15 when Starykowicz started walking; less than a year after he was hit by a van while out for a bike ride.
"By the last lap, I knew all the guys were running well, but I pushed through."
Now Hanson has his eyes on the 70.3 world championships and Kona. Trizone wishes him a huge congratulations after the great victory last weekend.