News & Racing
Melissa Hauschildt crowned Australian Ironman 70.3 Pro Champion
As predicted the women's race was fought out between Melissa Hauschildt and Liz Blatchford. For Hauschildt this was a positive reversal of the result at Boulder 70.3 this year. After spending the last few days traveling from Hawaii where she watched her husband Jared race in the Ironman World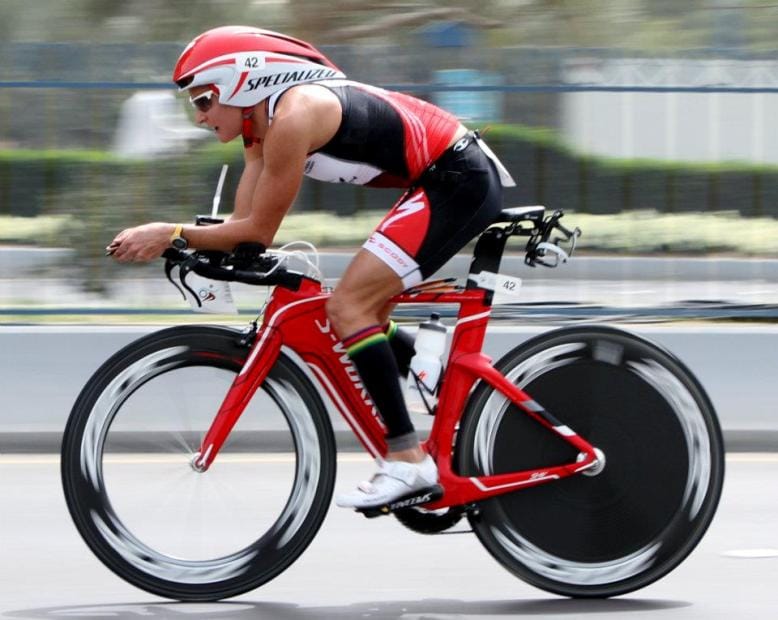 As predicted the women's race was fought out between Melissa Hauschildt and Liz Blatchford. For Hauschildt this was a positive reversal of the result at Boulder 70.3 this year. After spending the last few days traveling from Hawaii where she watched her husband Jared race in the Ironman World Championship Hauschildt was unsure how she would come right for race day. However after a spin on the bike yesterday she reported that she felt great and was confident of a good race.
As usual Melissa gave a head start to the field. This time Liz Blatchford had just under 3min on Hauschildt after the swim. As per usual Hauschildt set about reeling in the leaders on the bike. She is undoubtedly one of the worlds premium bike/run specialists and if the opposition doesn't have 3+ minutes on her out of swim then it is going to be very hard to hold her out.
On the run the two lead girls were running shoulder to should at about the midway point. Blatchford had lost ground but then pulled back to level with Hauschildt until Melissa put the accelerator down as they neared the finish.
As we predicted Radka Vodickova was also one of the main players in the race. Vodickova took it to the field in the swim and held on to Blatchford for the bike leg but she was no match for the front pair on the run.
We bumped into Melissa in Kona last week while she was modelling some of Compressports 2012 Kona gear and had a great catchup. She is truly one of the nice women in the sport. She is so down to earth and unaffected by what she has achieved to date. Considering she entered triathlon from a non swimming and cycling background in 2010 she has built an impressive resume already. This latest title will just be one of many.
Cairns 70.3 2012 champion Sarah Crowley also had a great race. Although it was a tough ask to run against the two leading ladies she still showed her class and held to to an impressive 4th overall.
As always it is great to see Rebecca Hoschke in the money. Rebecca came second behind Lisa Marangon at the Forster Ultimate triathlon two weeks ago and has somehow fitted this in to her full time career then jetted over to WA and had a fantastic result.
Kat Baker rounded out the money placings with a strong swim/bike combo but was off the pace on the run.
| | | | | | |
| --- | --- | --- | --- | --- | --- |
| Name | Country | Swim | Bike | Run | Finish |
| HAUSCHILDT, Melissa | Australia | 0:24:28 | 2:16:23 | 1:21:00 | 4:03:55 |
| BLATCHFORD, Liz | Australia | 0:21:48 | 2:18:38 | 1:22:22 | 4:04:45 |
| VODICKOVA, Radka | Czech Republic | 0:21:50 | 2:18:50 | 1:26:15 | 4:08:59 |
| CROWLEY, Sarah | Australia | 0:24:30 | 2:18:48 | 1:29:18 | 4:15:10 |
| HOSCHKE, Rebecca | Australia | 0:27:18 | 2:20:36 | 1:27:06 | 4:17:22 |
| BAKER, Kat | Australia | 0:22:53 | 2:17:22 | 1:36:59 | 4:19:35 |
| GRANGER, Belinda | Australia | 0:24:14 | 2:18:56 | 1:35:30 | 4:21:10 |
| FLANAGAN, Kira | Australia | 0:23:57 | 2:29:52 | 1:35:23 | 4:32:02 |
| KOCIK, Joanna | Australia | 0:28:53 | 2:27:12 | 1:41:40 | 4:40:40 |
| DELAURENTIS, Lisa | Australia | 0:23:41 | 2:23:13 | 1:51:33 | 4:41:39 |
| SORRELL, Marie | Australia | 0:26:20 | 2:34:16 | 1:43:17 | 4:46:17 |
| FYFE, Karinna | Australia | 0:29:51 | 2:45:06 | 1:27:10 | 4:46:37 |
| STACEY, Anthea | Australia | 0:26:51 | 2:38:50 | 1:38:24 | 4:47:30 |
| ASHBY, Caroline | Australia | 0:27:43 | 2:41:08 | 1:36:47 | 4:48:01 |
| LUCKIN, Lisa | Australia | 0:26:19 | 2:34:57 | 1:46:54 | 4:51:05 |
| LAURENDEAU, Nathalie | Australia | 0:27:50 | 2:31:05 | 1:53:07 | 4:55:18 |
| ANNSON, Nicole | Australia | 0:27:53 | 2:38:02 | 1:48:03 | 4:57:08 |
| CAIRNS, Sarah | Australia | 0:28:03 | 2:29:19 | 1:57:09 | 4:58:09 |
| DOHERTY, Carolyne | Australia | 0:26:48 | 2:48:24 | 1:42:45 | 5:01:30 |
| MALARDEAU, Amandine | Australia | 0:29:39 | 2:41:51 | 1:47:01 | 5:02:10 |
| SMITH, Kerrie | Australia | 0:27:31 | 2:38:01 | 1:53:41 | 5:02:43 |
| VAN DIJK, Amy | Australia | 0:30:56 | 2:42:30 | 1:44:49 | 5:02:48 |
| BUSELICH, Michelle | Australia | 0:32:01 | 2:48:04 | 1:39:32 | 5:03:43 |
| ANDERSON, Carrie | Australia | 0:30:52 | 2:49:10 | 1:41:00 | 5:06:10 |
| TOVEY, Anna | Australia | 0:28:30 | 2:35:59 | 2:02:00 | 5:10:03 |
| KIRKBRIGHT, Shelley | Australia | 0:32:12 | 2:39:13 | 1:55:16 | 5:10:37 |
| GODBOLD, Fran | Australia | 0:29:46 | 2:44:54 | 1:51:46 | 5:10:52 |
| ERASMUS, Hendrika | Australia | 0:29:42 | 2:38:32 | 1:59:38 | 5:10:55 |
| KEMPE, Debra | Australia | 0:31:30 | 2:32:00 | 2:05:29 | 5:12:22 |
| MCLEAN, Anne-Louise | Australia | 0:32:40 | 2:44:04 | 1:55:19 | 5:15:00 |