Gear & Tech
New 2012 SKINS Triathlon Range Launched
SKINS have launched an all-new TRI400 women's range of triathlon specific compression sportswear whilst updating and extending the existing TRI400 men's range. Already popular amongst ambitious triathletes who want to optimise their performance, the TRI400 range from SKINS is designed to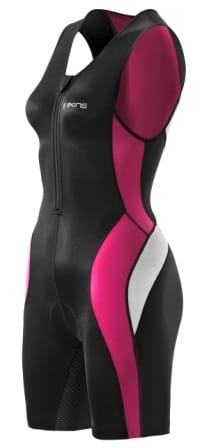 SKINS have launched an all-new TRI400 women's range of triathlon specific compression sportswear whilst updating and extending the existing TRI400 men's range.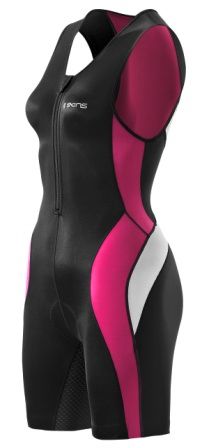 Already popular amongst ambitious triathletes who want to optimise their performance, the TRI400 range from SKINS is designed to meet the physical demands of athletes at every stage of the race. Wrapping the muscles in a second 'skin', SKINS unique dynamic gradient compression technology applies the correct levels of pressure to accelerate blood flow and increase oxygen delivery to working muscles, improving power and stamina at each stage of the triathlon.
Anatomically designed for increased comfort and optimum fit, the all-new SKINS TRI400 women's and updated men's suits, feature low-drag flatlock seams and strategically placed heat-treated fabric panels, which provide a super-slick surface to minimise drag and aid performance in the water, whilst Memory MX fabric ensures unrestricted arm movement.   Lightweight, fast drying chamois material with Elastic Interface Technology "¢ and a slim profile, has been specifically designed for the triathlon to provide increased comfort whilst still ensuring protection.
Carbon-infused fabric lines the inner-leg, which has been designed to provide 40% less friction assisting athletes during the run.   Bonded hems, fully lined zippers and zipper guards help prevent chafing.   Dynamic compression across the thigh helps reduce muscle fatigue whilst running to help athletes maintain a strong finish, making that personal best even more achievable.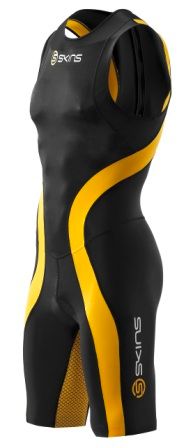 Available as an all-in-one suit or as individual pieces, the all-new SKINS TRI400 women's range includes a tri racer back top with inbuilt shelf-bra constructed from an ultra soft, lightweight fabric for support and protection as well as a silicone gripper to stop the top riding up.   The tri shorts, have dynamic compression to help reduce vibration and improve muscle alignment, control and balance.
Following the popularity of the SKINS TRI400 men's range, Autumn 2012 also sees a new addition to the men's SKINS tri suit.   Already available with front zipper, the SKINS TRI400 tri suit is now also available with a back zipper.   The tri shorts and sleeveless top with zipper have also been updated, helping to ensure the feared 'wall' moves a little further away.
Please visit www.skins.net for further information.
Note:
In Australia, in 1996, SKINS embarked on a massive challenge: to create a sports garment that improved performance and aided recovery. SKINS invested heavily in research to make this happen and is now Australia's leading therapeutic compression brand and fast gaining similar recognition around the world.
SKINS continue to make their number one focus research and development in order to improve, rigorously test and expand the range of products. SKINS is the only therapeutic compression sportswear brand supported by numerous independent studies published in peer reviewed medical journals. SKINS are also the only compression garments recommended and endorsed by the Australian Physiotherapy Association.