News & Racing
Noosa Triathlon: The Big Guns Will Be In Town To Celebrate
The 35th Noosa Triathlon Multi Sport Festival is shaping up to be the biggest yet, with the who's who of Australian sport and some of the nation's most recognisable faces heading to the Sunshine Coast to join in the birthday celebrations. The five-day festival (1-5 November) features an ocean swim,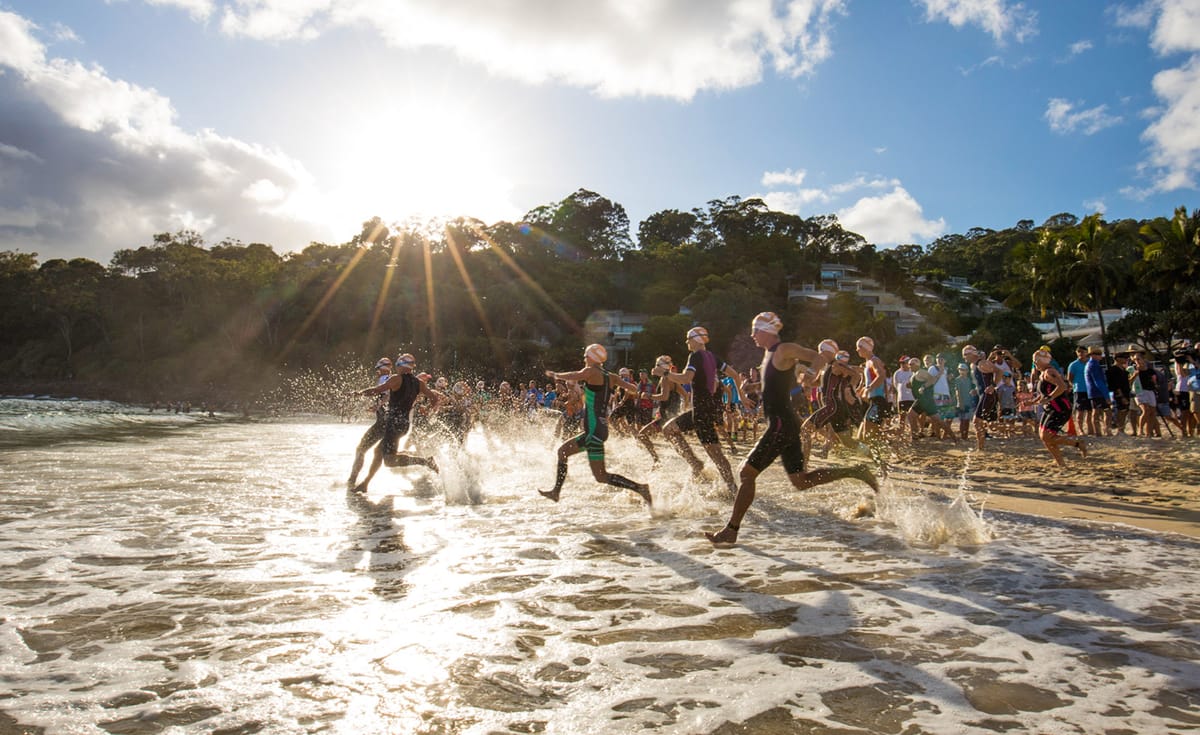 The 35th Noosa Triathlon Multi Sport Festival is shaping up to be the biggest yet, with the who's who of Australian sport and some of the nation's most recognisable faces heading to the Sunshine Coast to join in the birthday celebrations.
The five-day festival (1-5 November) features an ocean swim, a fun run, the Charity Golf Day and elite cycling and running events and culminates on Sunday 5 November with the Noosa Triathlon hosting more than 8,500 competitors, making it the world's largest standard distance triathlon.
Headlining the Noosa Triathlon are key athletes from Australia's Commonwealth Games triathlon team for 2018, Ashleigh Gentle and Jake Birtwhistle, defending champion Dan Wilson, plus Commonwealth Games hopefuls Aaron Royle, Ryan Bailie, Gillian Backhouse and Luke Willian.
The long-distance world is also well represented with Sarah Crowley fresh from her podium at the IRONMAN World Championships, IRONMAN Asia-Pacific Champion Josh Amberger, Jake Montgomery making his long-awaited Noosa debut, Liz Blatchford in her first race back as a new mum and two time World Duathlon Champion Felicity Sheedy-Ryan mixing it up with a swim.
Defending champ Ashleigh Gentle is shooting for Noosa title #5, and Dan Wilson is hoping to go back to back this year, but they are fully aware of the strength of the field assembled for the 35th anniversary year.
Four-time champ, Ashleigh Gentle has developed a real affinity with the Noosa over many years, and she can't wait to get back this year.
"I've raced six times, and been up a couple more on top of that to watch and be part of the festival. I love the atmosphere. I love Queensland, and it is very special to come back to the race each year after spending so much time abroad. I love seeing familiar faces and being surrounded by so many other people who love triathlon. Noosa has always been really important to me. It's the one I look forward to the most. I obviously want to do well, but there is a lot less pressure than the intensity of World Series races."
"I would love to defend my title. I'm sure as always it will be a competitive field, but I'm looking forward to getting out there and going hard. Noosa Triathlon has been a big part of my career, and I am thrilled I can be a part of this milestone, although it only feels like yesterday we were celebrating the 30th year of Noosa," she recalled.
Dan Wilson is a Noosa veteran, and he is hoping he can revisit the form that saw him dominate in 2016 and go out on a high note.
"I think this is around my 10th Noosa. I first came here in 2003 as a little junior. I've missed a few through injuries along the way, but always come back when I'm able. It is a bastion of Australia triathlon, and it is a ripping location, it is one of the 'funnest' races on tour. What more could you need?"
"I would obviously love to repeat last year's result, but it also looks like it will probably be the best field we've ever seen at Noosa, so it's going to be a tough ask. Noosa is always a special race, it is usually at or near the end of the season, so everyone is looking to finish the season strong at a fun race."
"This year, Noosa will be even more special, I'm hanging up the suit at the end of this year, so it'll be the last chance to go round at Noosa, and one of my last races ever, so I'm looking forward to really savouring the weekend," Wilson said.
Aussie Olympian and two time Noosa champ Aaron Royle is pumped up and glad to back in Noosa looking attempting to keep his perfect Noosa record intact.
"I've raced Noosa twice and had two good wins there, which has been fantastic for myself in my career. I guess because of that, and the expectation to go there and win is greater with each year. I want to win again to make it three from three races, but that is always easier said than done. I'm sure there will be a handful of others saying that they also want to win."
"I knew of the Noosa triathlon before I knew what triathlon really was, and certainly before I followed the sport. I think it was Channel 7 showing it back in the day and I remember thinking this looks pretty cool (before I even contemplated doing one myself)."
"For me, Noosa always signifies the end of my racing season, but with a race of this significances, I've never struggled to find motivation for this race. It's the biggest domestic race on the calendar with so many legendary winners that have gone before, so it is easy to see why so many top-level athletes turn up each year," Aaron said.
IRONMAN 70.3 specialist Jake Montgomery might be a Noosa debutante this year, but he is well aware of Noosa's legendary status.
"I've been meaning to race Noosa for a few year's now but have never been able to toe the line. I went there once a few years back for surfing but have never experienced the triathlon weekend."
"Noosa is definitely the pinnacle race in Australia and one that everyone loves to put on their calendar. Not necessarily just the race but the whole weekend of event and atmosphere make it a must for many. Having not raced anything shorter than a 70.3 for the past three years it will be interesting to see how my body handles the faster racing and pushing myself over the shorter distance. I am mostly looking forward to the swim, any race with a beach start and ocean swim is a must for me."
"Nearing the end of a hard year it will be a good hit out to finish off. While it's still a competitive race, it will also be a lot of fun catching up with friends, sponsors and watching the other events before the triathlon. Being one of Australia's oldest triathlons, it is now also the biggest in the country with sold out entries and days of multisport events. It attracts some of the best athletes in the world and organisers of the event have the weekend dialled in," Jake said.