News & Racing
Over 1700 at SuperSprint's Gatorade Triathlon with wins by Peter Kerr and Penny Hosken
Race 1 of the Gatorade Triathlon Series has proven once again that triathlons are here to stay, with over 1,700 enthusiastic competitors, ranging from 12 years of age to 60 plus, taking to the swim, cycle, running event. Club and community camaraderie set the atmosphere, along with Olympians Brendan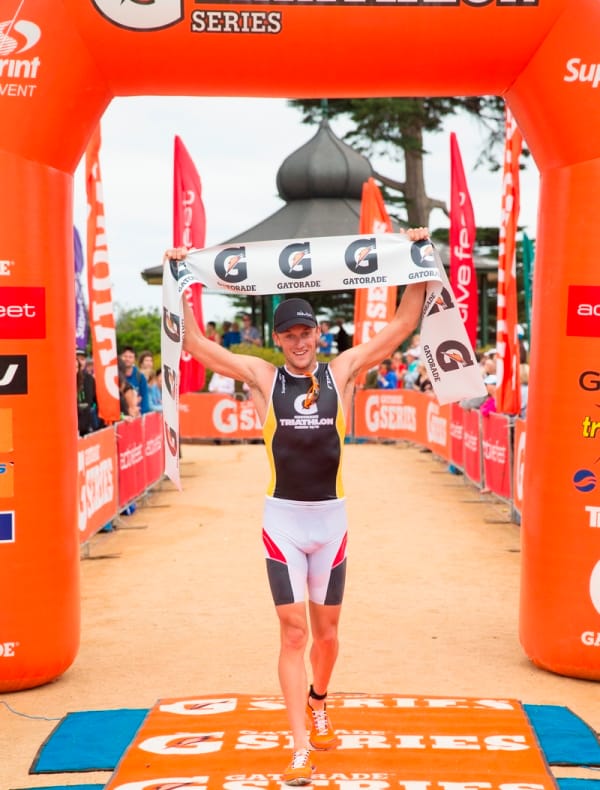 Race 1 of the Gatorade Triathlon Series has proven once again that triathlons are here to stay, with over 1,700 enthusiastic competitors, ranging from 12 years of age to 60 plus, taking to the swim, cycle, running event. Club and community camaraderie set the atmosphere, along with Olympians Brendan Sexton and Erin Densham who spent their time sharing valuable advice to competitors.
In the men's Elite field, fresh from his epic win at Noosa, Peter Kerr powered across the finish line in 53:35 followed by Clayton Fettell at 53:45 and a third finish by 70.3 Shepparton Ironman runner up Joseph Lampe at 53:51. Fettell lived up to his blistering swim bike reputation by powering out of the swim first and quick out of transition onto the bike leg, closely followed by Peter Kerr and Joe Lampe. But seasoned Race 1 winner Kerr picked up the pace in the run leg and came home with the Series opener win.
Lampe and Fettell's coach Grant Giles from Aeromax Team had a bit of an interesting story behind the guy's rushed trip for this race. "Funny day for Clayton Fettell and Joey Lampe who did a rush job down to the draft legal Gatorade race in Melbourne for Giant Bikes. The boys at Giant gave them bikes down there but they had compact cranks and 50 front chain rings. I told them they'd be at 130rpm. Still they raced well for 2nd and 3rd behind Peter Kerr and close. Not bad for guys stuck on junior gears."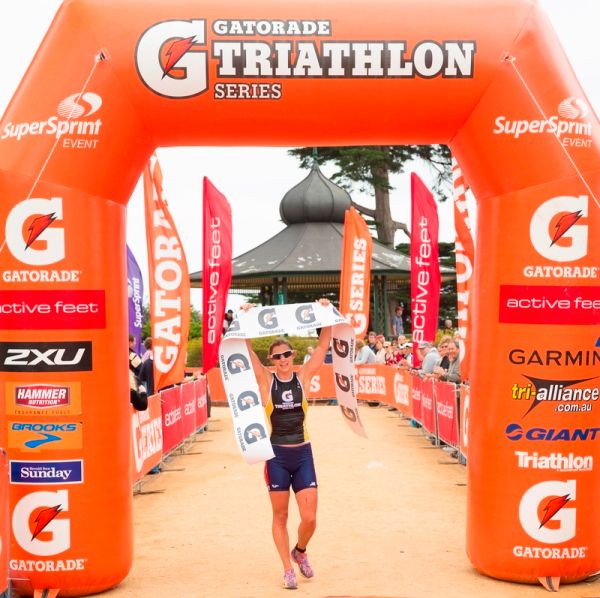 Penny Hosken dominated the elite women's field with a superior run performance cruising to the finish line in 1:02:15, followed by Lyndal Dew 1:03:20 and Camille Hudson 1:03:33.
The Series Opener also saw a number of personal achievements, including Ross Mason, who finished his first triathlon since becoming an amputee three years ago.
'The great thing about triathlons is that you don't have to be first to cross the line to win "whether you are aiming to beat a personal best, to get fit and healthy or to tick triathlon off the bucket list… SuperSprint's Gatorade Triathlon Series is about reaching your own personal active goals in a fun supportive environment.' Race Director, SuperSprint, David Hansen.
Top 20 Male
| | | | | | | |
| --- | --- | --- | --- | --- | --- | --- |
| Rank | Name | Category | Time | Swim | Ride | Run |
| 1 | Peter Kerr | M Elite | 53:35.6 | 6:36 | 28:29:00 | 16:26 |
| 2 | Clayton Fetell | M Elite | 53:45.2 | 6:34 | 28:27:00 | 16:35 |
| 3 | Joseph Lampe | M Elite | 53:51.0 | 6:38 | 28:26:00 | 16:36 |
| 4 | Declan Wilson | M Elite | 54:01.4 | 6:51 | 29:19:00 | 15:41 |
| 5 | Scott McPherson | M Elite | 54:06.4 | 7:01 | 29:05:00 | 15:56 |
| 6 | Nathan Buschkuehl | M ITU Junior | 55:10.1 | 7:17 | 28:55:00 | 16:53 |
| 7 | Benjamin Huggett | M Elite | 55:16.2 | 7:01 | 29:11:00 | 16:58 |
| 8 | Anthony Goss | M Elite | 55:36.5 | 6:55 | 29:17:00 | 17:18 |
| 9 | Mathew Goessler | M ITU Junior | 55:38.4 | 7:02 | 29:03:00 | 17:24 |
| 10 | Tom Rodgers | M Elite | 55:57.3 | 7:18 | 28:49:00 | 17:42 |
| 11 | Leigh Stabryla | M Elite | 56:01.5 | 7:35 | 29:42:00 | 16:42 |
| 12 | Ben Anderson | M ITU Junior | 56:10.0 | 6:44 | 29:27:00 | 17:57 |
| 13 | Kristian Mccartney | M Elite | 56:23.4 | 7:30 | 29:38:00 | 17:11 |
| 14 | Stephen Thompson | M Elite | 56:37.5 | 7:37 | 29:40:00 | 17:11 |
| 15 | Nathan Barry | M Elite | 56:52.5 | 6:52 | 29:17:00 | 18:38 |
| 16 | Shane Ilgen | M Elite | 56:55.2 | 7:15 | 29:51:00 | 17:29 |
| 17 | Jared Klein | M ITU Junior | 57:03.5 | 7:15 | 30:02:00 | 17:27 |
| 18 | Hilario Real | M Elite | 57:05.5 | 7:14 | 30:04:00 | 17:33 |
| 19 | Renton Lewis | M ITU Junior | 57:07.2 | 7:25 | 29:48:00 | 17:31 |
| 20 | Simon Bevege | M Open | 57:11.5 | 8:23 | 29:58:00 | 16:33 |