News & Racing
Pete Jacobs and Leanda Cave look to defend titles at the 2013 GoPro Ironman World Championship
  The 2013 GoPro IRONMAN World Championship in Kailua-Kona, Hawai long considered the most iconic endurance event in the world will once again bring together the very best male and female professional athletes in the world to compete in what will be the largest and most international edition of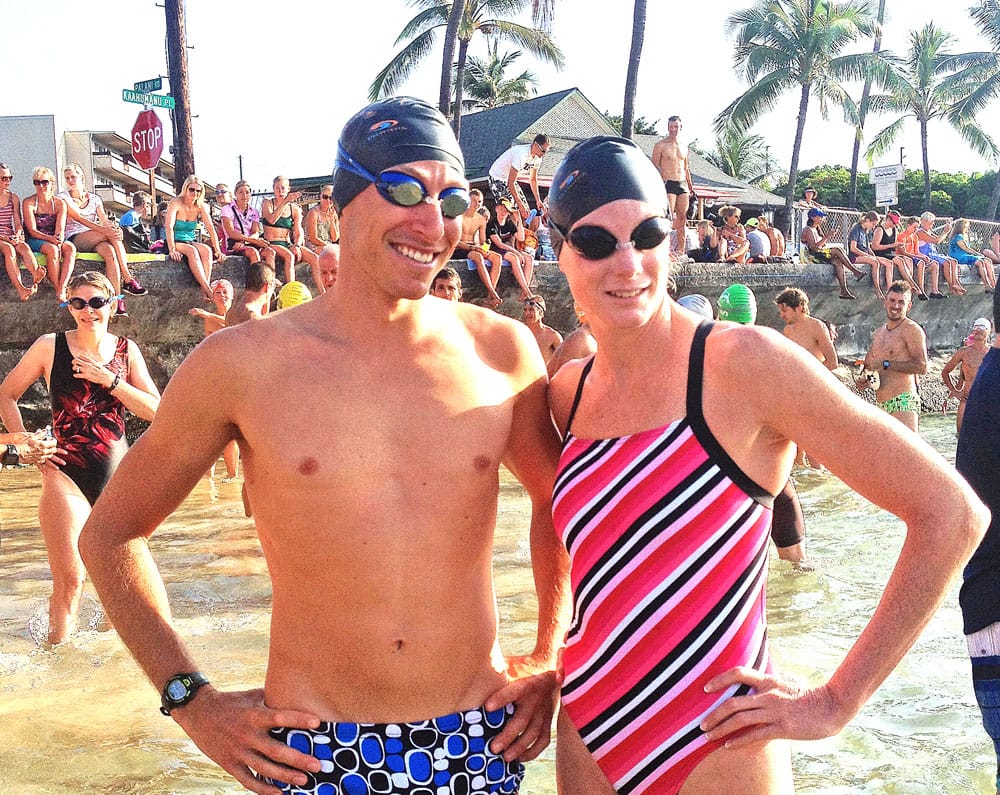 The 2013 GoPro IRONMAN World Championship in Kailua-Kona, Hawai long considered the most iconic endurance event in the world will once again bring together the very best male and female professional athletes in the world to compete in what will be the largest and most international edition of the race in its 35-year history.
Set for this Saturday, October 12, this year's World Championship welcomes a field of more than 2,000 athletes from all 50 U.S. states and 52 countries around the globe, including 53 male and 38 female professionals. Totaling 140.6-miles across Hawaii's Big Island, athletes will swim 2.4 miles in the Pacific Ocean, cycle 112 miles through the picturesque lava fields of Kailua-Kona and run 26.2 miles, with a scenic waterfront finish on Ali'I Drive.
31-year-old Pete Jacobs of Australia, the reigning IRONMAN World Champion, looks to continue his country's six-year dominance of the men's race to become the fifth male athlete to repeat as champion. Despite being an automatic qualifier, Jacobs further validated his Kona slot by winning the IRONMAN European Championship in Frankfurt in July, and most recently finished second at IRONMAN 70.3 Philippines in August.
Jacobs will be challenged by 40-year-old fellow countryman Craig Alexander, who is the 2008, 2009 and 2011 IRONMAN World Champion. After a 12th place finish in Kona last year, Alexander—who became the oldest men's winner in the history of the race in 2011—will attempt to take home his fourth world title in what could be his final attempt. After kicking off the 2013 season by taking third at the IRONMAN Asia-Pacific Championship in Melbourne, Alexander has picked up wins at IRONMAN 70.3 Hawaii, IRONMAN 70.3 Kansas and IRONMAN 70.3 Lake Stevens.
Last year's second place male finisher, Andreas Raelert, 37, of Germany, is another major contender in this year's World Championship, and is perhaps the most consistent athlete in the world over the past four years in Hawaii, finishing either second or third in all four races.
The female field in Kona welcomes a stacked roster of talent with last year's reigning champion Leanda Cave, 35, representing Great Britain, leading the pack. With a hamstring injury slowing her down for much of the summer, the Welsh veteran looks to regain the momentum from her 2012 season, when she won both the IRONMAN and IRONMAN 70.3 World Championship and also earned titles at IRONMAN 70.3 Miami and the prestigious Escape from Alcatraz Triathlon.
Cave will be challenged by 2012 runner-up Caroline Steffen, 35, representing Switzerland, who was bested by Cave in Kona last year with just two miles left on the run. Steffen, who has been one of the busiest athletes in the sport over the past three years, was dominant on the bike in Kona last year, finishing the trip to Hawi and back more than five minutes faster than Cave and third-place finisher Mirinda Carfrae.
Carfrae, 32, representing Australia, is the 2010 IRONMAN World Champion and is looking to become the first Aussie woman to win multiple Kona crowns. Blessed with the fastest running legs in the sport, Carfrae further validated her Kona slot with a runner-up finish at IRONMAN Florida last November.
Other top professional competitors include:
Men:
Sebastian Kienle – 29, Germany, fourth place finish in his IRONMAN World Championship debut in 2012
Eneko Llanos – 36, Spain, 2013 IRONMAN Asia-Pacific Champion and IRONMAN European Champion
Faris Al-Sultan – 35, Germany, 2005 IRONMAN World Champion; since 2003 has finished among the top seven in Hawaii on five occasions
Frederik Van Lierde – 34, Belgium, a veteran of the sport who is coming off of his best performance in Hawaii 2012 with a second place finish
Andy Potts – 36, USA, 2007 IRONMAN 70.3 World Champion and former Olympian had his best performance ever in Kona last year, finishing as the top American in seventh place
Women:
Natascha Badmann – 46, Switzerland, six-time IRONMAN World Champion and the first European woman to win in Kona in 1998
Meredith Kessler – 34, USA, newcomer who has already placed herself among the best IRONMAN athletes in the world; picked up wins at IRONMAN New Zealand, IRONMAN 70.3 St. George, IRONMAN 70.3 Vineman and IRONMAN 70.3 Lake Stevens
Mary Beth Ellis – 36, USA, raced nine IRONMAN events throughout the past three seasons and won seven, including   her IRONMAN debut in Austria in 2011
Heather Wurtele – 34, Canada, third race in Kona in 2013 and poised for a breakthrough; set a new course record en route to winning IRONMAN Coeur d'Alene
Rachel Joyce   – 35, UK 2013 Ironman Texas Champion and 2011 Ironman Lanzarote Champion
Linsey Corbin – 32, USA, won IRONMAN Arizona last November and 2013 IRONMAN 70.3 Mont-Tremblant