Interviews
Pete Jacobs building towards his 2012 Ironman World Championship Dream
With the 2012 Ironman World Championship only 112 days away the leading contenders this year are starting to fine tune their preparations and making sure they have all the boxes ticked to be on the start line on October 13 this year. Amongst those is last year's runner up at the Ironman world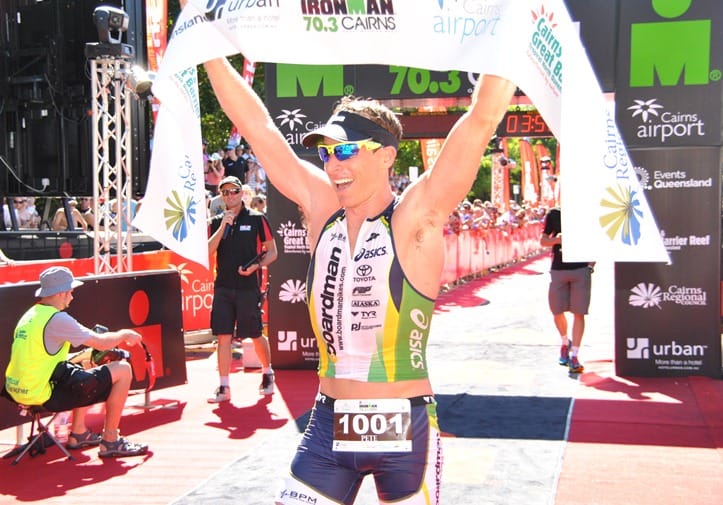 With the 2012 Ironman World Championship only 112 days away the leading contenders this year are starting to fine tune their preparations and making sure they have all the boxes ticked to be on the start line on October 13 this year.
Amongst those is last year's runner up at the Ironman world championships, Australia's Pete Jacobs. Jacobs is in the USA to complete a few races for the first time in a number of years. He had previously preferred to stay in his home environment while he prepared for the world championship. His increasing profile and desire to have a midyear test against top athletes had him head to the USA for some target races. The injury troubles he faced earlier this year resulting in him pulling out of Ironman Melbourne now seem to be behind him. His dominating wins at the Coral Coast 5150 and Cairns 70.3 was a message that he was over his injuries and back to work. This year there is an air of confidence surrounding Jacobs that has not been there previously. Well not as much anyway.
This weekend he is racing Ironman 70.3 Syracuse and is confident that he has all the fire power to win and share in the $50,000 prize pool. Between Jacobs and the win however is 30 pro men including one very fast Joe Gambles, T.J. Tollakson, 2012 Ironman Australia champion Paul Ambrose and Boardman Bikes teammate Josh Rix. Rix took the win off Jacobs in the recent and highly contested Green Island swim in the week leading up to Ironman Cairns. This has prompted Pete to step up his 2kms per week swim program, that's right just 2kms per week!
Jacobs has been dealing with jet lag this week after arriving in the US last weekend with his wife Jaimie. "I have just had a great ride on my Boardman AiR TT to get the legs spinning and really enjoyed the great US weather and the local Chatham, New Jersey surroundings. Yesterday it was a nice run but everything so far has been easy so as not to stress the body and let it get sorted after the travel. The first three days in the USA after the flight from Australia have been a battle with jet lag but it is slowly getting better. Days one and two were pretty tough and I was constantly tired and flat But I'm confident I'll come good for the weekend and be ready to go."
The opportunity to do some training in a different environment is a welcome change this year. "There is definitely plenty to see with some amazing US properties with their huge manicured lawns, US flags hanging out the front and the different wildlife in the area."
One issue Jacobs has had to face was US helmet requirements. "The US races require US approved helmets with the US approval sticker… which don't appear on Aussie helmets, even though it is the same product. Luckily one call to Lazer and two new US approved helmets were on their way… 24 hour turnaround…nice work Lazer!"
"Another challenge I have had has been finding pools the public can use as all are country club/health club pools. So I am working on that as I am in need of some good swim sets. I'll definitely hit the lake once in Syracuse on Thursday."
On to the race this weekend and Jacobs is looking forward to testing his legs out against some tough competition on the weekend. "With the likes of Tollakson, Ambrose, Gambles and Rix racing, I am hoping for a good day out against some really strong guys. If the body responds well then a win is definitely a possibility though against such top competition anything can happen and I feel the favourites will be Tollakson, Gambles and Ambrose. Hopefully we'll see an all Aussie podium though with me a part of it."
For Pete Jacobs this race and the New York 5150 is about getting ready for Ironman Lake Placid and obviously the bigger picture is all about Kona. He will be working with his sponsors such as ASICS and Rudy Project on some product development and feedback whilst basing himself in New Jersey.
After Lake Placid Jacobs heads back to Australia via Philippines 70.3 (Just 2 weeks after Lake Placid) which he has won the past 2 years, for his final build towards Kona out of Noosa. He will fly into Kona the week prior to the race. It's no secret he has been doing plenty of work on his bike with some insights and training tips from cycling legend and sponsor Chris Boardman. His domination of strong cyclists in Cairns including former pro cyclist Casey Munro and Luke McKenzie who was at the pointy end of the Kona bikers with Crowie in Kona last year, tells us his bike strength is definitely headed in the right direction. As one of only a few with the potential of a sub 2 hour 40 marathon in Kona, that will have plenty of Kona bound pro's very nervous about Pete Jacobs. Could he be the next Aussie on the top step in Kona?