News & Racing
Sam Appleton and Holly Lawrence win Ironman 70.3 Racine
Frigid temperatures and frightening winds meant the swim was cancelled and the bike was reduced at Racine last weekend. Lawrence and Appleton weren't phased though, and they lead their entire races. Here's how the event played out. Lake Michigan was only 51 degrees Fahrenheit (10.5 degrees C) on rac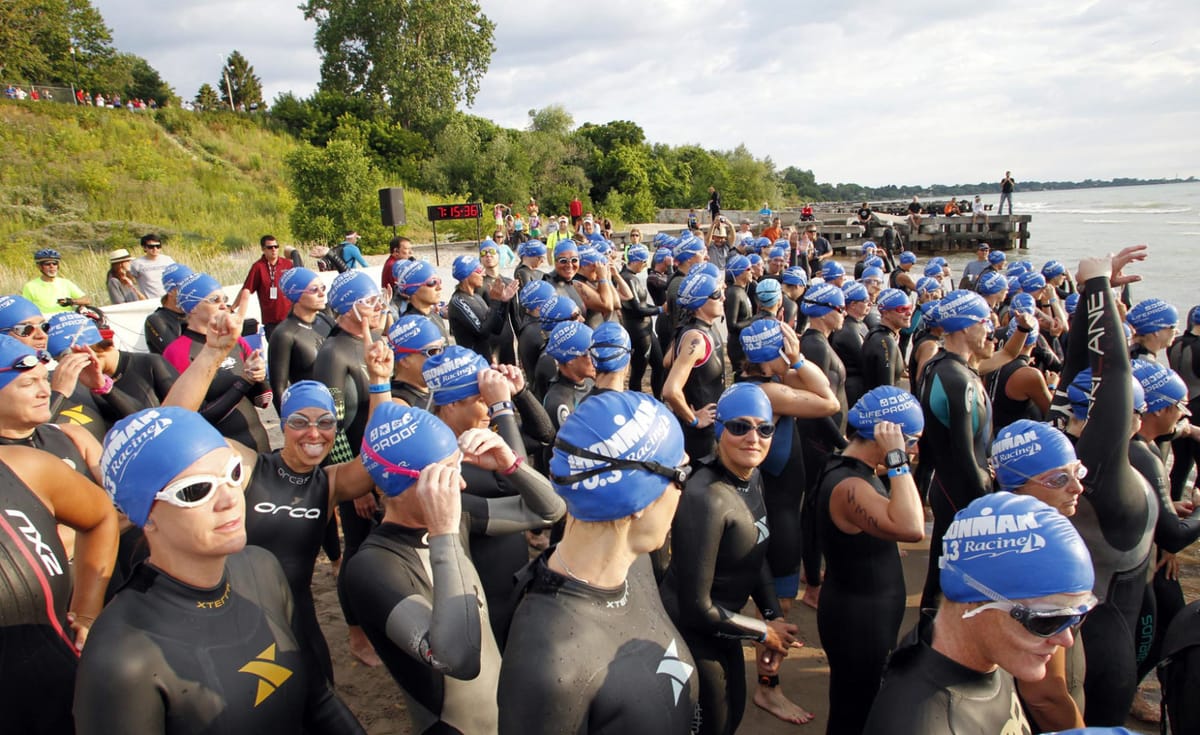 Frigid temperatures and frightening winds meant the swim was cancelled and the bike was reduced at Racine last weekend. Lawrence and Appleton weren't phased though, and they lead their entire races. Here's how the event played out.
Lake Michigan was only 51 degrees Fahrenheit (10.5 degrees C) on race day, a whole two degrees below the minimum rating for the event. The icy water meant the swim was cancelled, which worried some athletes, potentially including Lawrence and Appleton who rely on their swim prowess to help them establish an early lead.
Lawrence and Appleton take course changes in their stride
Appleton though, is known for his cycling speed so he was ready for his chance to establish dominance early. Due to heavy winds though, even the bike leg was shortened to just 31 miles.
"You've just got to re-set," Appleton told Journal times, "everyone wants it to be a full triathlon, but you can't let it get to you. You've just have to re-set, re-adjust and adapt to the race."
Lawrence, who relies on her swimming prowess to establish an early lead was concerned initially. "It's pretty hard when the swim is taken out of the equation because that's where I get a bit of a lead to begin with."
Women's race; a staggered start
As the swim was cancelled, the start was staggered with Sarah Piampiano leading the women with Holly Lawrence starting 30 seconds behind her, followed by Jackie Hering, Jodie Robertson, Holly Benner and the other women, each separated by 30 seconds.
By the 14.6 mile mark, Holly Lawrence had found her rhythm and secured a 2:05 lead on Robertson, 2:09 on Piampiano and 2:14 Doehla.
By the 30 mile mark, Lawrence had increased that lead to 3:12 on Robertson, 3:17 on Doehla and 4:07 on Piampiano.
Short course but big lead for Lawrence
In true Lawrence style, Holly finished the 2:12:51 bike leg with the fastest time, hitting T1 with a monstrous 4:04 lead considering the shortened course.
Cruising through the run, Holly maintained first place but by mile 11 her lead had decreased to 1:44 ahead of Robertson.
By the finish chute, Lawrence was charging hard and made it to the finish line with a 57 second lead on Robertson, and 3:28 on Doehla who made up the rest of the podium.
"Every race, my aim is to come to the finish line with nothing left," Lawrence said. "Especially with a time trial, you have to do that to give yourself the best possible outcome."
Holly Lawrence (GBR) 3:39:31
Jodie Robertson (USA) 3:40:28
Alissa Doehla (USA) 3:42:59
Men's Race
Matt Chrabot was the first man to leave the start line, followed by Tim Reed, Andrew Starykowicz, Joe Gambles, Matt Hanson and Sam Appleton all staggered at 30 seconds behind each other.
At the 14.6 mile mark, Appleton had a solid lead with Starykowicz 59 seconds behind him, followed by Reed 1:07 back. Aussie Jake Montgomery was five places back, 1:17 minutes behind Appo.
By the 30 mile mark in the bike, Appleton had established a solid 1:25 lead over Starykowicz and 3:22 over Reed which he maintained at the transition leading into the run.
Appelton secures a huge lead in the run
With the run well underway, by the 6.5 mile mark, Appleton had established a 3:41 lead on Reed who had moved up to second place. Starykowicz was 4:17 behind Appo, chasing hard.
By the finish chute, Appleton was looking strong and strode to victory seemingly easily. 3:28 behind him, Tim Reed ran his way to second, and 6:24 behind Appo, Joe Gambles made his way to third.
Sam Appleton (AUS) 3:10:35
Tim Reed (AUS) 3:14:12
Joe Gambles (AUS) 3:16:59
Trizone wishes to congratulate all the athletes for making it through the race in such tough, freezing conditions.