News & Racing
Sean O'Neill and Janine Barrow win inaugural Dunsborough X-Adventure Long Course off-road triathlon
Western Australia Triathlete of the Year Sean O'Neill took line honours at the inaugural X-Adventure Long Course off-road triathlon in 2 hours 29 minutes and 57 seconds, amongst a field of over 600 competitors in Dunsborough, WA. Athletes took on a 1500m ocean swim, 12.5km coastal trail run an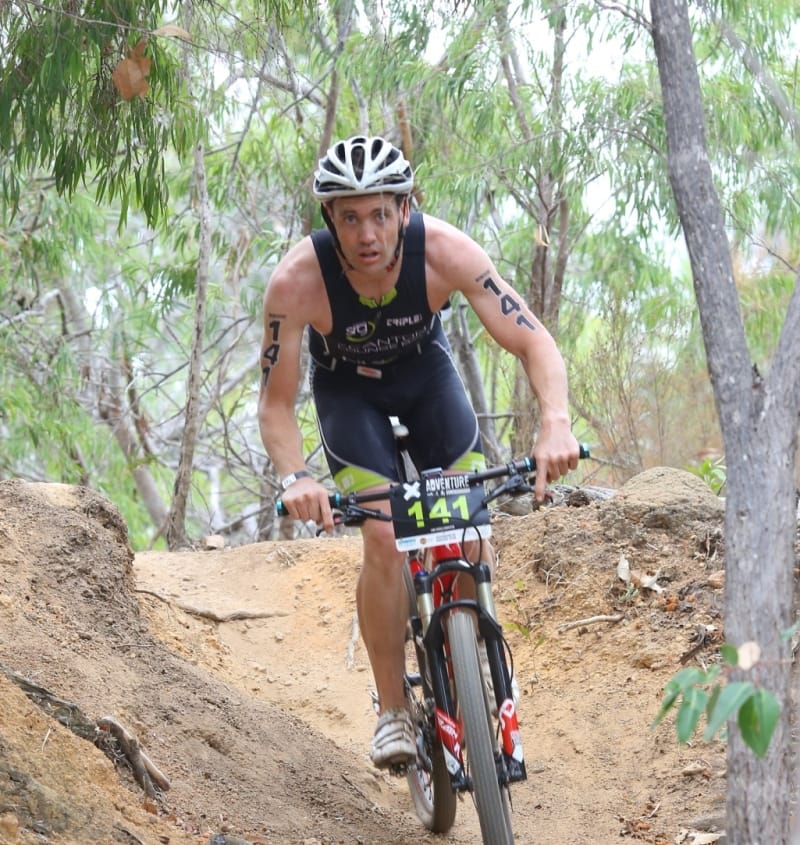 Western Australia Triathlete of the Year Sean O'Neill took line honours at the inaugural X-Adventure Long Course off-road triathlon in 2 hours 29 minutes and 57 seconds, amongst a field of over 600 competitors in Dunsborough, WA.
Athletes took on a 1500m ocean swim, 12.5km coastal trail run and a 25km mountain bike to cap off a fantastic weekend after yesterday's X-Adventure Short Course and Kids race which saw 800 adventure seekers experience this spectacular event.
O'Neill came from 2 minutes behind on the swim leg to take the lead at the infamous water jump on the run leg, from eventual 2nd placegetter Ben Lyons.
"Ben has been running really well doing ITU (triathlon) racing, so I knew the last half of the run he'd put some time into us. I knew I had to make up the time on the first part of the run so I went hard to get some rhythm over the rocks and managed to get a bit of a gap just before the water jump." O'Neill said.
"The MTB leg was definitely a favourite for me today; by the time I finished the 2nd lap, I wanted to go out there to do another! It was just really technical, really challenging, and lots of good fun with jumps and everything, so it was an advantage to go through first off the run with a bit of a lead." continued O'Neill.
Ben Lyons put up a tough fight on the course with his road triathlon background, finishing just over 10 minutes behind O'Neill in a time of 2 hours 40minuts and 9 seconds; with Brendon Dimmer in third place just 11 seconds back.
"It is quite a technical course; a real mental game and you have to make sure you're on your toes." Lyons said.
"I had a bit a tangle at the end with Brendon (Dimmer), he came off in front and I went over him; and I just got up quicker! Credit to Brendan though, he came flying at the end. I'm really happy with second today." added Lyons.
Brendon Dimmer was stoked with the outcome despite the fall.
"I'm stoked! Not much of a triathlete, so to come out here and get third, I can't believe it; race of my life I reckon!" Dimmer said.
In the women's field, it was a shoulder to shoulder battle between Janine Barrow and Christine Ladyman over the swim and run legs, finishing just 5 minutes apart across the line after the 25km mountain bike leg.
Barrow finished in 3 hours 13 minutes and 3 seconds; Ladyman in 3 hours 18 minutes and 45 seconds; and third place was taken out by Sarah Dunnage in a time of 3 hours 23 minutes and 9 seconds.
Barrow was all praise for her rival today.
"Christina's a phenomenal mountain biker, so I guess I'm quite lucky on that one today. I just love this adventure racing; road triathlons on the flat are just boring to me now. This course is just fantastic!" Barrow said.
Ladyman went into came out of Transition 2 onto the MTB leg just ahead of Janine, before being overtaken and finishing 5 minutes behind.
"Within a couple of minutes on the mountain bike, Janine flew by, she's phenomenal. An absolutely great course with so many great technical aspects through it "I really hope to do it again next year." Ladyman said.
Crowd support was never far, and once again it was the coastal run course which stood out for most athletes today, followed by the challenging yet fun mountain bike leg through the Dunsborough Country Club grounds and trails.
"Dunsborough is just awesome; the spiritual home of adventuring racing and I love coming down here." Sean O'Neill "X-Adventure Long Course Overall Male Winner
X-Adventure Long Course Results
Top 3 Male and Females:
Male
Sean O'Neill: Overall 2:29.57 (Swim 0:21.16 Run 0:59.38 MTB 1:08.18)
Ben Lyons: Overall 1:29.43 (Swim 0:19.26 Run 1:01.547 MTB 1:17.55)
Brendon Dimmer: Overall 1:31.18 (Swim 0:23.21 Run 1:01.08 MTB 1:14.51)
Female
Janine Barrow: Overall 3:03.13 (Swim 0:26.01 Run 1:15.14 MTB 1:30.54)
Christina Ladyman: Overall 3:18.45 (Swim 0:25.07 Run 1:16.27 MTB 1:36.14)
Sarah Dunnage: Overall 3:23.09 (Swim 0:28.29 Run 1:24.57 MTB 1:28.48)
Day 1 of the inaugural X-Adventure, Dunsborough off-road triathlon on Saturday saw athletes take on the Short Course and Kids X-Adventure; with ages ranging from 7 to 63; many as first timers to the sport.
X-Adventure Short Course: 700m ocean swim, 6km coastal run, and 12km mountain bike.
Kids X-Adventure: 200m ocean swim, 2.5km coastal run, and 4km mountain bike.
Here's what some of yesterday's winners said about their experiences on the course.
David Janmaat "X-Adventure Short Course (Overall Male Winner)
"What a great course! I had a great time out there running along the coast "absolute great day!"
Kyle Nankivell "X-Adventure Short Course (1st Junior Male)
"All these little kids were ninja's on the rocks; and Jeremy (3rd place Junior) and I had no idea how to run it either, but we just kept going "such a fun course."
X-Adventure Short Course Results
Top 3 Male and Females:
Male
David Janmaat: Overall 1:29.39 (Swim 0:12.11 Run 0:37.12 MTB 0:39.23)
Cameron Macphail: Overall 1:29.43 (Swim 0:12.59 Run 0:36.59 MTB 0:39.03)
Jacob Bacchus: Overall 1:31.18 (Swim 0:14.56 Run 0:36.14 MTB 0:38.40)
Female
Joanna Fisher: Overall 1:40.04 (Swim 0:12.14 Run 0:42.03 MTB 0:44.48)
Rebecca Bacchus: Overall 1:44.08 (Swim 0:15.48 Run 0:40.53 MTB 0:46.19)
Nikki Williamson: Overall 1:45.00 (Swim 0:11.36 Run 0:42.25 MTB 0:49.54)
X-Adventure Kids Results
First Male
Felix Leaver (Under 15): Overall 31min 55 sec
First Female
Sabrina McConville (Under 11): Overall 40min 15 sec

March 23-24, 2013 – Dunsborough, WA