News & Racing
Spain's Tamara Gomez Garrido wins opening ITU World Cup event in Mooloolaba
It was a pair of firsts for Spain's Tamara Gomez Garrido and France's David Hauss, in the season opening ITU World Cup event in Mooloolaba on Saturday. In hot, humid and windy conditions, Gomez Garridos claimed her first career ITU World Cup win, while for Hauss it marked his first Moolo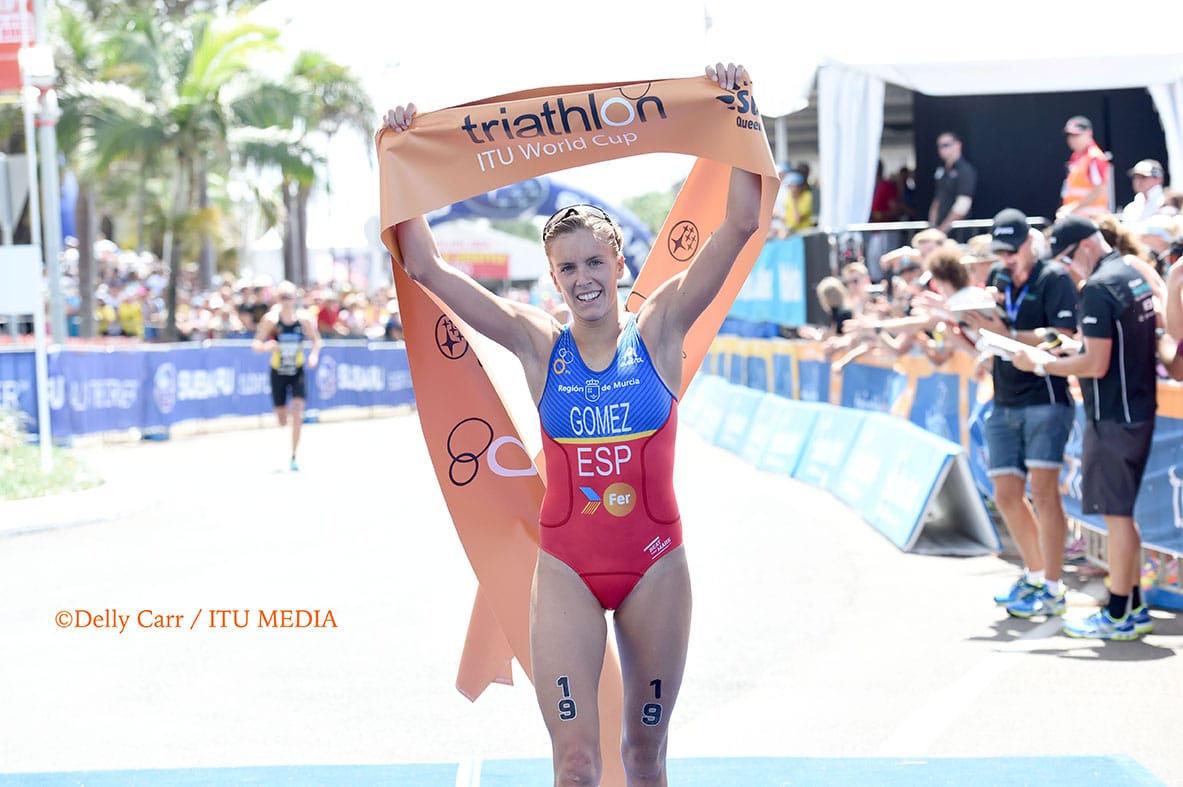 A week of rest was all Tamara Gomez Garrido (ESP) needed, when she claimed her first World Cup title on Saturday in Mooloolaba, just a week after competing in the season opening WTS race in Abu Dhabi.
Showing up with a steady performance throughout the race, the Spaniard earned the gold in the final lap of the 5km sprint run, breaking away from Canada's Amelie Kretz (CAN) who crossed the line a mere four seconds behind to walk away with the silver. It was a breakthrough result for Gomez Garrido, whose past few years had been affected with injury, but has been training solidly with Javier Gomez Noya's (ESP) team since January.
"I'm very happy for the win today," Gomez Garrido said. "It was very important for me, last year I was injured all season and I couldn't really race. So this is a great start to me, and I'm very happy because I'm trying to qualify for the Olympic Games so it's very important to me."
With the skies clear and the sun shining, the Sunshine Coast brought out an abundance of competitors all eager to start out the World Cup season.
Swim started out with a short and fast 750-metre leg, with the first athletes leaving the surf in around ten minutes. A small group was able to capitalise on the 200-metre run into the first transition to get a headstart on the bike leg.
Excitement heightened during the bike portion of the race. A lead group of about 16 formed early and remained together for the first half of the 20km bike leg, including Ashleigh Gentle (AUS), Renee Tomlin (USA), Lisa Perterer (AUT), Sarah-Anne Brault (CAN), Paula Findlay (CAN) and Kretz. They held 30 second lead through the halfway mark of the bike, looking to enter the second transition with a healthy advantage. But the chase group executed an excellent third lap, closing the gap to only about 12 seconds going into the bell lap, and then caught the leaders ahead of the second transition.
In a crowded transition it was hard to pick just who would come out on top, but once foot hit the pavement, Gomez Garrido and Kretz snuck out to the front where they maintained their fight until the finish. Behind them Ashleigh Gentle drew on strong crowd support and a history of strong sprint performances to claim bronze.
2015 Mooloolaba ITU Triathlon World Cup – 14 March
750m swim – 20km bike – 5km run – Final Results – Elite Women