News & Racing
Strong pro fields for Ironman 70.3 Canberra 2012
The pro fields for this weekend's Ironman 70.3 in Canberra are stronger than recent years. We should see some very tight racing this weekend and the race is very hard to pick. Defending their titles will be Tim Reed and Lisa Marangon. Up against them are a large number of very good pros. Maran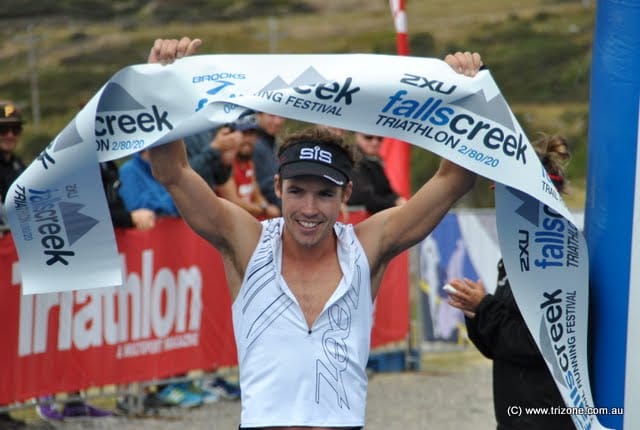 The pro fields for this weekend's Ironman 70.3 in Canberra are stronger than recent years. We should see some very tight racing this weekend and the race is very hard to pick.
Defending their titles will be Tim Reed and Lisa Marangon. Up against them are a large number of very good pros. Marangon finished second to Rebekah Keat at Shepparton recently. They were evenly matched until the run when Keat put eight minutes in to Marangon over 21kms. This week Michelle Wu and Annabel Luxford will provide similar run competition for Marangon. The fresh water swim may give Marangon a bit more of an edge over Michelle Wu than normal but Luxford won't be so easy to shake. Three women are recovering from setbacks that may impact the result. Michelle Wu has had foot issues, Anna Cleaver a bike crash and Kate Bevilaqua had to take some time off with no excerise at all to get herself back on track this year.
Bevilaqua is the most experienced female racing this weekend and she has some big results on her resume. She may not be up to race pace but then again she is traveling from WA and wouldn't be doing so if she didn't think there was a podium up for grabs.
Leading the women out of the water on Sunday will most likely be Sydney based Kiwi pro Anna Cleaver. Cleaver is a former NZ rep swimmer and is rebuilding herself after a major crash in Boulder earlier this year as mentioned previously. After riding with Crowie and peeling off to go home, Cleaver was taken out by a car and suffered some serious injuries. She is still struggling to get over some back issues. Canberra is a race hit out to keep her head in the game.
Annabel Luxford should be the race favourite in Canberra. Luxford spent this year in non drafting Olympic distance racing and has plenty of speed on the run and swim. She should be first out of the water. This year has seen Luxford on many podiums in the US against some very classy athletes and the odd win. She raced at Mandurah 70.3 but pulled out on the bike.
Sarah Crowley won the Cairns 70.3 in June this year ahead of Michelle Wu with a quick bike/run combo. We are expecting a better performance from Crowley than the recent Shepparton where she ran 1:30, five minutes slower than Cairns.
Kat Baker will be very strong and showed in Port that she will be at or near the front going on to the run.
Jacqui Slack is normally seen racing Xterra along with her man Ben Allen. Both raced Shepparton recently but Slack was a bit off the pace that weekend as she was on the run at Shepparton recently.
In the men's race we have the last two champions racing who both grew up on Lord Howe Island. Tim Reed is the current champion with Ollie Whistler the winner in 2010. Whistler has just started to work towards 2013 after taking some time off recently. He is not up to race pace yet but still might surprise. With a new coach, a more settled lifestyle and some new sponsors he might just have a solid race. With a quality field around he will certainly have the motivation.
Tim Reed will be pumped for a big hitout to round off his 2012. Shepp wasn't as good a result as Tim would have hoped so this race there will be one he wants to get right. He has had a great year with the Australian Long Course title, Yeppoon 70.3 title, 2nd at Mandurah 70.3, 2nd at New Zealand 70.3, 2nd at Nepean, 12th at Hy-Vee, the list goes on… One of the great battles in the race this weekend will be the head to head between Reed and Sam Betten. Reed got the better of Betten at Yeppoon to take the win. Betten had dropped the field and had a good lead going in to the run but Reed was confident he could run him down and he did.
This weekend however could be a different story. Betten went in to Yeppoon off a light run base. That has been changed and there are plenty of miles in his legs now and he is confident about his chances. Betten has been smashing it up over the short distance recently in amongst his training block for Canberra.
We will also see the West Australia/Kiwi Guy Crawford racing. Crawford will most likely lead the swim out but with Lampe and co he may not have it all his own way. He has had a mixed bag this year with some solid back to back racing. He will be fresh for this weekend and it will be great to see him race.
Joey Lampe is on a upwards trajectory at the moment. His 2nd at Shepparton 70.3 recently was his best performance to date over the distance andhe is getting stronger and stronger. His swim/bike combo is awesome and he is now backing it up with some fast run times. He ran 1:17 flat at Shepp to hold out some classy athletes. With training partners like Clayton Fettell the 'lead from the front' approach seems to be rubbing off.
The one person that every male pro is going to have their eye on this weekend is Tasmanian James Hodge. Hodge surprised everyone in Busselton this year when he smoked a very classy field to take the win. Names like White, Millward, McKenzie, O'Grady, Crawford were all taken by surprise. Hodge suffered a foot injury which sidelined him for a while but from what we are hearing he is riding and running faster than ever. The self coached youngster (he was 20 when he won Busso this year) has to be a favourite for Sunday along with Tim Reed along with Sam Betten and Joey Lampe.
Ben Allen had a solid hit out at Shepparton and can go a lot faster than he went there. The usual Xterra athlete loves to come back to his roots and race the proper triathlons now and then.
Michael Fox is another who will be a strong contender early on. He is not at 100% and suffered an injury at the Trishave Sprint series at Kurnell recently which has meant not much swimming. This shouldn't bother Fox though as he is one of the stronger swimmers around. in saying that he is not 100% he is in a lot better place than he was at this race last year after a stint in the US during our winter training and racing full time.
Our dark horse pick for the weekend is David Mainwaring. Mainwaring is stepping up to the longer distance after a spending some time racing ITU oceania cup. He initially went to NSWIS as a 3000m runner and then moved in to triathlon. Realising that he wasn't going to be able to swim at the pointy end of ITU speeds he has switched to longer distance triathlons. He recently won the Husky Olympic distance with a strong bike/run combo. Training under Alex Price at AP10 in Wollongong (and housemate of Aaron Royle current U23 world ITU champ) has had a big impact on Mainwaring. If he is in touch out of T2 he could be in with a chance. Of course this is Mainwarings first 70.3 so the lack of experience could be an issue. Although it didn't seem to bother Hodge in Busso. Mainwaring also spent winter doing a lot of cycling and raced the Grafton to Inverall Classic with a very strong finish in B Grade.
John Polson can also run and if he can stay with the front guys on the bike he could be in the mix. Once again he is on the rise and is getting stronger and stronger with every race.
There is a huge pro start list and other guys like Michael Prince are coming to Canberra to be competitive along with Matt Bailey, Alex Reithmeier, Luke Gillmer, Lindsey Wall, Marc Widmer and also Jodie Scott and Jacqui Slack from GBR will also be strong.
The start lists below have not been finalised. It will be updated as we become aware of who is out.
| | | | | |
| --- | --- | --- | --- | --- |
| Kat Baker | F PRO | ACT | Australia | Australia |
| Kate Bevilaqua | F PRO | WA | Australia | Australia |
| Anna Cleaver | F PRO | NSW | Australia | New Zealand |
| Sarah Crowley | F PRO | QLD | Australia | Australia |
| | | | | |
| Annabel Luxford | F PRO | QLD | Australia | Australia |
| Lisa Marangon | F PRO | NSW | Australia | Australia |
| Jodie Scott | F PRO | VIC | Australia | Australia |
| Jacqui Slack | F PRO | GBR | UK | United States |
| Michelle Wu | F PRO | ACT | Australia | Australia |
| | | | | |
| Ben Allen | M PRO | NSW | Australia | Australia |
| Matt Bailey | M PRO | VIC | Australia | Australia |
| Sam Betten | M PRO | QLD | Australia | Australia |
| Guy Crawford | M PRO | WA | Australia | New Zealand |
| Michael Fox | M PRO | NSW | Australia | Australia |
| Luke Gillmer | M PRO | VIC | Australia | Australia |
| James Hodge | M PRO | TAS | Australia | Australia |
| Joseph Lampe | M PRO | NSW | Australia | Australia |
| David Mainwaring | M PRO | NSW | Australia | Australia |
| John Polson | M PRO | QLD | Australia | Australia |
| Michael Prince | M PRO | NSW | Australia | Australia |
| Tim Reed | M PRO | NSW | Australia | Australia |
| Alex Reithmeier | M PRO | NSW | Australia | Austria |
| Lindsey Wall | M PRO | ACT | Australia | Australia |
| Ollie Whistler | M PRO | NSW | Australia | Australia |
| Marc Widmer | M PRO | Switzerland | Switzerland | Switzerland |
| Roger Witz Barnes | M PRO | UK | UK | United Kingdom |