News & Racing
Tim Reed Retains Ironman 70.3 Canberra Title
Tim Reed put on a dominant running performance at the Canberra 70.3 triathlon to catch early leaders Joey Lampe and James Hodge and retain his title from 2011.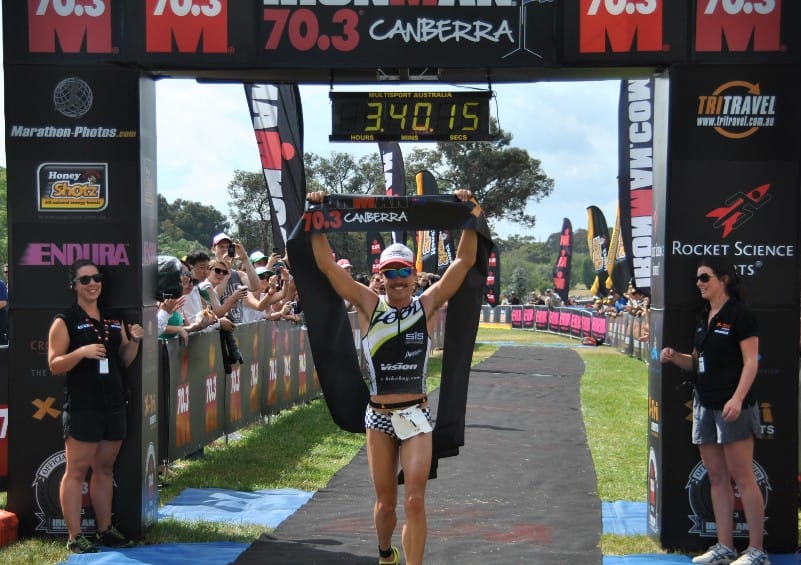 Tim Reed stayed close enough on the bike at this year's Canberra 70.3 to keep Joey Lampe and James Hodge within striking distance on the run. Lampe, Hodge and Michael Fox got the jump on the field in the swim with a pack of nine guys chasing them out on to the bike 1:30 down on the lead three. With a big chase pack on the bike we watched with interest to see whether these guys could work together to reel in the three lead guys.
As the men came around for the end of lap one on the bike (5 laps total) the noticeable person missing was Michael Fox. He had flatted out of the race and his day was over. That is two races in a row where with things not going well. His form is great and he was really looking forward to racing in this quality field.
Lampe and Hodge continued to ride strongly putting another 30second in to the chase pack but with the tight, fast course and plenty of age groupers starting to fill up the road there wasn't going to be an opportunity to shake the chase pack.
Out of T2 and Lampe started running knowing that Tim Reed was going to be chasing him within two minutes and this was a fast flat run course. With Lampe was James Hodge. The chase pack headed out on to the run minus two. Tim Reed, Michael Prince, Lindsey Wall, Sam Betten, Alex Reithmeier and Guy Crawford all were on a mission to catch the two guys ahead.
Missing from the chase pack was Ben Allen and John Polson. We soon learnt why as a very relaxed Allen with a smile on his face followed Polson on to the run course. There was a small section of the bike course that had a 'no passing' zone. Passing in this zone attracted a 4min penalty which is what Allen and Polson were handed. This was the only issue in the race that caused some angst amongst the competitors. TOs were actively allowing riders to pass while these two were slapped with a penalty. According to one report there was a age group back marker sitting up and casually riding through this zone while having a gel with a train of triathletes jammed behind him. Anyway it adds to the race stories.
Back to the race and at the end of the first of three run laps and Reed was now only 100m behind Lampe and Hodge. Hodge said after the race that he felt great on the bike but as soon as he hit the run course he knew that he was still a while away from being race fit at this level. After suffering a season ending injury after winning Busso 70.3 this year he was back wanting to get back in to racing and get a feel for where he is at.
By the time Reed came back to the race village on the second lap of the run he had a commanding lead and was running very smoothly. at the end of the second lap he was more relaxed and was obviously beginning to have that winning feeling.
Joey Lampe was hanging in there and was not done yet. With Sam Betten closing and plently of opportunities to judge the gap he still had a lot of work to do. Betten had a great race at Yeppoon in August to finish second behind Tim Reed after leading the race until Reed passed him on the run. This week Sam didn't get the jump on Reed out of the water like he did at Yeppoon.
Back to his old form was Cronulla's Michael Prince who was having a great race. He is recently raced at Port Macquarie 70.3 for 18th overall and today's race was a huge improvement all round.
Hodge was dropping off the pace on the run and was hurting as first Reed then Betten passed followed by Prince and Lindsey Wall. Betten was racing off the back of a massive training week with Auckland the goal race.
As Reed was within the last 200m of the finish he still looked like he was pushing the pace.
This was a very sweet win for Reed and he was enjoying backing up to retain his title. Coming in 2:44 back was Joey Lampe who made it two seconds from his last two 70.3 triathlons. Third overall was Sam Betten who was a further 1:22 back.
Guy Crawford was a bit disappointed with his run after having a great swim and bike. He was definitely enjoying himself out there and as he started to relax on the run he looked more comfortable. His main concern during the race as the run unfolded was that he was going to pass Kate Bevilaqua at some stage which could cause him some problems at home later.
Some age groupers stepped up and showed some very good promise. Former Olympic rower and 2011 World Rowing Champs gold medalist Todd Skipworth had one of the fastest runs of the day at 1:16:22 and was first age grouper home. He swum and ran with the pros with only the bike split holding him back yesterday. Anyone who has trained with a former rower knows what massive engines these guys have. While following run yesterday with Craig from Blueseventy, VIC we got a bit of back ground on Todd. We have been watching Todd in his early races and with a bit of bike work he should be stepping straight in to open racing.
Ryan Waddington had a great race also with a 1:16:33 run to be the second age grouper overall. Waddington performs consitantly and has one fast run on him. We first saw him race first hand at the SuperSprint 2XU Falls Creek long course earlier this In that race Waddington ran a 1:16 to finish 40mins ahead of the second placed 18-24 year old.
Wollongong's Ben Bell racing in the 35-39 age group just keeps putting in performance after performance. With a full time job and a young family he is firing consistantly under coach Nathan Miller of Project M.
| | | | | | | | |
| --- | --- | --- | --- | --- | --- | --- | --- |
| Name | Country | Swim | Bike | Run | Finish | Div. Rank | Overall |
| REED, Tim | Australia | 0:24:00 | 2:00:43 | 1:12:06 | 3:40:13 | 1 | 1 |
| LAMPE, Joseph | Australia | 0:22:31 | 2:00:02 | 1:16:56 | 3:42:57 | 2 | 2 |
| BETTEN, Sam | Australia | 0:23:45 | 2:00:44 | 1:15:08 | 3:44:19 | 3 | 3 |
| PRINCE, Michael | Australia | 0:24:01 | 2:00:38 | 1:17:58 | 3:46:15 | 4 | 4 |
| WALL, Lindsey | Australia | 0:23:57 | 2:00:47 | 1:19:27 | 3:47:33 | 5 | 5 |
| HODGE, James | Australia | 0:22:35 | 1:59:38 | 1:22:20 | 3:48:24 | 6 | 6 |
| REITHMEIER, Alex | Austria | 0:23:59 | 2:00:31 | 1:21:05 | 3:49:11 | 7 | 7 |
| CRAWFORD, Guy | New Zealand | 0:23:54 | 2:00:42 | 1:21:56 | 3:50:11 | 8 | 8 |
| ALLEN, Ben | Australia | 0:23:41 | 2:04:50 | 1:20:06 | 3:52:08 | 9 | 9 |
| SKIPWORTH, Todd | Australia | 0:23:52 | 2:08:47 | 1:16:22 | 3:53:25 | 1 | 10 |
| WADDINGTON, Ryan | Australia | 0:26:07 | 2:08:03 | 1:16:33 | 3:55:23 | 1 | 11 |
| POLSON, John | Australia | 0:24:01 | 2:04:32 | 1:23:44 | 3:55:45 | 10 | 12 |
| WHISTLER, Ollie | Australia | 0:25:31 | 2:04:52 | 1:22:23 | 3:57:32 | 11 | 13 |
| BELL, Ben | Australia | 0:27:42 | 2:10:09 | 1:17:43 | 3:59:18 | 1 | 14 |
| WRIEDE, Ben | Australia | 0:26:11 | 2:06:43 | 1:21:51 | 4:00:09 | 2 | 15 |
| MCKENZIE, Paul | Australia | 0:27:03 | 2:06:12 | 1:23:38 | 4:00:55 | 2 | 16 |
| VAUTIER, Blyth | Australia | 0:24:33 | 2:08:24 | 1:26:54 | 4:03:42 | 1 | 17 |
| NORTH, Nicholas | Australia | 0:25:55 | 2:09:09 | 1:25:10 | 4:04:26 | 3 | 19 |
| SWINDALE, Ricky | Australia | 0:26:05 | 2:14:24 | 1:19:36 | 4:04:45 | 2 | 20 |