News & Racing
Super League: Katie Zaferes stuns in Triple Mix on Day 1
Katie Zaferes of the USA stunned dual Olympic medalist Nicola Spirig at the inaugural Super League Triathlon women's race in Jersey, Channel Islands. The ascendant American was never too far off the front throughout, and took the overall win with a 19-second lead over the speedy Swiss. Compatriot Su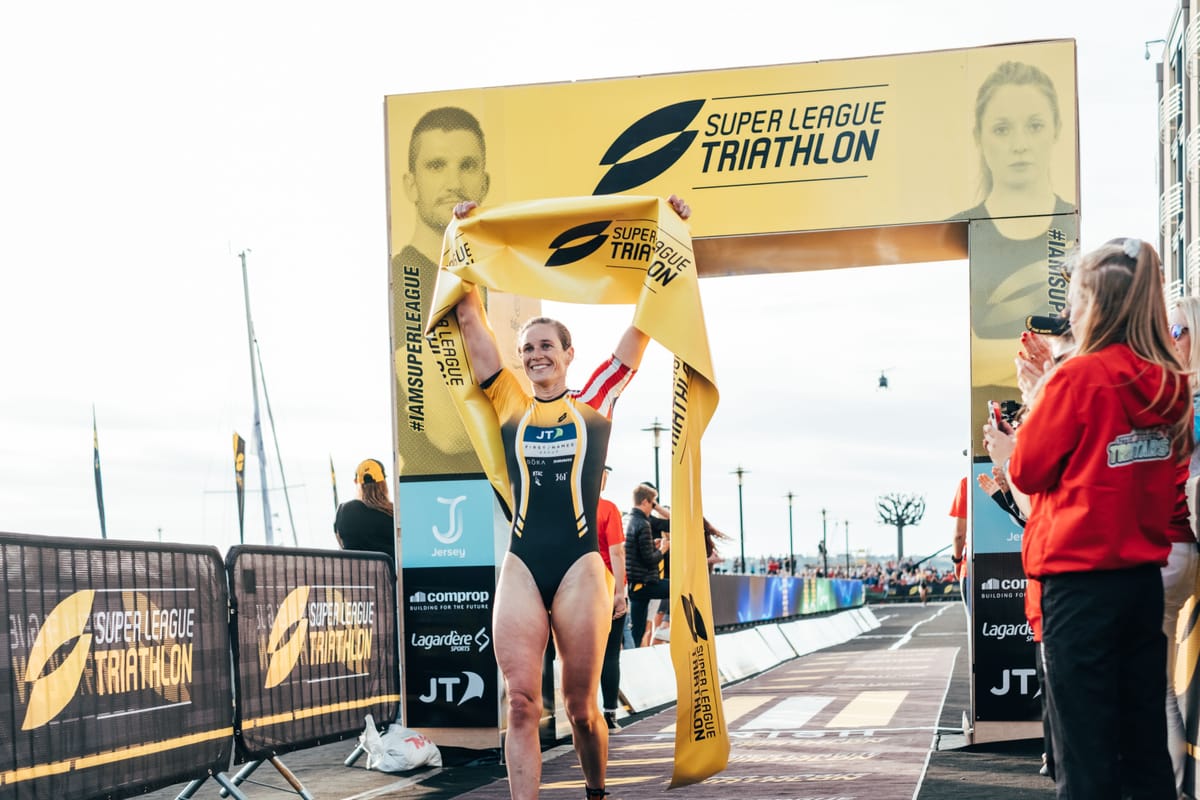 Katie Zaferes of the USA stunned dual Olympic medalist Nicola Spirig at the inaugural Super League Triathlon women's race in Jersey, Channel Islands. The ascendant American was never too far off the front throughout, and took the overall win with a 19-second lead over the speedy Swiss. Compatriot Summer Cook rounded out the first women's podium for the revolutionary race series. Triple Mix is a three-stage race with a 10-minute break between stages and a pursuit-style start in Stages 2 and 3.
Stage 1: Swim-Bike-Run
Carolina Routier, Sophie Coldwell, and Emma Jeffcoat found clear water off the pontoon start and came out of the 300-meter swim together, but most of the athletes emerged together to form a huge chase pack which swallowed the lead swimmers once on the bike leg.
Coldwell and British compatriot Jodie Stimpson worked to put pressure through the first few laps of the five-kilometer bike ride. With the field splintering between a large front group and solo athletes trying to bridge the gap, those off the back fell victim to the 90-second elimination rule. Sameera Al Bitar found herself more than 90 seconds behind the lead athlete and was forced to retire partway through the bike.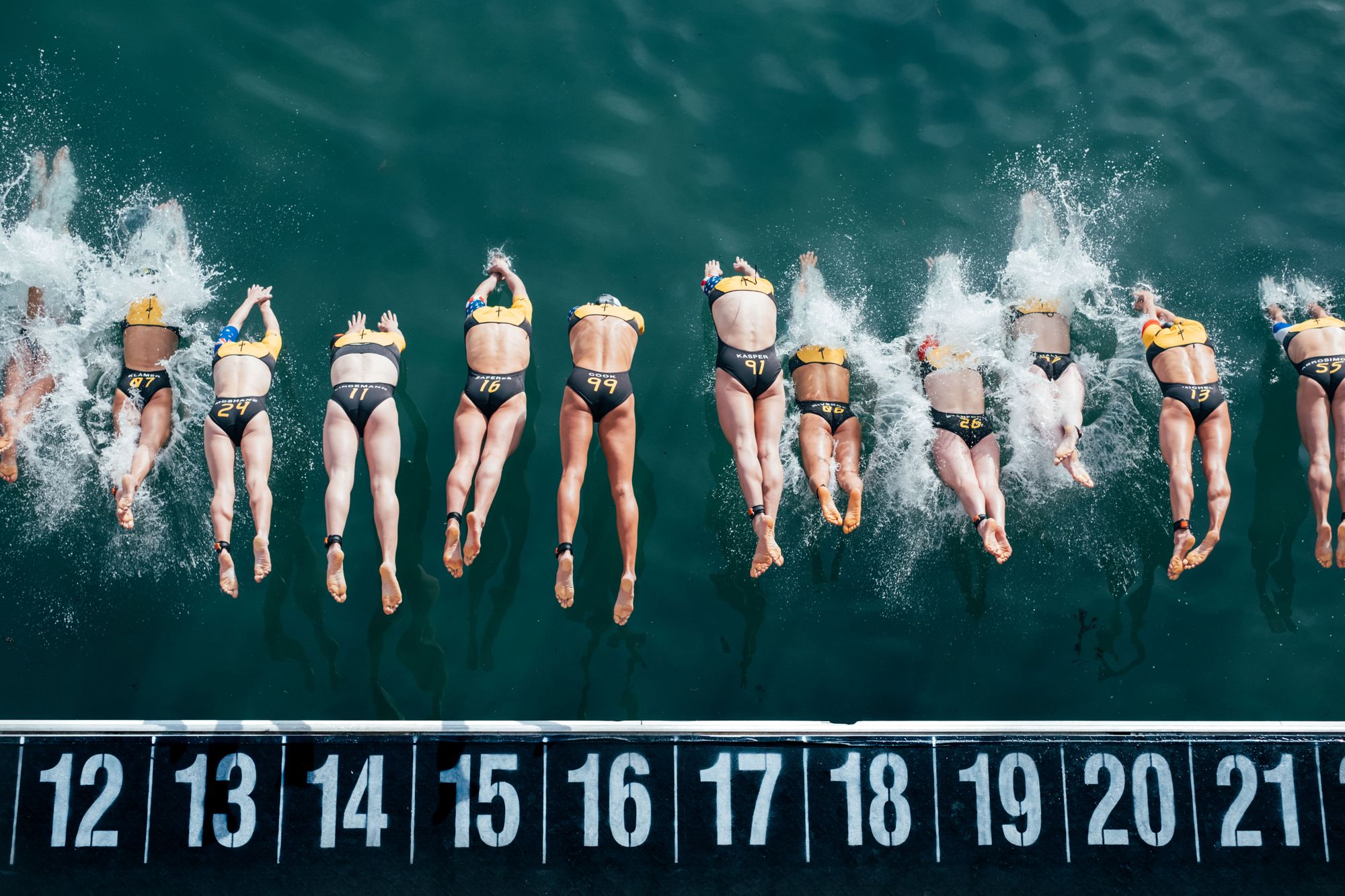 Stimpson, Coldwell, and Claire Michel of Belgium came off the bike together, but with the athletes so close together, Spirig emerged out front with Zaferes right on her shoulders. Summer Cook managed to stay in contention despite struggling with the technical bike course, while Lucy Hall and Mariya Shorets were eliminated after the bike leg.
During the two-kilometer run, Michel, Spirig, and Zaferes took turns out front, but it was Michel who took the tape ahead of Spirig and Zaferes. Cook ran herself into fourth.
Stage 2: Run-Bike-Swim
With only 10 minutes to recover before starting another two-kilometer run and only seconds separating the lead three women, it didn't take long for Zaferes to move up front. However, Spirig, Cook, and Michel came with her surge to create a 20-second gap to chasers Stimpson, Coldwell, and Rachel Klamer.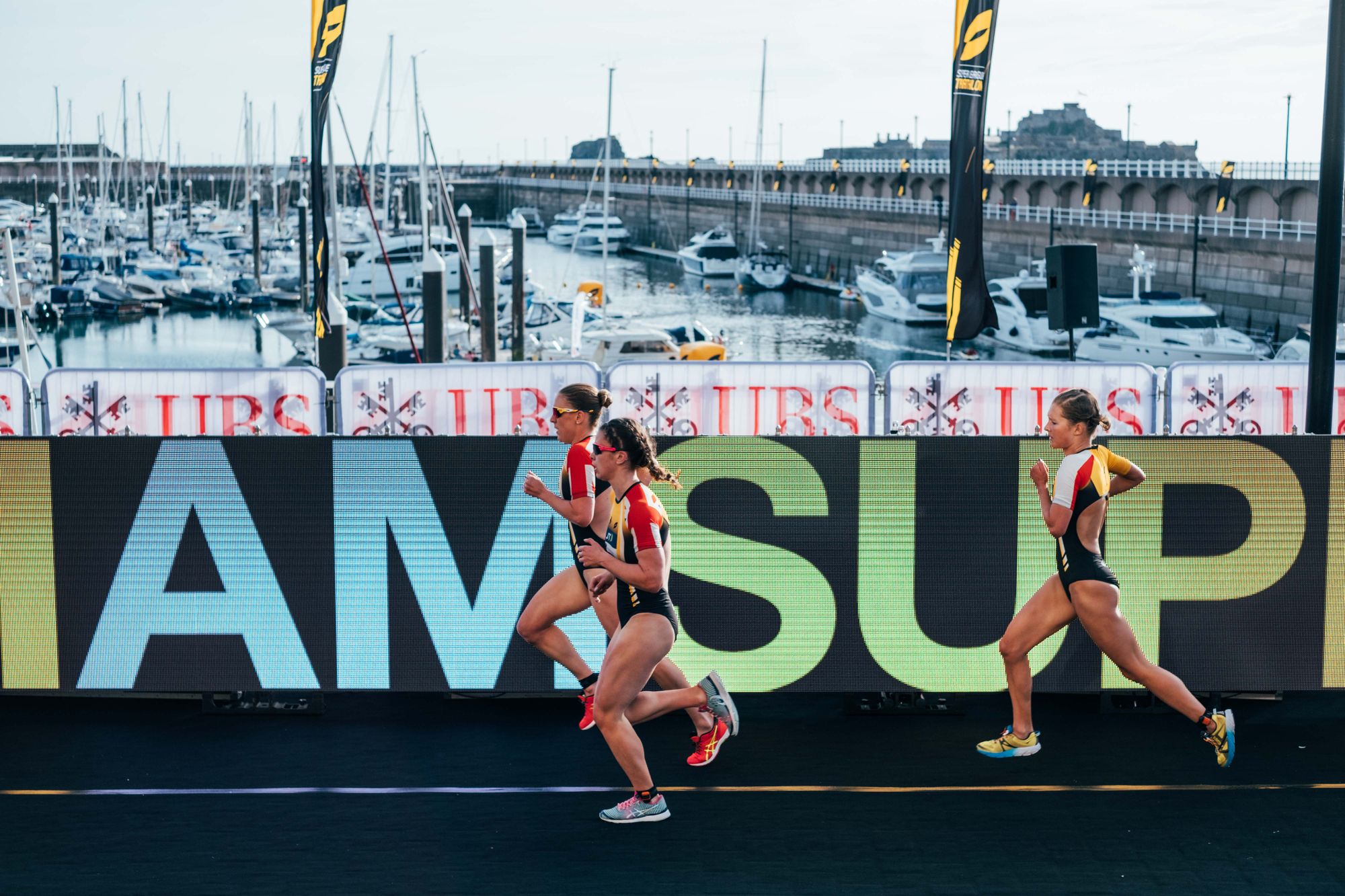 Spirig put pressure on and gapped the leaders with her trademark bike power and great handling, but after a while Zaferes answered the surge. Apparently, Zaferes had thought one of her tires had gone flat, but once confirmed that was not the case, she confidently rode back onto Spirig's back wheel before taking the front into transition.
Zaferes made sure to hit the water ahead of Spirig, and her stellar technique ensured she crossed the Stage 2 finish line first.
Thanks to the gap the two had created to the rest of the field, an additional seven women were eliminated, while Laura Lindemann took a nasty bike spill but was able to continue.
Stage 3: Bike-Swim-Run
The Swiss-American tandem played tag team throughout the opening bike leg, maintaining their lead while a race for third happened behind them. Coldwell teamed up with Kirsten Kasper to leave the rest of the field, but once the race entered the water the athletes bunched up again while Zaferes and Spirig stayed clear.
Out onto the run, Zaferes began stretching her legs and her lead to Spirig, who was never able to reclaim the front. The former collegiate track star made the final few hundred meters of the run look easy, celebrating into the finish chute.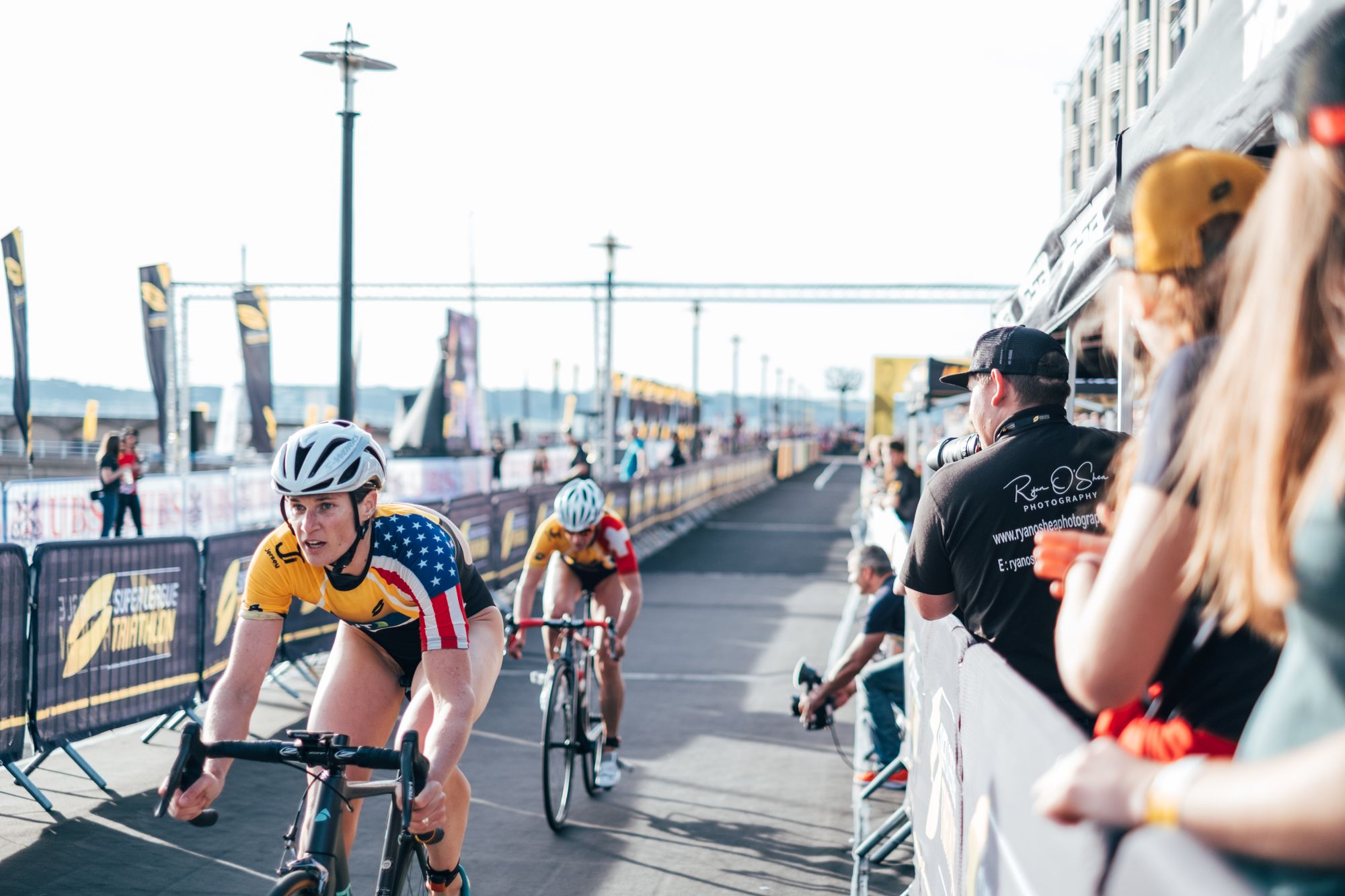 "When I first got on the bike I was a little off technically with the corners, but I got more comfortable and moved up and was happy with how the race progressed as it got on," Zaferes said. "The swim feels as horrible as all the boys told us it did, so at least I was prepared for that and didn't panic. I felt nervous especially after having raced last weekend, but I felt good. I really hope to approach tomorrow just like I did today and hope the same result comes away from it, but Day 2 gets significantly harder. I'll go for it for sure though."
It has been only a few months since Spirig gave birth to her second child, but today's race showed she is still one of the most fearsome athletes to contend with on any starting line. She said, "Thank you very much for all the support from all of you. It has been great being here. I was just, it was amazing, I had good fun and I hope I'm a bit of an inspiration for all moms."
Meanwhile, Cook used her stellar run to take herself into third place overall, the youngest on the Triple Mix podium. She said, "I'm feeling really good about today, I wasn't sure about what to expect coming in; I felt like it could go either way. I was really proud of myself to just go out there and compete, not be afraid to put myself close to the front and just race my hardest. I haven't really thought about tactics going into tomorrow yet. I'm kind of just trying to stay in the moment today and focus on what I needed to do. I guess I'll have some thinking about a strategy to do tonight."
There is one more day of racing to go to claim the first Super League Triathlon women's trophy. These athletes will have to give it their all to stay on top. The Eliminator awaits, and only the fastest will survive.