Interviews
Triathlon's Dynamic Duo Dream Big at Ironman Western Australia
Triathlon's dynamic duo Kevin Fergusson and Sid James are bringing their own special brand of mateship, loyalty and devotion to IRONMAN Western Australia (2 December), when Kevin will put his body through hell to share the dream of becoming an IRONMAN with his longtime friend. Sid's dream to race IR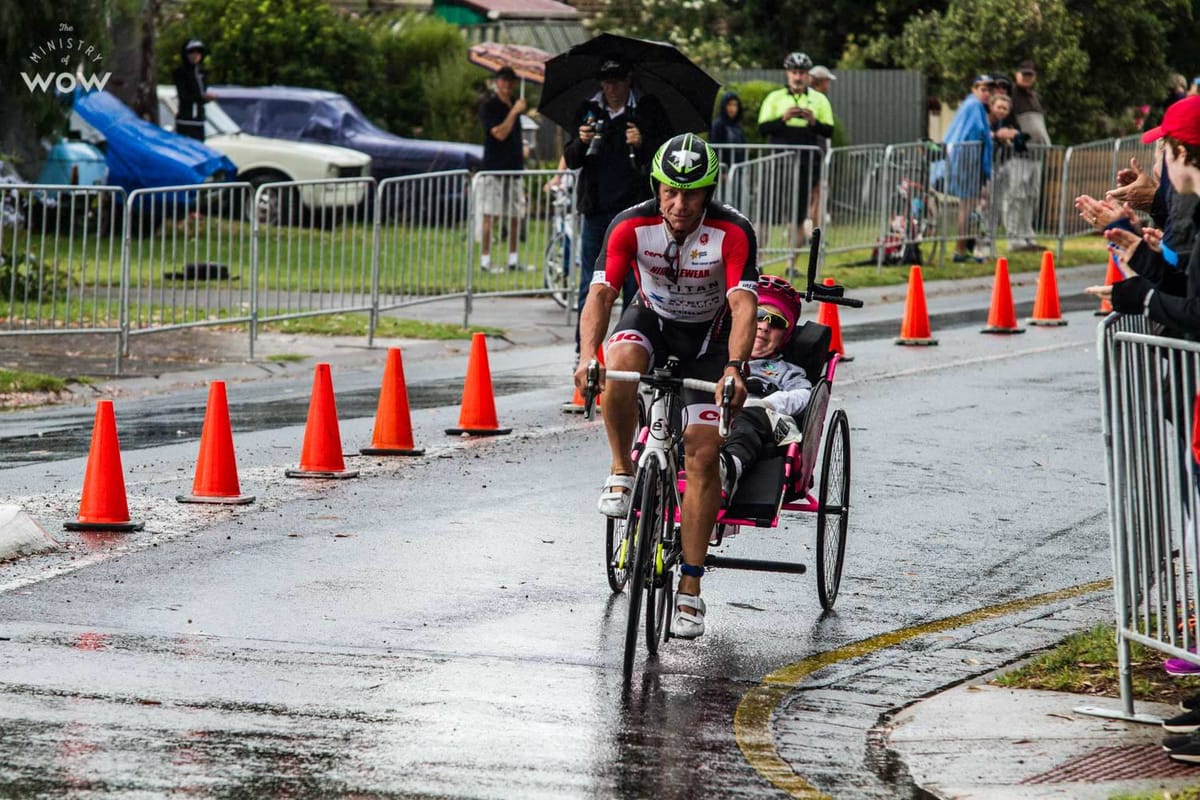 Triathlon's dynamic duo Kevin Fergusson and Sid James are bringing their own special brand of mateship, loyalty and devotion to IRONMAN Western Australia (2 December), when Kevin will put his body through hell to share the dream of becoming an IRONMAN with his longtime friend.
Sid's dream to race IRONMAN was shattered 25 years ago when he was knocked from his bike during a training ride near his home at Victor Harbor, south of Adelaide, leaving him a quadriplegic.
Kevin, who has finished more than 30 IRONMAN races, including five IRONMAN World Championships, winning his age group twice, will wear a harness and tow an inflatable kayak containing Sid on the 3.8 kilometre swim leg, he will tow Sid for 180 kilometres in a trolley attached to his bike and on the marathon he will push his mate in a specially designed wheelchair 42.2 kilometres to the finish line on the Busselton foreshore.
Kevin and Sid's IRONMAN journey had a false start when Sid's health ruled the pair from starting at the IRONMAN World Championship in 2017 but with the trip to Kona already organised, Kevin raced as an individual and Sid was given the Kona VIP treatment experience by race organisers.
"I certainly did get the VIP treatment in Hawaii. I have been running a triathlon here in South Australia for 25 years and I wondered what it was like and what goes on behind the scenes and I could never have imagined it. They put on everything that you could possibly think of to make your trip to Hawaii very special. It was wonderful to be in Kona and experience the atmosphere," Sid recalled.
Not to be discouraged, the moment Kevin crossed the finish line the pair started planning how to finally make Sid's dream of crossing the IRONMAN finish line a reality.
"This is something that Sid has been dreaming of for 25 years and I am a pretty determined bloke and if I set my mind to do something I normally try and finish off what I start. So, when I crossed the finish line in Kona, I put my finisher's medal around his neck and said, 'Your keeping that until I can get you your own around your neck'. We started planning what to do and IRONMAN Western Australia in Busselton was clearly the best option," he said.
Kevin has raced IRONMAN Western Australia several times as an individual and while he is very familiar with the course, he knows that towing Sid around will really put him to the test.
"I think the new swim course will suit us. As you can imagine, Sid is scared of the water and going out and around the jetty would have been petrifying for him but being in close now is very reassuring for him. He can see the land which is good. With the Busselton course being flat it is also an advantage. Hawaii would have been a real push and I would have had to smash myself to get around in the bike cut off time."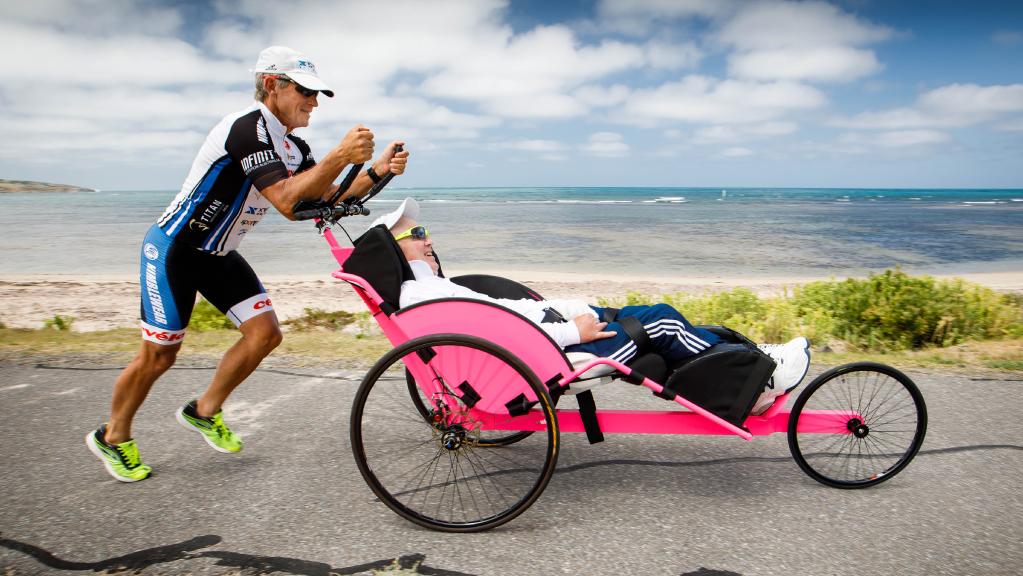 "At Murray Man, I tried to hammer the bike as hard as I could to see how fast I could go and I managed to get under four hours which I was stoked with. It doesn't sound fast but I was towing Sid around and it was pretty windy. Some of the roads in Busso are pretty dead and I know Busso is always windy and in a headwind the cart really slows down. It is like having a parachute and the harder you push the more resistance you get. I have to try and find a balance. I can't go too hard but I can't be slack either or we don't make the cut-off. Which is my biggest fear."
Kevin said that there are so many aspects to the life of a quadriplegic that people don't understand and he is full of praise for his mate who is fully committed to doing his bit to make the dream a reality.
"One of the races at Murray Bridge we were running along and Sid yells out to stop and I said 'What's wrong?' He said, 'My nose, my nose. I've got an itch.' And he can't do anything about it. People don't realise it, he can get an itch and can't scratch it. So, I really got to know the finer details of his life and that is something that doesn't happen unless you spend time with someone."
"It is a team effort. I am not out there racing for myself now, my priority is Sid. We have this capsule that he swallows and we have Sid's doctor riding alongside measuring all his vitals, heart rate, core temperature, his respiratory rate and his hydration all the time. That goes straight to the doctor's phone so he is going to be safer than any other person out of course. It is very reassuring to have that information at our fingertips and to have a doctor right there. If we see any change in parameters we will stop and do what we have to do or if it gets too far we could pull the pin."
Sid's sense of humour will be one of the team's greatest assets as Kevin pits his body and mind against the very real logistical issues of towing someone around the course.
"He likes a joke old Sid and he can see the humour in his disability. Sid is a funny man and he is often cracking jokes while we are racing."
Sid's return to Busselton has been a long time coming, his last visit was in 1987 as a carefree young bloke competing in the Windsurfing National Titles. The much loved 60 year old said IRONMAN Western Australia will be a very special event for him but the trip to Busselton is a mix of excitement and trepidation.
"I am excited that I am finally going to get to do an IRONMAN but I am also scared because I have never done a race that long before. My favourite parts will be finishing and probably having a sleep on the cycle leg. If I drop off Kevin tells me about it, don't you worry," Sid joked.
"When I was in Kona so many people were talking to me and they were all from different countries. It seems that I have become a bit of a triathlon celebrity. That wasn't the intention, it wasn't meant to be like that. In Busselton, I don't care if there is only one person to greet us at the finish line, I will be happy just to finish."
There is no way that the transformation of Sid James into an IRONMAN is going to go unnoticed and Kevin said he is expecting a huge support from the crowds along the course and at the finish line.
"A lot of Adelaide's Lakers Triathlon Club know Sid's story and quite a few are going over to race the IRONMAN and the 70.3 and some are going just to watch as well. We will have a lot of friends over there, so it will make a big difference."
"Sid is really getting a buzz out of racing now, he loved the Murray Man and the support there was amazing. You have got to be with him and see how he talks about things and see the excitement back in him. As you can imagine being a quadriplegic is tough, I don't know how he has gone so long without becoming a grumpy old bastard, but he hasn't. I am stoked because I have seen a big change in him in the last few years, since we started doing this. So that has been my reward."
"When you complete an IRONMAN that finish line is something special but this will be different. I am getting goosebumps now thinking about getting across that finish line. I definitely won't be running, we will be walking down there lapping it all up. Sid can't show any emotion with his body but I am sure you will see it on his face," Kevin said.
The final word is with Sid who said he is eternally grateful for the opportunity Kevin and his supporters are giving him to fulfil a lifelong dream.
"Most athletes these days would not know how much I love the sport, and some wouldn't know that I was once was a triathlete and raced at an elite level. Kevin will always be a special friend after everything he has done for me both many years ago and now. If all goes well, I may even become an IRONMAN," Sid smiled.