Adventures
Ultimate Endurance: German Athlete Running Across America After Cycling Across It
After cycling over 4,800km across the United States from New York to Los Angeles, extreme athlete Jonas Deichmann is now attempting to run back the entire way, completing an ultra marathon daily.
The scorching Mojave Desert sun beat down on Jonas Deichmann as he trudged along the dusty Route 66. Though the sweltering 45°C temperature was nearly unbearable, Jonas pressed on, focused on the distant Rocky Mountains shimmering on the horizon. This was not the first time the extreme athlete had pushed his body to its limits. In fact, taking on superhuman challenges was Jonas' specialty.
The German adventurer had already conquered the world's three major continental crossings by bicycle, setting speed records in the process. He cycled from Portugal to Vladivostok across Eurasia in just 64 days. He completed the grueling Panamerican route from Alaska to Tierra del Fuego in 97 days. And he made history becoming the fastest person to bike from the North Cape to Cape Town, knocking a full month off the previous record by completing the journey in 72 days.
If those achievements weren't enough, Jonas also became the first person to circumnavigate the globe in a 120-day triathlon, running, biking and swimming over 42,000 kilometers. During his global triathlon, Jonas unintentionally gained fame in Mexico where thousands began joining him on his runs, dubbing him the "German Forrest Gump."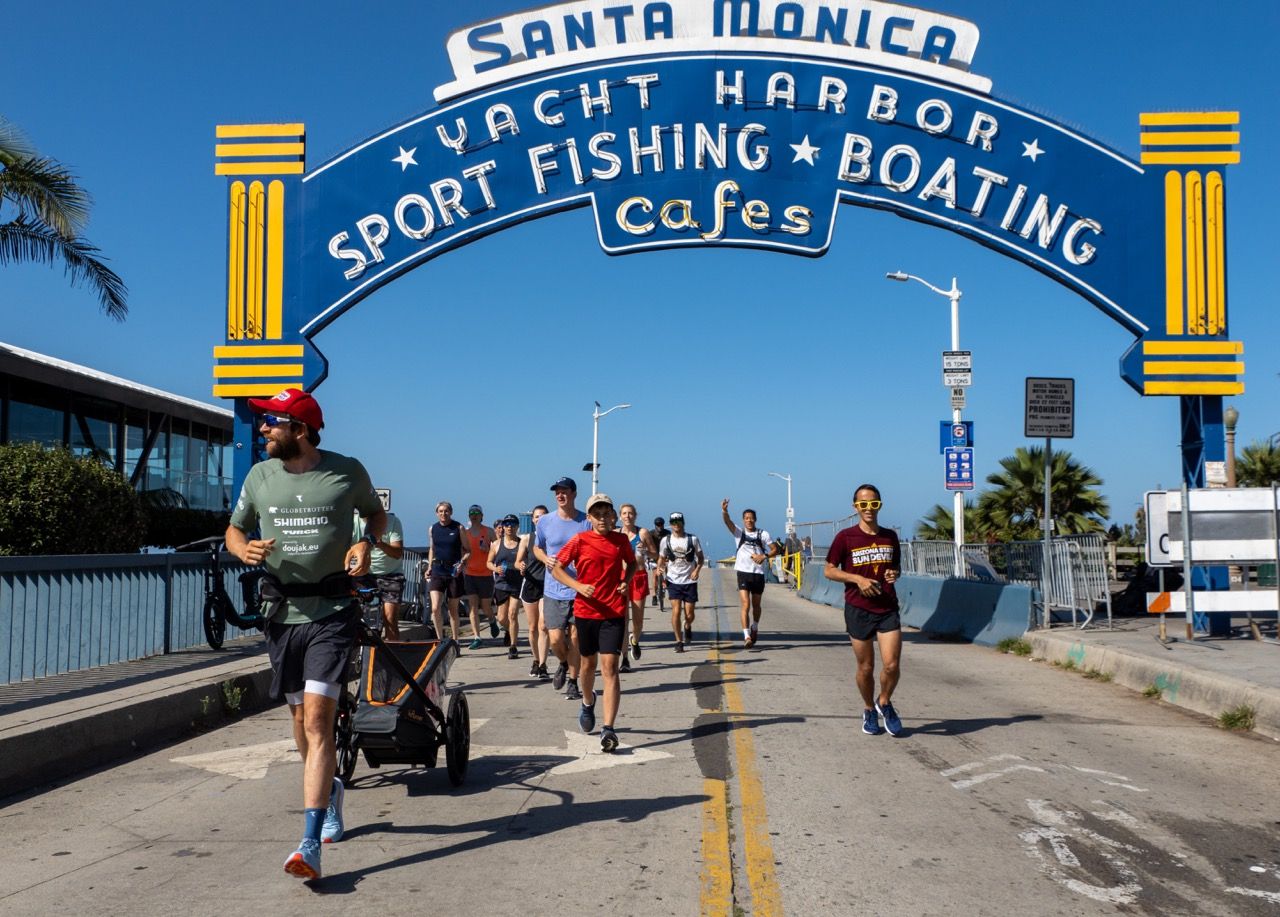 Yet despite his growing status as an international athletic celebrity, Jonas remained humble, using his adventures to raise money for charitable causes like World Bicycle Relief, which provides bikes to students and healthcare workers in Africa.
Now, after recently cycling over 4,800 kilometers across the United States from New York City to Los Angeles on a gravel bike, Jonas was attempting to run back the entire way, completing a marathon distance or more every single day.
It was an audacious challenge, even for someone of Jonas' caliber. Forest fires raged in California and the southwestern deserts brought scorching, potentially deadly heat. Still, Jonas persisted, altering his route when necessary, overcoming the elements with an iron will honed through years of pushing beyond perceived limitations.
"I've always wanted to run across the U.S., so this is still unfinished business for me," Jonas had told reporters at the outset of his journey. What truly drove him was not fame or glory, but rather proving that the perceived limits of human endurance could be shattered.
Now over 2,400 kilometers into his run, the Rocky Mountains taunted Jonas in the distance. The most arduous portion of his journey still lay ahead. Surely his legs would ache and blisters would cover his feet by the end. Yet the pain would fade. What would remain are the lessons his experience could provide others about resilience and believing in one's self.
Once Jonas reaches the shores of New York City, completing a roundtrip crossing of America entirely under his own power, he will have demonstrated once more the ability of focused determination to accomplish the extraordinary. Jonas will emerge from this journey transformed, with new stories of struggle and triumph to share. His adventures will be immortalized in an upcoming book and film. He will speak before rapt audiences worldwide, inspiring others to push beyond their own perceived limits.
For Jonas Deichmann, running across America alone is not merely another athletic achievement. It is a radical act of unreasonable aspiration, a refusal to accept the status quo of human limits. Like the scorching Mojave sun, Jonas intends to blaze across the American landscape, igniting new possibilities in all those who dare to follow his unrelenting footsteps.