Interviews
Vanessa Murray and her Journey to the 2021 Zwift Academy Tri Team
Check out the exclusive interview of Vanessa Murray, the winner of Ironman Cairns AG 35-39, and a proud member of the 2021 Zwift Academy Tri Team.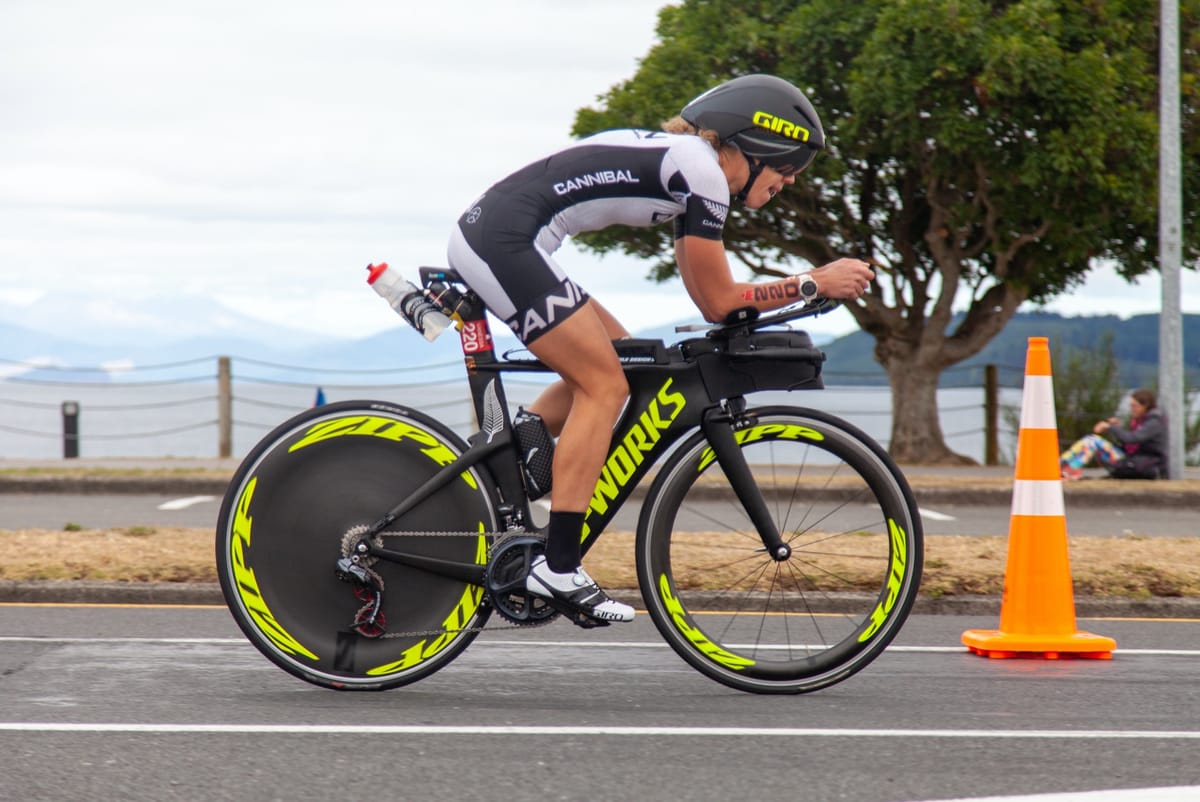 Vanessa Murray is an age group triathlete who became a member of the Zwift Academy Tri Team this year. The 36 year old has recently bagged several massive wins including overall age group wins at Ironman Cairns, Ironman 70.3 Geelong , and in addition to this already has her spot to Kona secured. We had the opportunity to interview Vanessa and to learn about her unfamiliar yet remarkable triathlon journey. The interview also reveals the impact that Zwift virtual training has had on Vanessa's performance over the years. The interview is full of interesting stories and insights shared by a seasoned triathlete who's raring to become a better version of herself each day.
Vanessa's Childhood, love for sports, and family's support
The New Zealander was born in New Plymouth and spent a large portion of her childhood in Christchurch before Vanessa and her family moved to Auckland. "I've got both Christchurch and Auckland roots," said Vanessa.
From early childhood, Vanessa grew up in a sports-loving environment and dabbled in an array of different sports such as dancing, athletics, swimming and running to name a few. "As a kid I was keen to give most sports a go although I quickly learnt that I didn't have any natural ability for sports such as gymnastics and netball. I was always a pretty average runner but I enjoyed it and a large portion of my childhood was spent in the swimming pool".
Vanessa also highlighted the support of her parents that allowed her to explore different sports during her childhood. Vanessa's dad was a sports enthusiast and is where her love of running began, out running with her Dad on the weekend. Likewise, her mom was always there to drive her to all the dancing competitions. "Growing up I was so lucky to have such supportive parents and be able to try whatever sports I wanted really," said Vanessa.
Vanessa's Husband and Her Switch to Triathlon
Vanessa wasn't always into Triathlon. "When I was at school, triathlon wasn't an option available," told Vanessa. Vanessa had a swimming background and also liked to run, but cycling was something she hadn't tried before. It was Vanessa's husband, Shaun who  introduced her to Triathlon in her adult years. Shaun has been very helpful in Vanessa's cycling training over the years. Vanessa gives a lot of credit to her husband for her entry into Triathlon. "I don't think I would be involved in triathlon at the level I am if it wasn't for him," Vanessa stated.
While talking about swimming, Vanessa told us that in her younger years she was pretty handy and isn't really entirely sure why she gave it up. "I guess as a child, it took up a lot of my time, before and after school and I probably wanted more time to do other things that kids like to do". However, who knows, if she had carried on with swimming, she might not be doing Triathlon today, which at least for us – Triathlon fans – wouldn't be very fortunate
Vanessa briefly walked us through her giving up on sports (swimming and running) and later switching to Triathlon. "I guess going through college, there was  a good couple years where I was more focused on study and my social life than I was on sports. So instead I kept fit through going to the gym. When I hit University, I started running again and really found a love for it in terms of keeping fit and feeling good. I was pretty stoked with my 2hr half marathons at that point.  I got seriously back into sport though when I met my husband, which was 11 years ago.  Triathlon really started for me the day he brought me my first bike", told Vanessa.
Searching the right Balance and Taking a Break from the Sport
On a question regarding the positives and negatives of being an athlete, Vanessa explained her struggle for the right sport-life balance. "I've given a lot to the sport because I love the sport. I love the lifestyle, I love the people you meet, and I love keeping fit," said Vanessa, "but it's a fine line when it comes to getting the balance right and retaining the LOVE of the sport.  I reached a point a few years back where I remember I was in a restaurant one night getting a takeaway pizza and I remember seeing a couple in the corner of the room having some wines and some laughs and I thought "oh wish I could do that" but I was just so focused on getting up at 5am to do my training session and that made me angry. At that moment I knew I didn't' have the balance quite right, training had become a chore rather than something I looked forward to doing".
"Although there's times when you need to be disciplined to reach your goals , you still need to be able to not feel guilty about going out for dinner or catching up with friends or seeing family. I did take a year off the sport and it wasn't until I started coaching that I found the love again for the sport and decided to come back to the sport. And to do that, I had to find a better balance," Vanessa continued.
Later, Vanessa commented on her current balance in life and the consequent impact on her performance, "if I'm being honest, I have a better balance now, I train really hard and am extremely dedicated and consistent with my training but I also make time to enjoy life's other simple pleasures like a glass of wine out with friends. It's funny how now that I have a better balance, I am racing better than ever before and look forward to the training sessions as much as when I first started the sport".
Coming Back Through Coaching at TriChicks
Vanessa found her way back to the sport through coaching. Her coaching career started from teaching beginner triathletes at TriChicks. While talking about her motivation for coaching, Vanessa said, "To me, it was something that had always appealed and I think what appealed about TriChicks, in particular, was helping women or girls who are really new to the sport. I think back to when I was new to the sport and I was lucky enough to have my husband to answer all my, what many people consider "dumb questions." But they are definitely not dumb questions, if you haven't been involved in the sport you simply just don't know what you don't know."
"Some of the girls I was coaching were coming into the sport not knowing anything about it, but they wanted to and were brave enough to learn and give it a go. I found that really satisfying to be able to share my knowledge and I could really relate to them."
It was coaching that brought Vanessa back to the sport and finally pushed her to return to racing. While reflecting on her experience of re-finding interest in the sport through coaching, Vanessa said, "I helped these girls train for races and seeing their pure enjoyment in training and on race day helped me to rediscover the passion again.  But of course I always knew that if I was going to return to racing, I would want to be competitive, it's just in my nature."
Vanessa also revealed how her triathlon journey was shaped after she decided to come back. "When I first came back, I thought, well, I'm just going to get back into some 70.3 races and see how that goes before committing to the full distance Ironman again. I did the short course Worlds in the Gold Coast and did a couple of 70.3's, and then I started getting hungrier and hungrier and started to get that full distance Ironman itch again".
Vanessa also shared that part of her desire to get back into full distance Ironman was to qualify and get back to the Ironman World Championships, held in Kona. "I'm pretty keen to get back to Kona because it's been many years since my first and only time racing there. The goal of getting a qualification spot then became the target and she secured this by winning the 35-39 age group at Ironman New Zealand last year. With the Ironman World Championships cancelled last year, she will be returning to Kona after 8 long years in October this year. Along the way she was also able to secure a spot on the Zwift Academy Triathlon team so has extra support and motivation.
Contribution of Zwift to Vanessa's Performance
Vanessa is a proud member of the Zwift Academy Tri Team for 2021. But prior to that, Vanessa had been benefiting from Zwift for a long while. Zwift is a digital fitness platform that helps athletes around the world to work out better. It also offers unique "group workouts and races" which is definitely vital for trainees to remain motivated for their training.
Vanessa told us that she has been using Zwift for about five years. After moving to Melbourne, Vanessa got more serious with Zwift, purchased a smart trainer and started to take her training to the next level. Vanessa found the hill options on Zwift super helpful, living in an area with not too many hills close by. Initially, Vanessa was using Zwift for mainly biking, but during the bushfire season, she started to use it for running as well. "Zwift running was a new addition , we purchased a treadmill as an addition to the pain cave just before the bush fires hit, before then we purely used it for Zwift cycling". said Vanessa.
For Vanessa, Zwift has become an essential component of training. It can not only replicate a hilly environment when needed but is also handy for managing training around work. Vanessa reflected on her experience of training with Zwift, "I got really into doing Hill rides on Zwift because it was just so convenient in the mornings with trying to fit a workout in before work and not having to ride for ages to reach the hills when time is tight. I also find doing interval training on Zwift an efficient way of getting a quality workout in without worrying about traffic or cars and just being able to put your head down and get the uninterrupted quality in."
Vanessa also pointed out some other benefits when it comes to training on Zwift. "I think in game hills replicate real life hills pretty well and in Melbourne Winter is often a much safer option. I often use hills for effort reps to give me something to focus on.  I think hill work in general across bike and run is a great way to gain strength, vital for Ironman racing and with strength also comes speed for the shorter races".  "There are just so many times on the road where you can't get the quality session in due to weather and traffic and in the indoor environment, these just don't factor. I really feel like my training has been able to step up a level by incorporating Zwift workouts into my weekly training schedule." Vanessa further added.
Later, Vanessa once again commended Zwift for enabling athletes to train together in a situation like Covid. "I just think we're so lucky in this day and age that we have a platform like Zwift available to us, I think back to what  we would have done 10 years ago in the same situation? Not only did it enable us to train indoors during multiple lockdowns, but we got to train with our regular training buddies in a virtual world, along with friends on the other side of the world."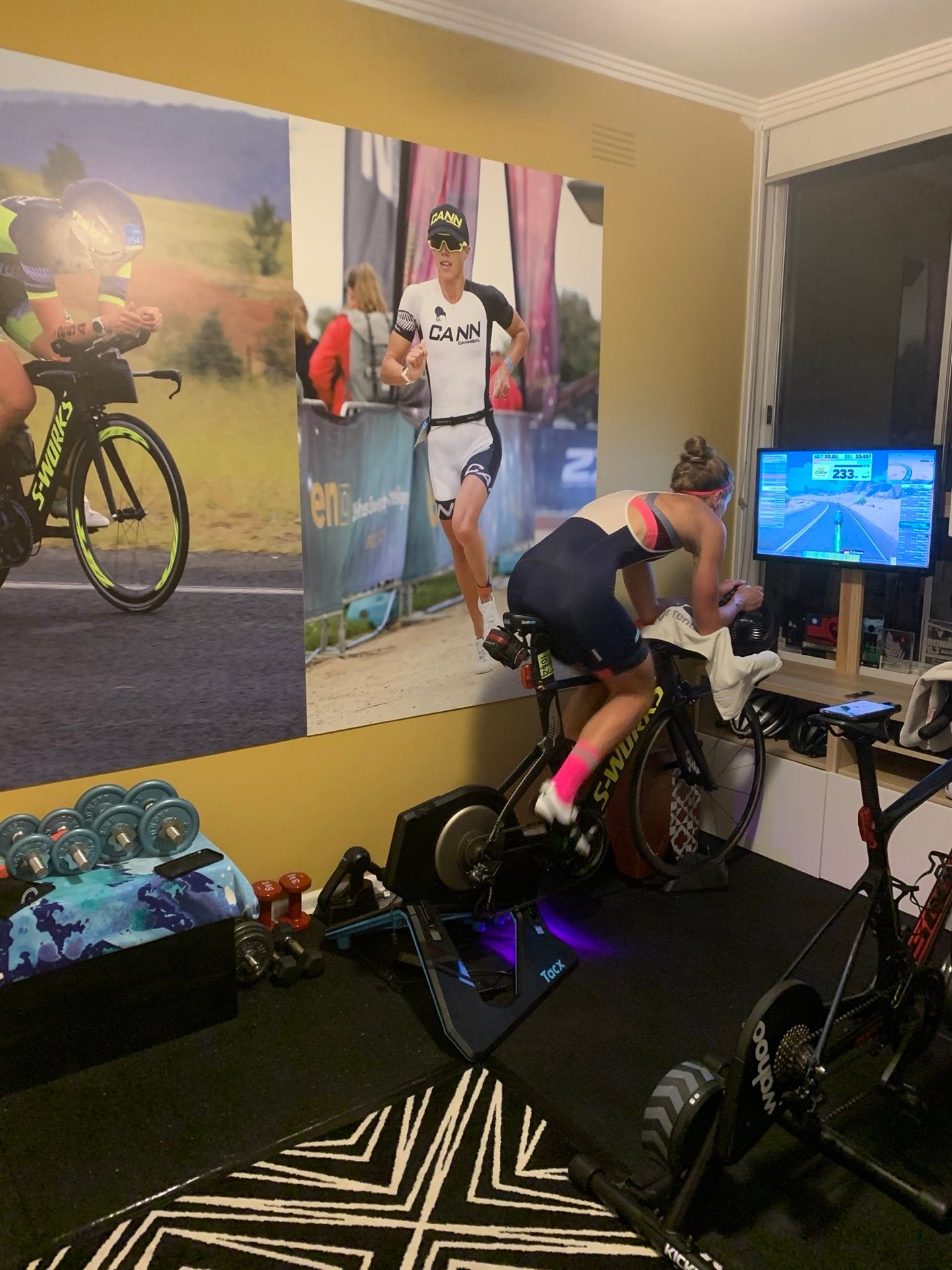 Becoming Part of the 2021 Zwift Academy Tri Team
This year, Vanessa was announced as a part of the Zwift Academy Tri Team which is certainly an extraordinary achievement. During the interview, Vanessa talked about her efforts to secure this over the past few years. "A couple of years ago, I filled out the form and I don't think I got past the first stage. Then last year, I filled out the form, did the workouts and races and got onto a final short list before COVID hit and put a halt to everything. This year I thought okay, let's try again, filled out the form, completed the necessary workouts and races, submitted my application video and then here we are," told Vanessa.
Vanessa also expressed her gratitude for having this "once in a lifetime opportunity"  "This is a once in a lifetime opportunity. These days, it's so hard for professional athletes to secure sponsorship and support from sponsors. And so, for an age group athlete, it's nearly impossible to secure some good partnerships. And I think that alone is obviously a massive benefit to being on this team. And then to also have the support of the mentors Tim Don and Sarah True, is just the icing on the cake. It's a next level of support that I don't think is offered anywhere else for an age group athlete."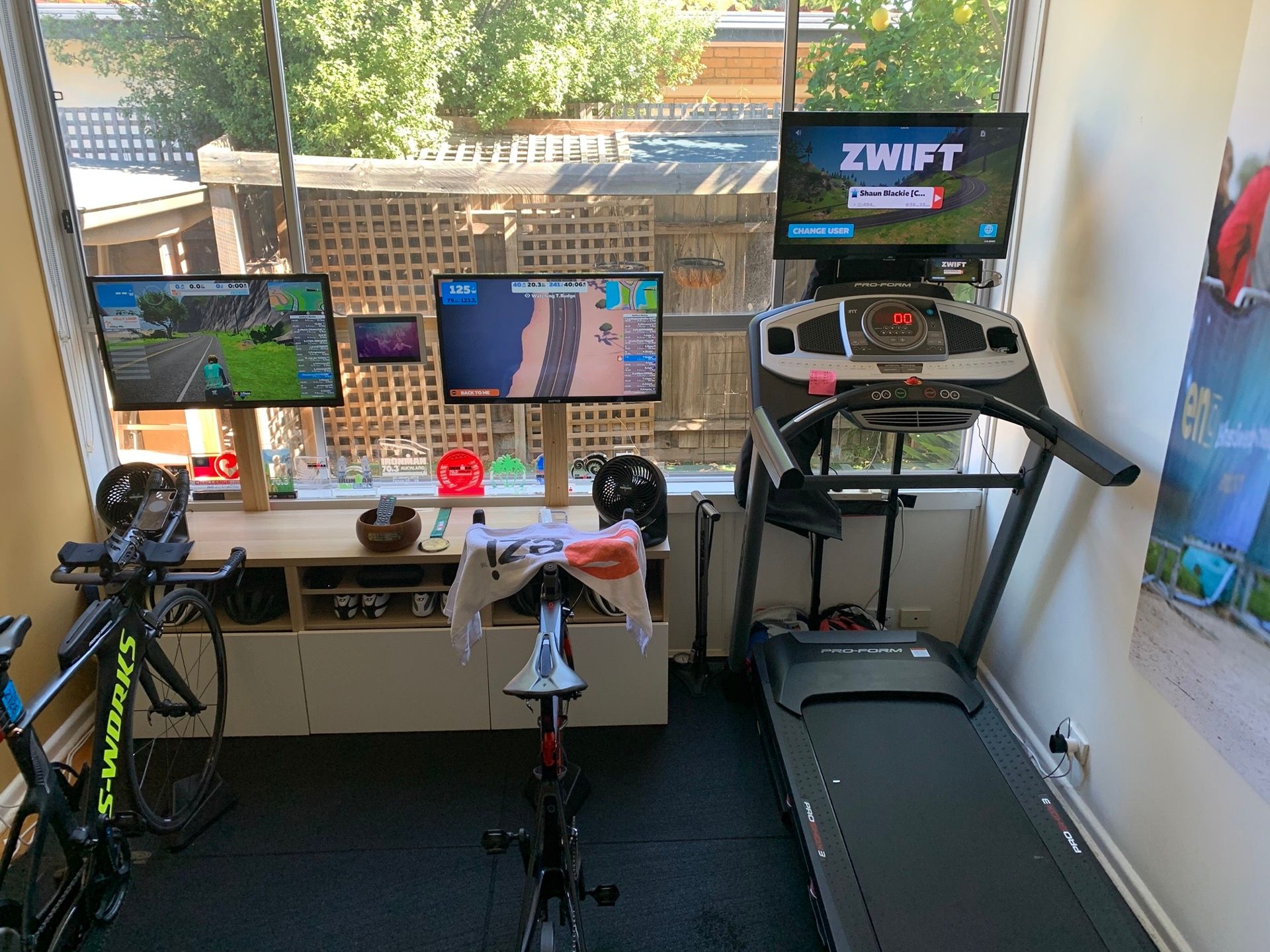 Vanessa's Favourite Zwift workouts
Watopia – Epic KOM Reps + Jungle Loop – After a 15km warm up or so, 2 x pretty solid Epic KOM reps (usually anywhere between 88-95% of FTP) with ride down recovery.  Then I head on over to the rollers of Jungle loop and finish with 15-20km high Z2/low Z3 on jungle loop (in aero), before some warm down time. This is one of my fav mid-week sessions and is usually about a total 75-85km ride.  Hill reps are one of my favourite sessions to do on Zwift, particularly during the working week when time doesn't allow me to get out to the hills IRL (not living super close to any). Super time efficient, get up early and get it in before the working day starts at 9am.
Death by 3's! – This is a goodie the coach gives me that I set up as a workout in Zwift and goes like this.15mins building warm up, 4 x (20sec @ 120% FTP + 45sec easy @ 50% FTP), 3mins easy @ 50% FTP.  Then the good stuff. 3 x (3mins @ 105% FTP, 1min 45sec @ 50% FTP, 3mins @ 105% FTP, 2mins 15sec @ 50% FTP, 3mins building 100-110% FTP, 3mins @ 50% FTP).  Then a warm down to usually a total workout of 70-80mins. We usually try to get a fairly high intensity V02 max type session in on a Monday (stil important, even for the Ironman training) which is often quite fun off the back of a heavy weekend.  I have a love to hate relationship with these ones – boy can they be tough, but you feel great afterwards and they are so good for you!