News & Racing
Waugh and Bergere Conquer 2023 Super League Triathlon in NEOM
In the intense desert heat of NEOM, Kate Waugh and Léo Bergere triumph in the 2023 Super League Triathlon Championship Series.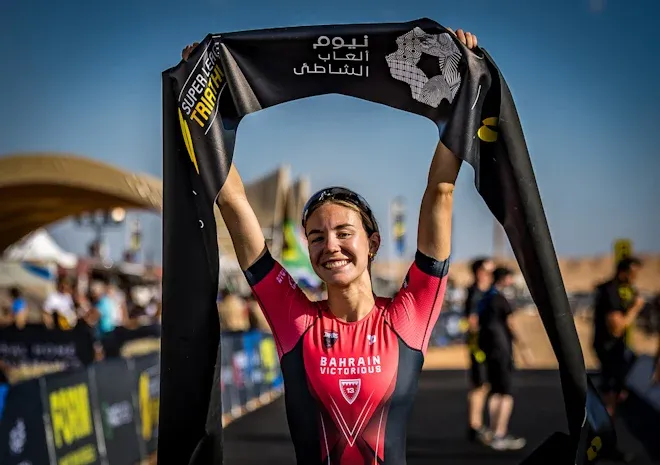 In a thrilling climax in the heart of the desert at NEOM, Saudi Arabia, Great Britain's Kate Waugh and France's Léo Bergere emerged as champions of the 2023 Super League Triathlon Championship Series.
At just 24, Waugh finishing atop both the day's race and the Series, ousting challengers such as Luxembourg's Jeanne Lehair and France's Emma Lombardi. Though France's Cassandre Beaugrand was the standout female athlete of the day for Bahrain Victorious Scorpions, Waugh's consistent performance secured her the Championship, tying in points with Lehair but clinching the title due to the final race's result.
An emotional Waugh remarked, "The swim had my legs feeling like lead, but I pushed through every barrier, reminding myself of my goal. Despite struggling in the last leg, winning the series feels surreal."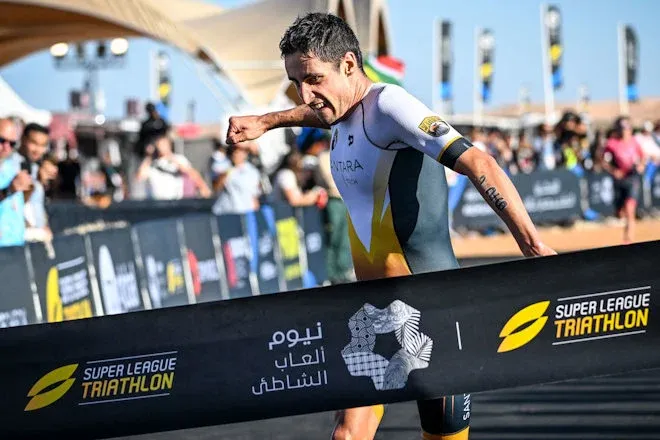 Following closely, the men's race witnessed Bergere's dramatic breakout from the pack. Facing off against defending champion, New Zealand's Hayden Wilde, the two were neck-to-neck throughout the race. However, Bergere, equipped with a 'Short Chute' and a final surge, clinched both the day's and the Series' win. The 27-year-old 2022 ITU World Champion shared, "It was nerve-wracking till the last stretch. I constantly heard my coach, Tim Don's voice echoing, 'You've got this'."
While Wilde finished a mere 9 seconds later, Britain's Alex Yee clinched the third position, followed by Australia's Matt Hauser and Norway's Olympic champion, Kristian Blummenfelt.
Team Standings & Recognitions
The team stakes were high in the desert, with a chunk of the $300,000 prize at stake. Bergere's Santara Tech Eagles, under Tim Don, clinched the top spot with 425 points, while the Bahrain Victorious Scorpions, boosted by Beaugrand's win, secured the second position. Waugh's all-British RTP Sharks secured the third spot. Special mentions include Sophie Coldwell and Chase McQueen, deemed fastest swimmers; Jess Fullagar and Emil Holm as best bikers; and Reese Vannerson and Jeanne Lehair dominating the run.
Athletes battled the iconic three-stage Super League Enduro format last seen in London's Round 1. A grueling combination of a 300m swim in the warm Red Sea, a 4km bike ride traversing gravel and asphalt, and a concluding 1.6km run—all under the scorching 30°C desert climate of NEOM.