News & Racing
Ashleigh Gentle Makes History with 10th Noosa Triathlon Title as Hayden Wilde Claims Men's Crown
Ashleigh Gentle cemented her Noosa dynasty by winning a historic 10th title as Hayden Wilde of New Zealand broke the course record amidst the landmark 40th edition festivities of Australia's premier triathlon.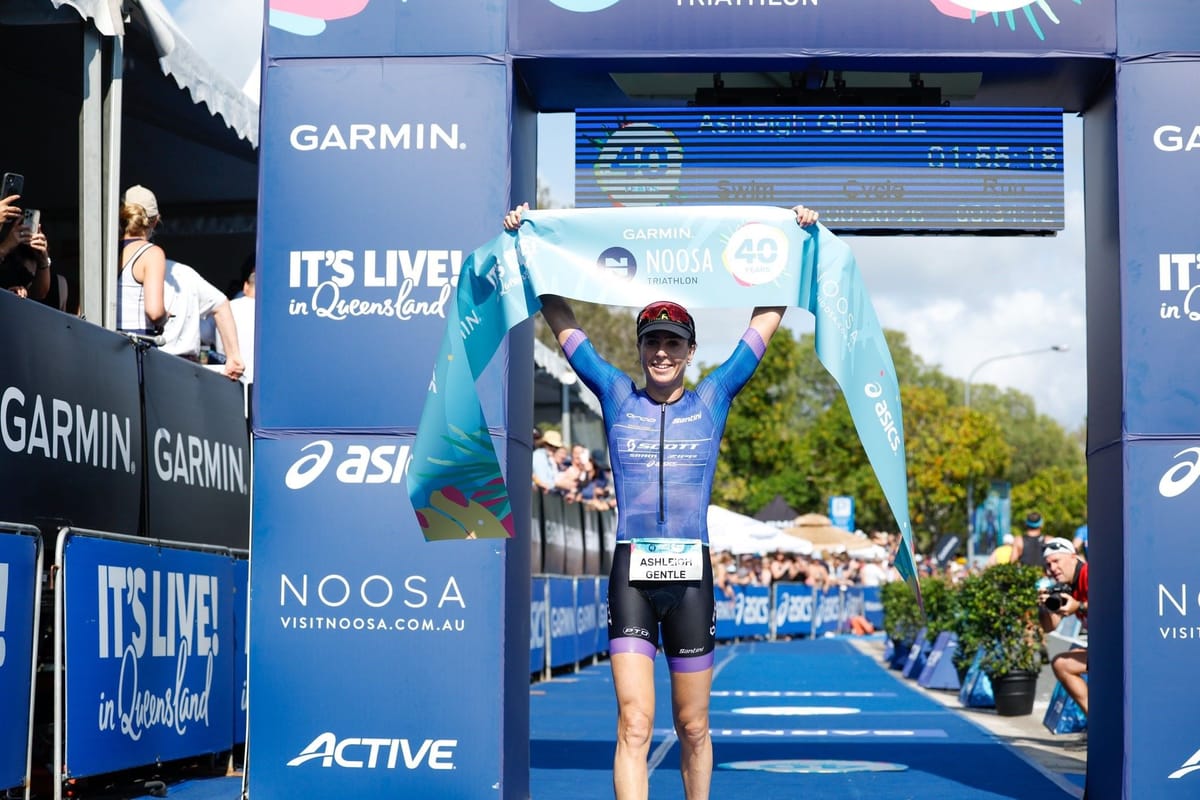 Australian triathlon star Ashleigh Gentle cemented her status as the undisputed queen of Noosa on Sunday by winning a record 10th title at the iconic Noosa Triathlon. Gentle's historic victory coincided with the event's 40th anniversary festivities, making it all the more momentous.
The 32-year-old once again showcased her dominance on the famous Noosa course, completing the 1.5km swim, 40km bike ride, and 10km run in 1:55:13. It marked Gentle's astonishing ninth consecutive Noosa Triathlon title, with her incredible streak stretching back to 2014.
"Each year has been really enjoyable, and I've had fun each year but 10 victories, what else can I ask for," said an emotional Gentle after crossing the finish line, soaking in the atmosphere. "It's an incredible feat and I'm actually really proud that each year no matter what happens I kind of find a way to bring the best out of myself at Noosa."
Gentle had to overcome a slow start, sitting 12th after the swim nearly two minutes behind surprise leader Mikayla Messer. But she soon bridged up to the front group on the bike before unleashing her signature devastating run pace.
By the 5km mark of the run, Gentle had built a commanding 42 second lead over fellow Aussie Richelle Hill. She steadily extended the margin all the way to the finish, crossing the line an astonishing 1:57 ahead of runner-up Sophie Malowiecki. The 21-year-old Hill rounded out the all-Australian women's podium in third.
Gentle's peerless run prowess has long made her nearly unbeatable at Noosa. She once again leveraged it to emphatic effect, making a statement over the final 10km in front of adoring home crowds.
"I don't underestimate the other girls, they're really quick over 10k and Richelle Hill is a great new talent for Australia, I knew she was a good runner so I made sure I hit my stride really early on and try to break the elastic band pretty quickly and just try to extend that lead as much as I could over the 10k," Gentle remarked on her race strategy.
The raw emotion of her historic achievement struck Gentle as she entered the finish chute to raucous cheers and took the Noosa Triathlon tape for the 10th time.
"I actually felt really good today, it was a fast day. I felt in control and quite composed the whole time so it more just the relief. I did feel quite calm before and into the race, but there's definitely been a huge build up to this race, a lot of media interviews and sponsor commitments before the race and obviously the 40th anniversary happened to coincide with going for my 10th win, it kind of added another layer of emotional, not stress, but fatigue during the week so to be able to actually get a good race under my belt and that victory, it was just relief," she explained.
Elite Women
Ashleigh Gentle (AUS) – 1:55:13
Sophie Malowiecki (AUS) – 1:56:49
Richelle Hill (AUS) – 1:57:14
Hanne De Vet (BEL) – 1:58:55
Charlotte McShane (AUS) – 2:00:16
Lotte Wilms (NLD) – 2:00:25
Jaz Hedgeland (AUS) – 2:00:38
Kira Hedgeland (AUS) – 2:00:51
Fenella Langridge (GBR) – 2:01:24
Milan Agnew (AUS) – 2:01:53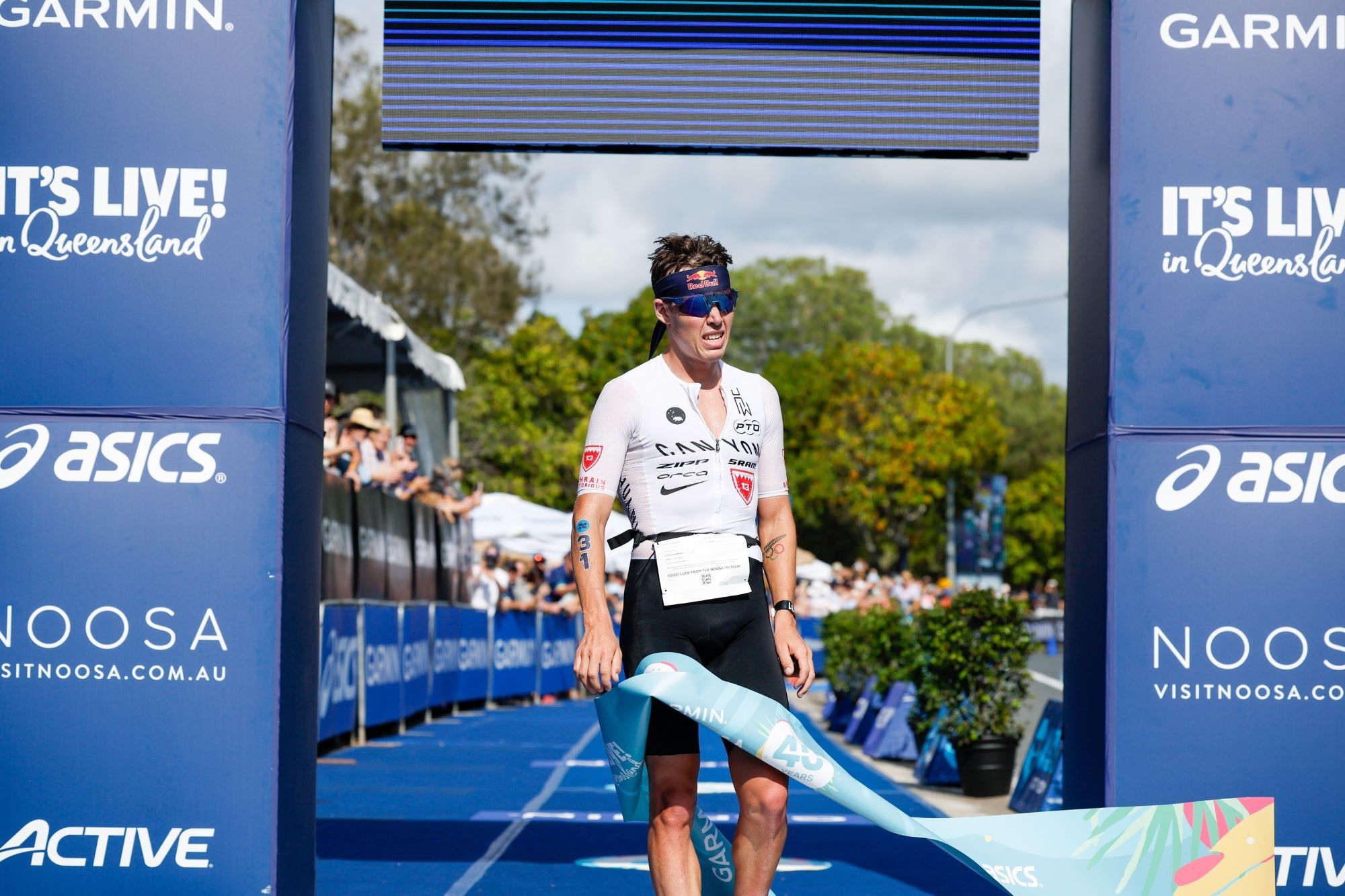 In the men's race, New Zealand's Hayden Wilde thrilled crowds by breaking the Noosa course record and becoming the first international winner since 2015.
Wilde, bronze medalist at last year's Tokyo Olympics, stopped the clock in a sizzling 1:41:56 to lower the previous best mark by over a minute. It was a commanding performance from the Kiwi on his Noosa debut.
"I'm stoked, the day was awesome, the atmosphere was epic," said Wilde, who had to overcome a slow swim to take control. He exited the water in 9th place before charging through the field on the bike.
By the 13km mark of the ride, Wilde had taken the lead. He built it to 33 seconds entering the run before a transition mishap allowed Aussie Matt Hauser to catch up.
The pair dueled late into the 10km run before Wilde finally broke free over the last 2km. He held on to edge Hauser in dramatic fashion. "It was really nice getting under the course record, that's what I was actually aiming to come here for so I'm absolutely stoked," he added.
Wilde was pushed throughout by a talented men's field, but rose to the occasion. "The boys didn't give it to me easy. Even the people racing were giving me a good cheer, the vibe out there was awesome and to get a course record was truly epic. I couldn't have done it without the boys out there today, they really pushed me, and this is what I needed to do," he remarked.
In all, the 40th anniversary Noosa Triathlon delivered a weekend of memorable racing and celebration along the Sunshine Coast, living up to its reputation as a bucket list event for triathletes worldwide.
The picturesque course and lively crowd support once again brought out inspiring performances and highlighted Australia's triathlon pedigree. Both Gentle and Wilde etched their names into the rich history of the prestigious event's milestone edition.
Elite Men
Hayden Wilde (NZL) – 1:41:56
Matt Hauser (AUS) – 1:42:09
Henri Schoeman (RSA) – 1:44:20
Jake Birtwhistle (AUS) – 1:45:23
Kurt McDonald (AUS) – 1:47:17
Jamie Riddle (RSA) – 1:48:33
Jack Sosinski (AUS) – 1:49:02
Brandon Copeland (AUS) – 1:49:44
Jarrod Osborne (AUS) – 1:50:49
Rory Thornhill (AUS) – 1:52:43