News & Racing
British Olympic Hero Alex Yee In Thrilling Sprint Finish With Jonathan Brownlee In Super League Triathlon Jersey
Alex Yee and Jonathan Brownlee star in thrilling sprint finish while Jess Learmonth takes win ahead of emotional Georgia Taylor-Brown who successfully appeals disqualification at the weekend's Super League Jersey Enduro event.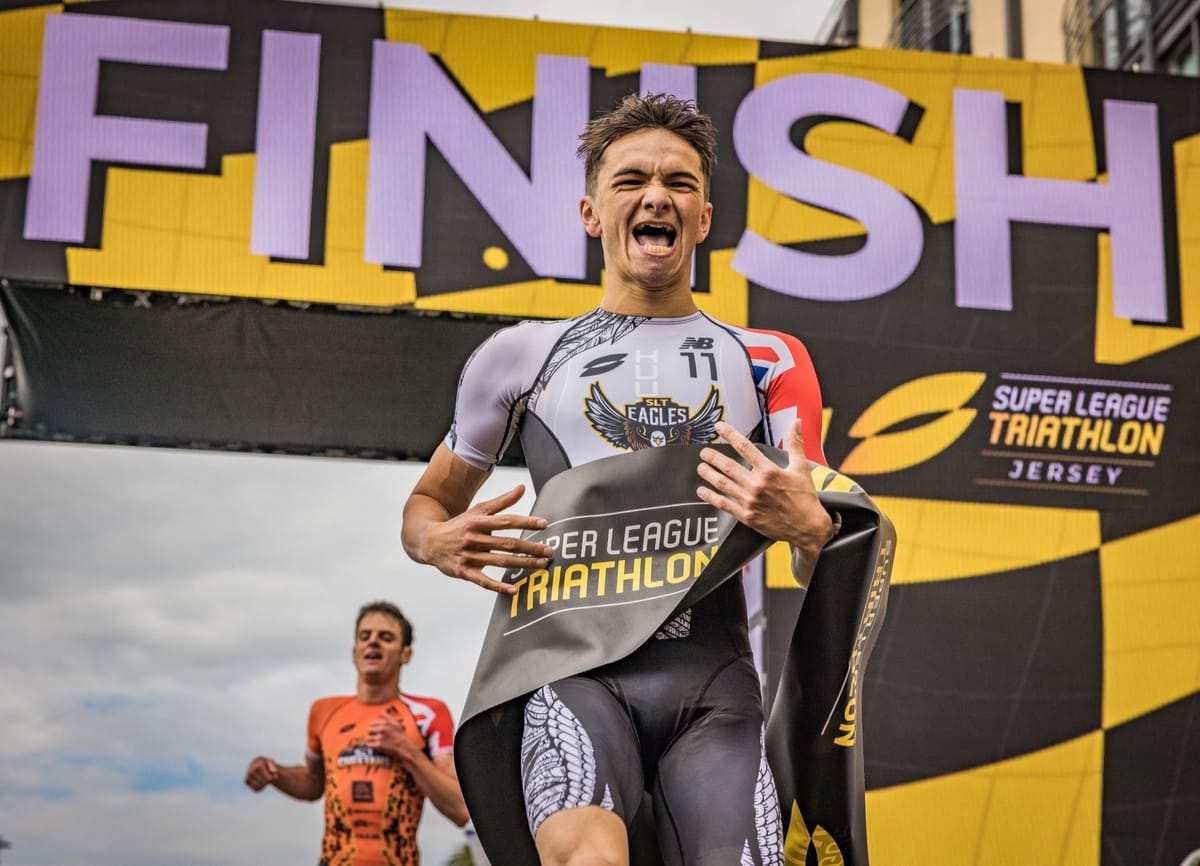 Britain's Olympic gold medal heroes thrilled at Super League Triathlon Jersey with Alex Yee and Jonny Brownlee involved in one of the most dramatic sprint finishes in triathlon history while Jessica Learmonth secured victory in the women's after a dramatic race which saw Georgia Taylor-Brown disqualified and then reinstated on appeal.
The men's race was a true thriller as Brownlee and Yee entered the final meters neck-and-neck with Yee narrowly ousting his Tokyo teammate.
There was controversy and talking points aplenty in the women's race as Taylor-Brown, another member of the Olympic Mixed Team Relay gold medal winners from Tokyo, successfully appealed a disqualification having crossed the line in second place.
The event was Super League Triathlon's fourth visit to Jersey and raced over the Enduro format, which sees athletes complete three continuous rounds of a 300m swim, 4km bike and 1.6km run.
All eyes were on Vincent Luis ahead of the men's race in Jersey after the most dominant athlete in Super League history took victory in Munich to move to the top of the overall Championship Series standings. However it was not to be his day, and the Short Chute he won made little difference in the final equation.
It was Yee who was in great form, and improved on his previous results of fifth and third to climb on to the top step of the podium.
The race was nip and tuck, with an impressive front pack breaking clear and the lead changing multiple times.
Ultimately it came down to the final lap of the last run leg to decide the winner. Wilde had the lead with 200m to go before being passed by both Brownlee and Yee who were shoulder-to-shoulder until the very last second when Yee's signature speed stole the win and added another impressive result to a 2021 CV that already includes Olympic gold and silver medals.
It all means that Brownlee has a one point advantage from Wilde at the top of the Championship Series leaderboard heading to the final race in Malibu next Saturday. Yee is a further point back.
"I am absolutely buzzing," said a delighted Yee. "The first triathlon I was really on the back foot to be honest and I was just hanging onto the race for most of it. I saw Aaron Royle crash just in front of me in the first bike stage and it really shook me up. By the end I was starting to get my confidence back and move well and I am so pleased to come away with a win in what was a really exciting race."
Learmonth has been utterly dominant in the Championship Series, and arrived in Jersey having already secured wins in the first two races in London and Munich, and was once again in imperious form. She grabbed the early advantage by securing both Short Chutes thanks to a blistering first swim and bike.
The only athlete who could keep pace with her was friend and GB teammate Taylor-Brown. However, any chance of a close finish was ended as she crashed in the final transition leaving Learmonth to storm clear to win. That was not the end of the story though. Taylor-Brown mistakenly thought she had been awarded a Short Chute and took it.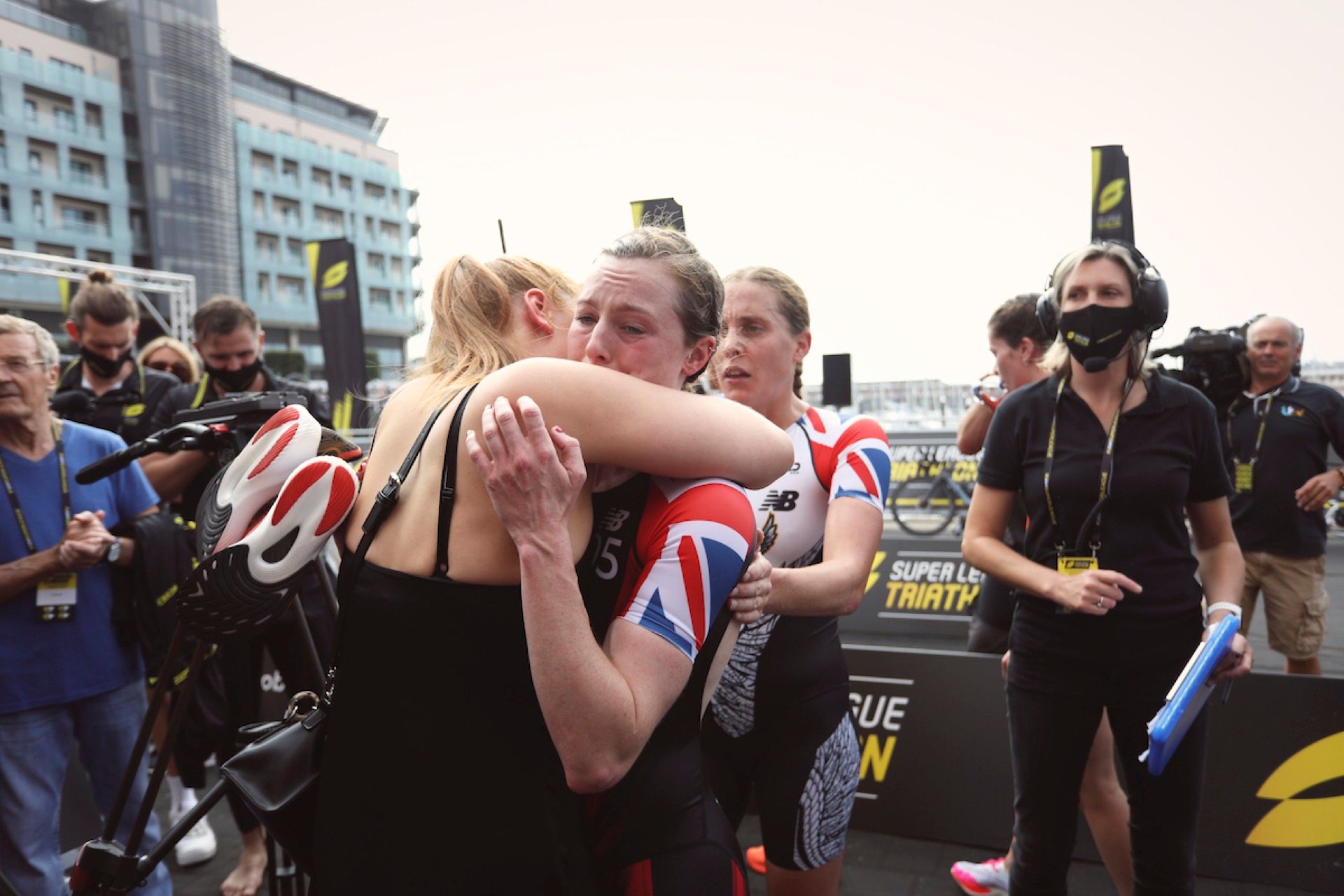 Having been informed of her error before the final lap of the run she opted to make up the distance she had incorrectly cut off. Initially, Taylor-Brown was disqualified, but a meeting of Super League's Technical Committee reinstated her and vowed to clarify the rules ahead of next week's finale in Malibu.
French athlete Cassandre Beaugrand was back on the podium for the first time in the Series after coming through a pack to take third place.
Learmonth has a perfect 45 points at the top of the Championship Series leaderboard, but with extra points on offer in Malibu and Taylor-Brown having taken three second place finishes, still needs a big last race to secure the title.
"I'm not nervous and I don't feel the pressure," insisted Learmonth. "I am just having fun. It's great. If she would stop decking it it would be Georgia here and not me. I swear before Super League she has never fallen off her bike, never had any issues and then since Super League she decks it or does something in transition."
Taylor-Brown said: "I was upset and angry and confused as I didn't really understand as I heard we had Short Chutes each and I took it and was then told I was eliminated. When I saw I was eliminated with one lap on the run I had come so far that I thought I should finish the race off no matter what and I'm glad I did! There was no catching Jess anyway so it didn't make a difference.
"I heard it was because I took the Short Chute and so I thought if it was about the distance I could make it up on the run. I wanted to do everything possible to say I had done everything I could do. I really appreciate Michael (D'hulst, Super League CEO) listening to us and making the decision to overturn it."