Interviews
Heart-to-Heart Chat With Matthew Hauser & Coach Dan Atkins
A blunt heart-to-heart between Australia's most exciting triathlete Matthew Hauser and his coach Dan Atkins after a bitterly disappointing end to 2021.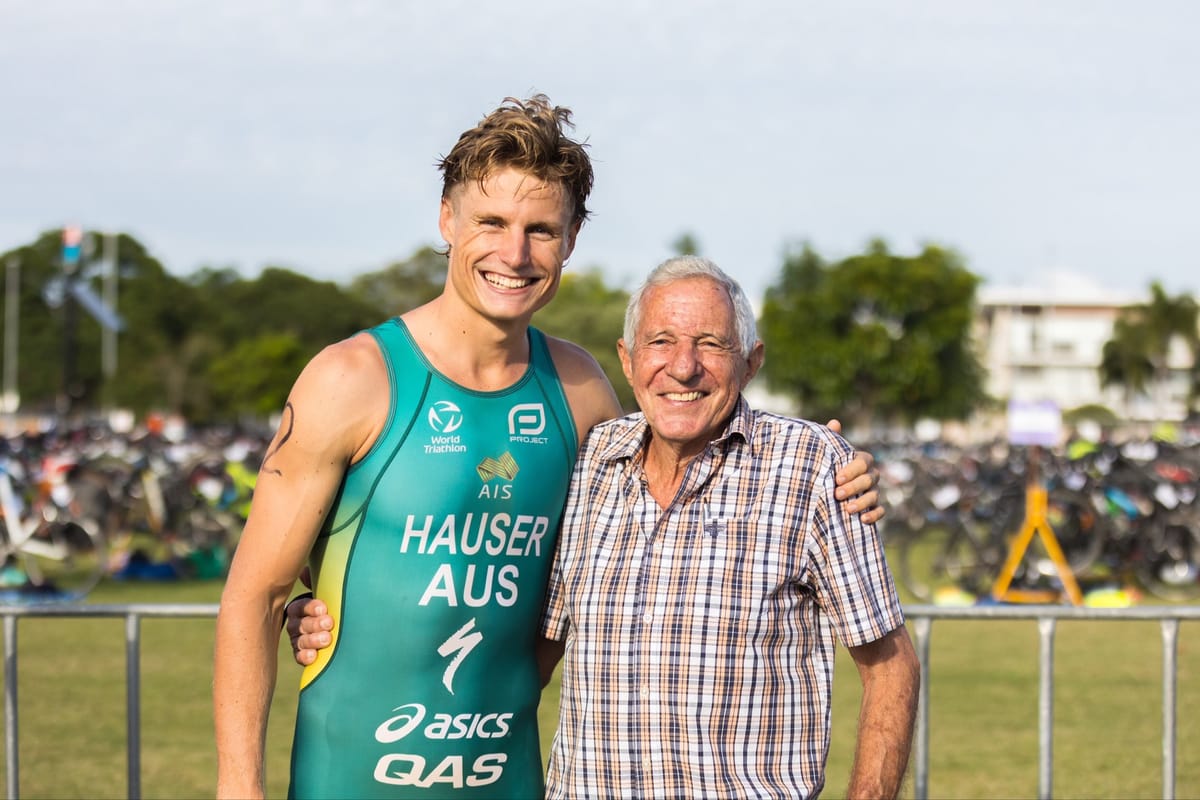 Matthew Hauser and coach Dan Atkins spent two weeks together in isolation after returning from the last event of the year which saw Hauser finish 42nd in the World Triathlon Championship Series race in Abu Dhabi on 5th November.
The pow-wow couldn't be described as a wake-up call because Atkins has had little complaint about Hauser's work ethic and commitment to training.
But the result, and the 'what do you want to be, and how much do you want to work for it' conversation – and Hauser's response – has shown immediate results.
Matt Hauser and Sophie Linn Are Now Locked In for Birmingham after Gold Coast Wins. Hauser has started 2022 in impressive style, yesterday celebrating his 24th birthday with the best possible present, along with women's winner Sophie Linn, the Australian team's first nominations to Commonwealth Games Australia for the 2022 Games in Birmingham.
Hauser has shown he was among the best in the world at junior and under-23 level and had just turned 20 when he finished fourth, just two seconds away from the podium, at the 2018 Commonwealth Games on the Gold Coast before winning gold in the Mixed Relay.
Last year he made his Olympic debut in Tokyo, finishing 24th in a disappointing campaign for Australia.
However, many believe there is much more ahead of Hauser and Atkins has no doubt his charge can compete regularly with the best in the world.
The past three months has made him more convinced of that with Hauser realising what he needs to do to achieve what he is truly capable of.
"We had a heart-to-heart after the last race in Abu Dhabi last year and it wasn't the best season, trying to back up from coming 24th after at the Olympics," Atkins said.
"Matt is chasing the big guys overseas and wants to be a world class performer and as a coach you can only ask that they step out of themselves as an athlete and look to be a superstar.
"And I think Matt has the ability to do that. Now he has to set that up and the Gold Coast win yesterday is a great stepping stone.
"What he is doing outside of the sport has been more professional. I've never doubted his work ethic at training, his commitment; and his loyalty in the past three months has been fantastic – he has bought into what we're trying to do (as a squad) and he has turned up, and just done it."
Hauser admits he is far more aware now of what he has to undertake to realise what he knows is within him – competing with the best.
Being one of Australia's best prospects, and performers of late, is not enough – he wants to spearhead Australia's re-emergence at international level.
"The past three months have been the most rewarding I've had," Hauser said.
"Developing on a wider level is about being a bit more professional and changing my mindset about what is required to become an elite triathlete and knowing I am amongst the future of triathlon in Australia and I have that baton to hold going into the next few more Games.
"I made a point of getting a lot more work done in training and to focus on building on those big rocks so I can last six or seven months of the year while we are racing across the world. Hopefully it's a big start to a big year."
One noticeable aspect of Hauser's back-to-back victories in Devonport and the Gold Coast has been his ability to handle the pressure of leading the run leg from the start and making his rivals work hard to reel him in and it has worked to a treat – holding off fellow Olympian Jake Birtwhistle is no mean feat.
And what also made Sunday's Gold Coast victory even more important for Hauser was that he got to share it with his Hervey Bay-based family who travelled south of Brisbane for the triathlon.
With them was his grandfather Syd Dart who had just turned 80 (on March 23). Matt was determined to give him the best, if belated, gift on his own 24th birthday.
Norm lives at Burrum Heads, just north of Hervey Bay and Matt grew up holidaying there and enjoying many hours on weekends fishing with the man he "loves dearly".
And if Matt Hauser gets his way on the run home then there will be even more celebrations to look forward to with grand father Norm.